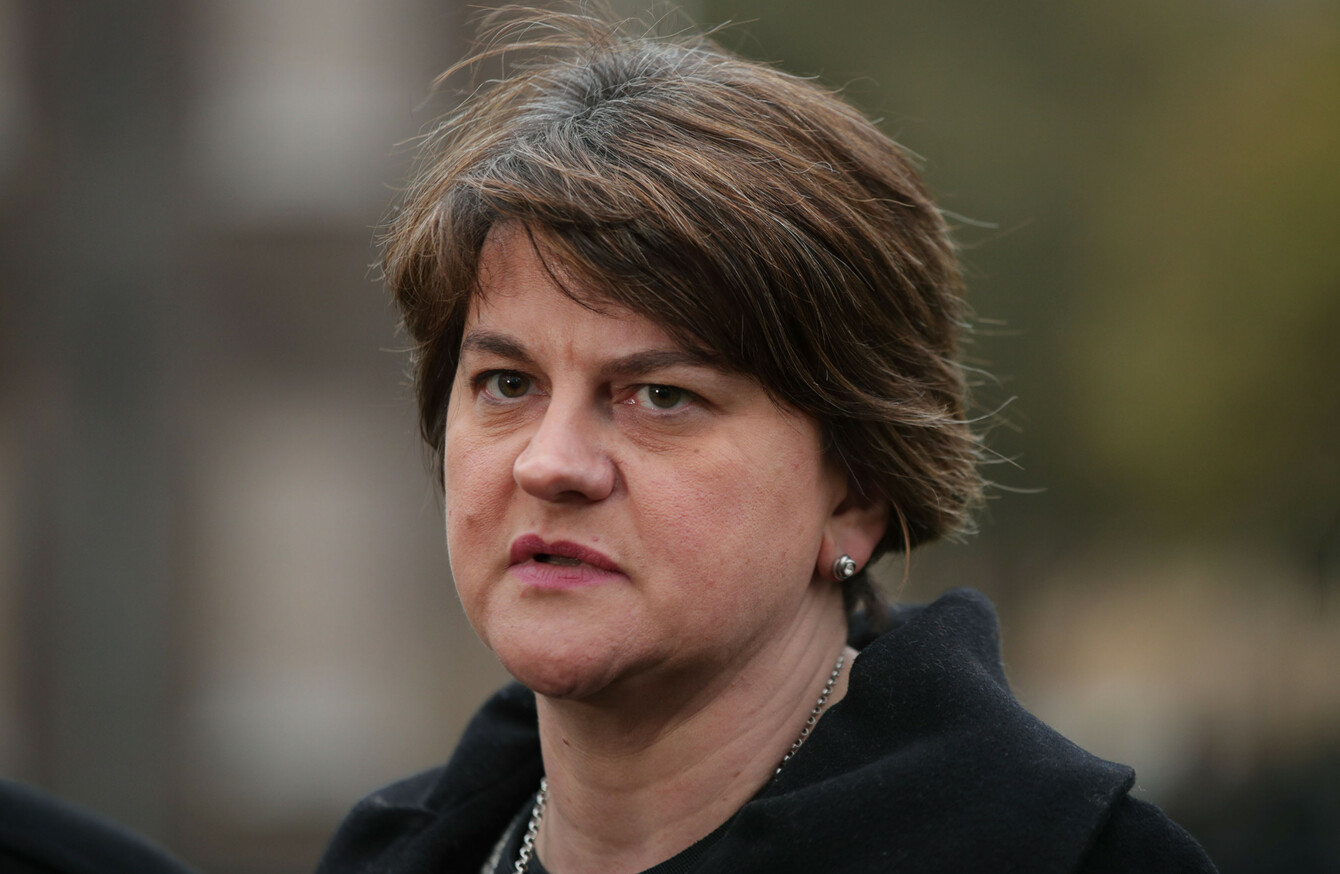 DUP leader Arlene Foster
Image: Yui Mok via PA Images
DUP leader Arlene Foster
Image: Yui Mok via PA Images
DUP LEADER ARLENE Foster is to attend an Orange Order parade in Scotland later this month.
The Grand Orange Lodge of Scotland confirmed that it invited Foster to attend the parade and that she has accepted the invite.
The parade will take place in Cowdenbeath, Fife on 30 June.
"She was invited to come along and she accepted the invite and we're delighted," the organisation's executive officer Robert McLean said.
McLean said that Foster's attendance at the parade will be "nothing new" as DUP politicians have attended Orange Order parades in the past.
A Scottish Nationalist Party (SNP) told the BBC that is has "no knowledge of this visit and [is] really struggling to believe that Arlene Foster believes this is a sensible idea".
In a statement to TheJournal.ie, a DUP spokesperson said: "The SNP should have weightier worries about Scotland than Arlene Foster's diary commitments.
"Mrs Foster has accepted an invitation from the Scottish Orange Order to speak at an event later this month. She will deliver the same message in Scotland as in Northern Ireland.
The spokesperson said that Foster will say the following at the event:
We need to build a shared society. We need a United Kingdom where people feel at home and where they feel comfortable living and working regardless of their background. A United Kingdom where people feel valued will ensure.
People will be reluctant to leave the Union in such a circumstance. There is no place in 2018 for sectarianism or prejudice against any section of our community – that includes the Orange Order.
Foster is planning to attend other meetings during her trip to Scotland, according to the spokesperson.
Unionist upbringing
In a speech at the Union and Unionism conference organised by conservative think tank Policy Exchange in London on 21 May, Foster described herself as a proud unionist.
She began the speech by talking about her unionist upbringing and described how her father – a member of the Royal Ulster Constabulary – was shot at the door of their home.
Foster said that the experience shaped her thinking, and that like many others she was determined that "no bullet or bomb would dampen our loyalty, our unionism or our Britishness".
She said that the relationship between unionists in Northern Ireland and the rest of the UK has been strained, and the latter has viewed the likes of the DUP as "being hard to understand or relate to".