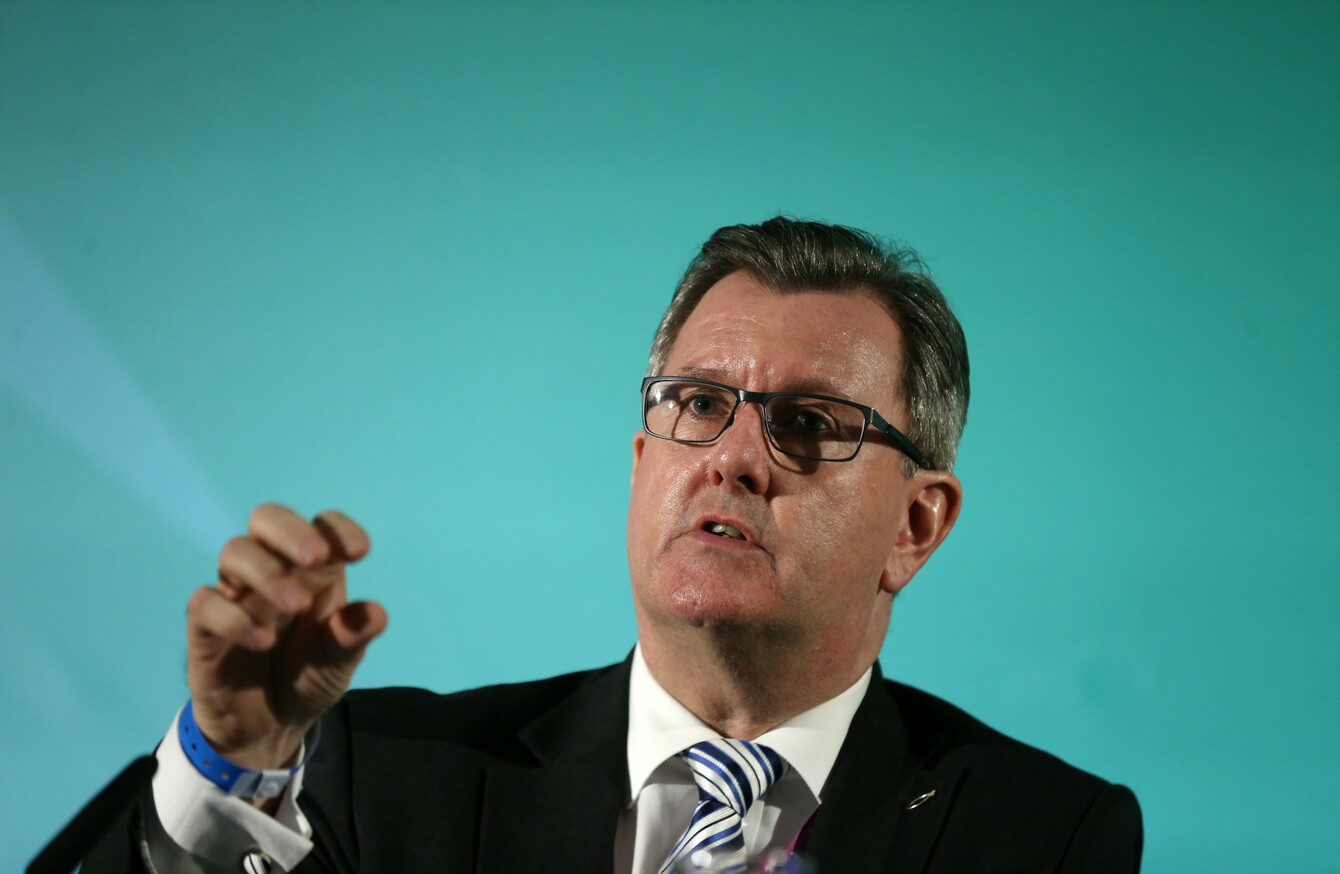 Image: Sam Boal
Image: Sam Boal
Updated Mar 23rd 2019, 5:20 PM
THE DUP'S JEFFREY Donaldson has said he would like to see Ireland back in the Commonwealth. 
Addressing an audience at the Fine Gael National Conference today, there was a large applause when he said: 
"I do hope we can come to a day when the Republic will join with many other (nationals) in the commonwealth recognising that we have overcome a lot of adversity and it would be good."
He added that the Commonwealth is a place where "Ireland's voice should be heard and I would like to see that happen".
However, when asked about whether it is a possibility, Tánaiste Simon Coveney said it was not on his agenda, and effectively ruled it out.
When asked if it was on the table, he said: "I don't think so."
Coveney explained away the applause from the audience stating that people were merely wanting to show Donaldson "some warmth", stating that people understand that was a "big deal" for the DUP MP to attend today.
He said some within the Fine Gael party have been making a case for Ireland to join the Commonwealth, name-checking Senator Frank Feign.
"I think there is some support within the party to looking anew at the Commonwealth, but probably not a majority support at this stage. Like many things in Fine Gael, we have an open mind," he said. 
Earlier in the day, when asked about Brexit, Donaldson said he does not expect his view on the draft Brexit deal to change.
"I'm not here to change anyone's view and don't expect my view to change either.
During his address to the Fine Gael National Conference, he said:
"I would say to my friends in Fine Gael, let's try to work this out."
He acknowledged there is a difference of opinions, stating: "We are on different sides on Brexit, that's for sure".
Backstop concerns
Donaldson said there is a need address concerns around the backstop in order to move forward. 
Earlier in the day, when answering reporter's impromptu questions, he said:
I'm delighted to be here today talking to our friends in Fine Gael about all kinds of things, including future relations and how we get the political institutions in Northern Ireland restored and of course the North/South Ministerial Council as well – and of course we'll be talking about Brexit.
It's all about strengthening relations and that whatever happens with Brexit we still want to be good neighbours and we want to work towards the common good.
Donaldson said the DUP's message today is "yes, we are facing challenges" such as Brexit, but in the end "the most important thing is building human relationships".
"We need to do better," he said, referring to building and sustaining relationships on the island of Ireland. 
The DUP MP spoke about Ireland's "shared history", stating "we face some challenges… in dealing with Brexit in a way that avoids calamity, but in the end we will always face challenges, what is important is the human relationships and about building those relationships .. and that is what we need to do better". 
"There are many who see Brexit as getting in the way of that when we could look back at many points in our history and see similar moments. It is how we respond to these challenges that determines how we go forward.
"We have our concerns in particular about the withdrawal agreement, the backstop and we are trying to work our way through that and get an agreement with the UK government to move forward, that assures everyone. That is really important because moving forward on the basis that you haven't got the broadest consensus possible often means you often don't move as far as you would like to move. I would say to my friends in Fine Gael lets try to work this out."
There were tense talks between Donaldson and Coveney in the lobby of the hotel this afternoon, though there is no doubt the politicians knew their discussions being held in such a public space would draw attention, which it did.
There had been rumours that the DUP had been softening its stance towards May's twice-rejected Withdrawal Agreement and could be preparing to vote for it next week for the third Meaningful Vote.
Yesterday, Deputy DUP leader Nigel Dodds criticised the UK government, and called the delay to the date by which the UK leaves the European Union "a humiliation".
On Thursday, it was agreed that the date the UK would leave the EU would be delayed until the 22 May if British Prime Minister Theresa May's deal was passed; if the deal is rejected, the date would be delayed by two weeks until 12 April.
The DUP, whose 10 MPs are supporting May's government, said she had missed an opportunity to put forward new proposals to change the Withdrawal Agreement.