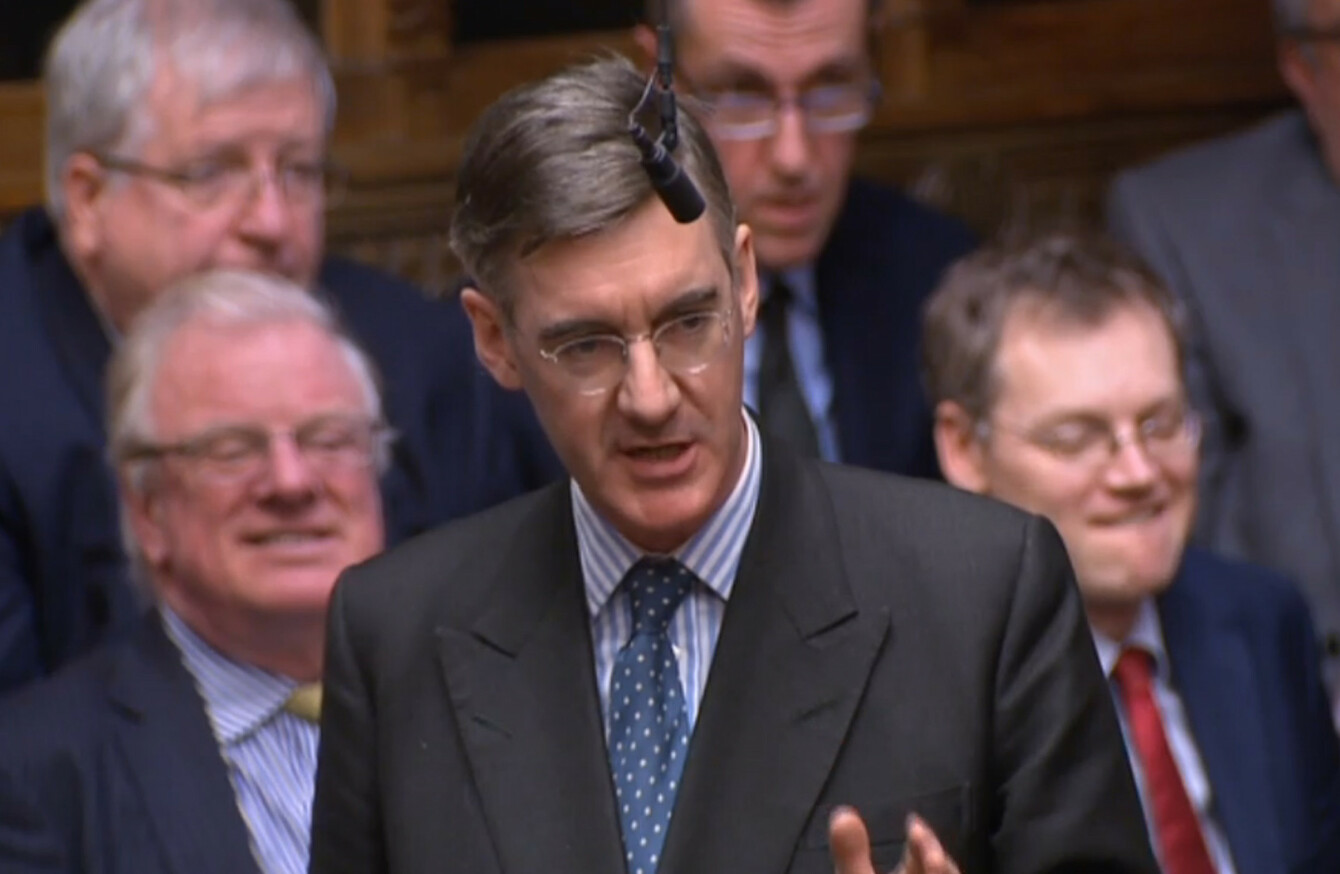 Image: PA Wire/PA Images
Image: PA Wire/PA Images
Updated Mar 26th 2019, 10:55 PM
BREXITEERS BORIS JOHNSON, Jacob Rees Mogg, and the DUP's Sammy Wilson have all clarified their positions on Brexit in three separate opinion pieces today.
Johnson and Rees Mogg published pieces this evening stating their positions, with Rees Mogg saying he could be persuaded to vote for Theresa May's twice-defeated deal if the DUP opted for it.
Wilson wrote this morning that he won't support Theresa May's Brexit deal, preferring instead a year-long extension to the Brexit process.
He later clarified that he wasn't giving the party's stance.
Johnson, meanwhile, was speaking at an event organised by the Daily Telegraph. In a subsequent opinion piece, he advocated for a no-deal Brexit, saying that "there will be Mars bars, and there will be drinking water".
Is it really true that they are all panicked about the risk of leaving with no deal? Do they really believe Project Fear's assertions about a murrain on our cattle and a plague of frogs?
During a Q&A session at the same event, the Telegraph's chief political correspondent tweeted out that Johnson stated, "There is nothing anti-European about Brexit".
The DUP and Rees-Mogg
In an opinion piece for the Daily Telegraph, Wilson, the DUP's Brexit spokesperson,  wrote that "the Withdrawal Agreement itself means no Brexit".
"It ensures that the EU has the legal power to prevent us ever leaving except on their draconian terms, which would include a Customs Union and adherence to EU regulations," he wrote.
We have worked assiduously with the Government to try to get changes to the agreement and will continue to do so, but we will not vote for an unamended or unchanged version.
Despite representing his party's views on Brexit, the party later clarified to British media organisations that this was not the party's view.
Wilson went on to say that he'd prefer an extension:
Even if we are forced into a one-year extension, we at least would have a say on the things which affect us during that time and would have the right to unilaterally decide to leave at the end of that one-year period through the simple decision of not applying for a further extension.
"Surely this is a better strategy than volunteering to be locked into the prison of the withdrawal deal with the cell door key in the pocket of Michel Barnier."
Earlier, ERG member and Brexiteer Jacob Rees Mogg softened his stance. Although he previously said that he would support May's deal if the DUP approved of it, he moved even closer to the Withdrawal Agreement again today.
Speaking on the Conservative home podcast, Rees-Mogg said that "Mrs May's deal is better than not leaving at all".
Whether we are there yet is another matter, but I have always thought that no-deal is better than Mrs May's deal, but Mrs May's deal is better than not leaving at all.
Writing in the Mail Online this evening, he then elaborated on those comments, saying what he had stated earlier, that he is "now willing to support it if the Democratic Unionist Party does", and apologising for "changing his mind".
I have come to this view because the numbers in Parliament make it clear that all the other potential outcomes are worse and an awkward reality needs to be faced.
Speculation is rife that May will hold a third Meaningful Vote on Friday; indicative votes on what parliament thinks should happen next with the Brexit process is due to take place tomorrow, though the details aren't finalised.