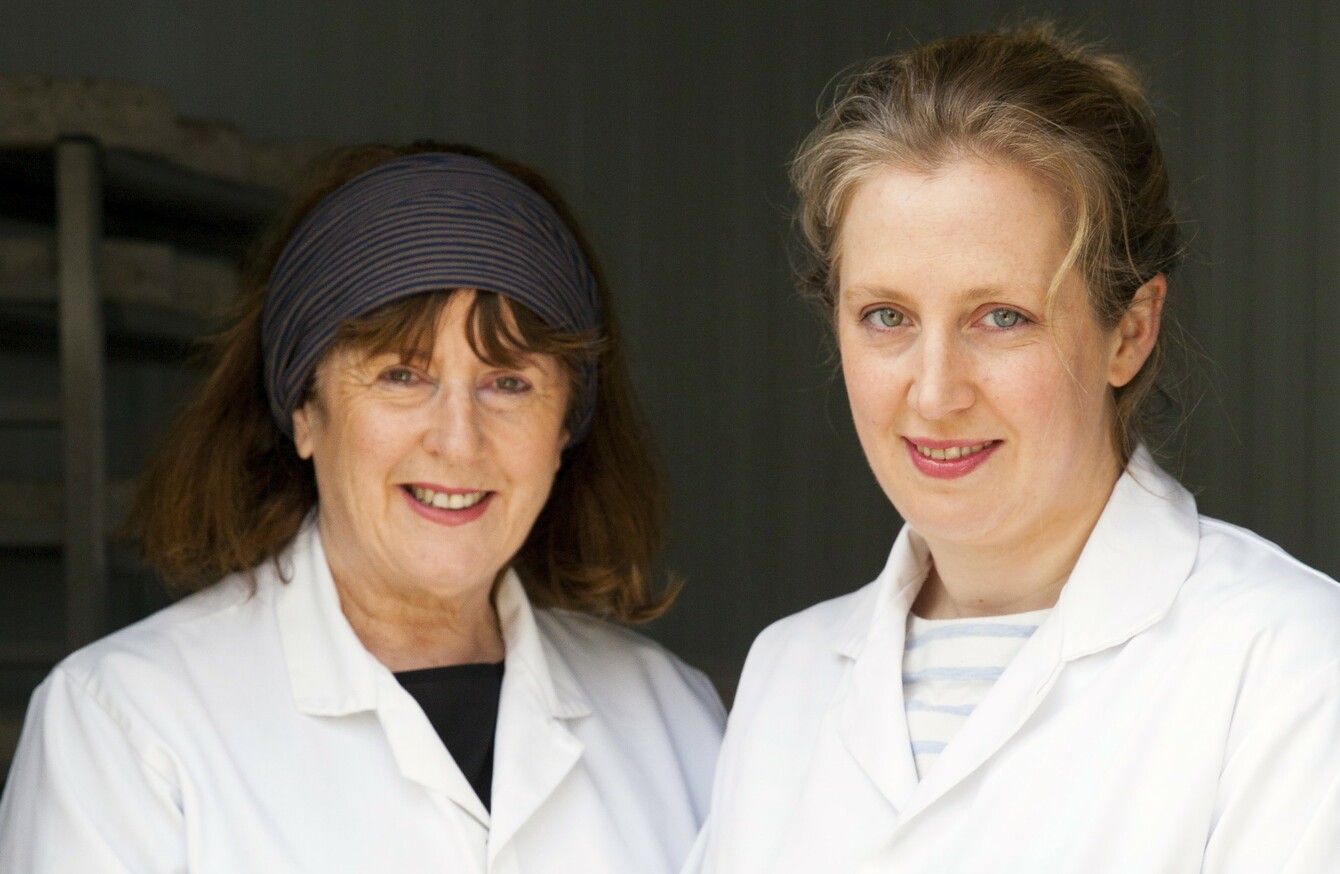 Jeffa Gill and Sarah Hennessy of Durrus Cheese.
Image: SuperValu Food Academy
Jeffa Gill and Sarah Hennessy of Durrus Cheese.
Image: SuperValu Food Academy
WHEN JEFFA GILL moved to Coomkeen in West Cork in the early 1970s, she did what other locals were doing at the time, and looked to the land around her for a source of income.
Jeffa started small for the first few years, growing vegetables next to her farmhouse, and selling the milk from her eight dairy cows. But when she tried her hand at cheesemaking in 1979, she found a passion that would turn into a lifelong business.
Durrus Cheese, named for the village just south of Coomkeen at the start of the Sheep's Head Peninsula, celebrates 41 years in production this year.
The multi award winning Durrus range – two semi-soft cheeses, one smoked variety and the harder, six-month aged Dunmanus – is enjoyed in homes and restaurants across Ireland, the UK, the USA and even Australia. 
All of the cheeses are handmade by a small team of five, from cutting the curds with a Swiss harp (a precise cutting tool), to draining off the whey, bathing the cheese in a salty brine and then washing the rind each day until the finished product is ready to be wrapped and dispatched.
Jeffa's traditional, age-old cheesemaking techniques are a point of pride for the business, but they were borne from necessity rather than a tactical marketing strategy:
"There wasn't the small producer culture back then that there is now. My mother wouldn't have even known how to make a business plan, but she had the cows, she enjoyed making the cheese, people enjoyed eating it, and it went from there," says Jeffa's daughter Sarah Hennessy.
Family business
Sarah joined the Durrus Cheese team full-time five years ago after moving back to Cork, following several years  of study and work in Dublin and Galway. Despite that extended time away, Sarah's love of cheesemaking never really left her, she says:
We grew up on the farm and I was always involved in that side of things in some way, not just as a kid but later too, when I would come home on breaks from college. I ended up working on local cheese counters in Dublin and Galway so the interest was always there.
The mother and daughter team each bring their "different strengths" to the business, from practical knowledge to creative skills. Although they split the work equally, Sarah says it's her mother who truly knows the cheesemaking process inside out:
With a handmade, traditional cheese there are a lot of variables, tiny things that can affect the end result. I'm really lucky to work alongside Jeffa and gain all of the experience and knowledge that she has built up over 40 years.
In the early years, the milk for the cheese came from Jeffa's own cows, but for the last few decades it has been sourced from local farmers – one of the company's earliest and most significant adaptations to meet growing demand.
"We've been getting our milk from Corney and John Buckley for 30 years, and Noel Dukelow for 15, so we still know exactly where it's coming from," says Sarah.
"The cows are milked in the morning and evening, and we get the milk that same day, which is then used to make cheese the following day."
That commitment to providing a superior product forms part of every decision the team makes, says Sarah:
We're always trying to improve how we do things, but maintaining that quality is essential. It's what keeps us busy most of the time.
Joining SuperValu's Food Academy five years ago has proved to be a particularly rewarding decision for Jeffa and Sarah. As part of the programme, small food producers receive one-on-one mentorship and guidance, plus the chance to see their product stocked on SuperValu's shelves.
One of Durrus Cheese's first stockists back in the early days was O'Keeffe's SuperValu in Bantry, and that relationship has stayed strong down the years. Since joining the Food Academy, Durrus Cheese has built links with other stores, meaning shoppers can now find the products on many more SuperValu shelves across Cork.
#Open journalism No news is bad news Support The Journal

Your contributions will help us continue to deliver the stories that are important to you

Support us now
"We were already well established when we joined the programme, but the support has helped us to drive the business forward more and to focus on new things," says Sarah.
Surviving and thriving
In recent months, that bolstering has become even more important, as Covid-19 caused Durrus Cheese's business from hotels and restaurants to drop off "almost overnight".
Food Academy participants were provided with Covid-specific mentoring to help them adapt and survive, along with more direct services like regular feedback on sales and continued stocking of their products in stores.
"There is always someone on the end of the phone that you can ask about anything," says Sarah. "The support on the retail end of things has been really heartening, and has helped us to continue and keep going. We feel very lucky and grateful."
What do the next few years hold for Durrus Cheese? "Well, we're not trying to take over the world," says Sarah.
But to be able to live in West Cork, and keep a business going, keep people employed, and to be part of this very personal process of creating food by hand, that's where the reward is.
At SuperValu, we believe in local. Through our Food Academy programme, we've nurtured hundreds of small Irish food producers, from start-up to seeing their products on our shelves. Look out for the Food Academy section in your local SuperValu.