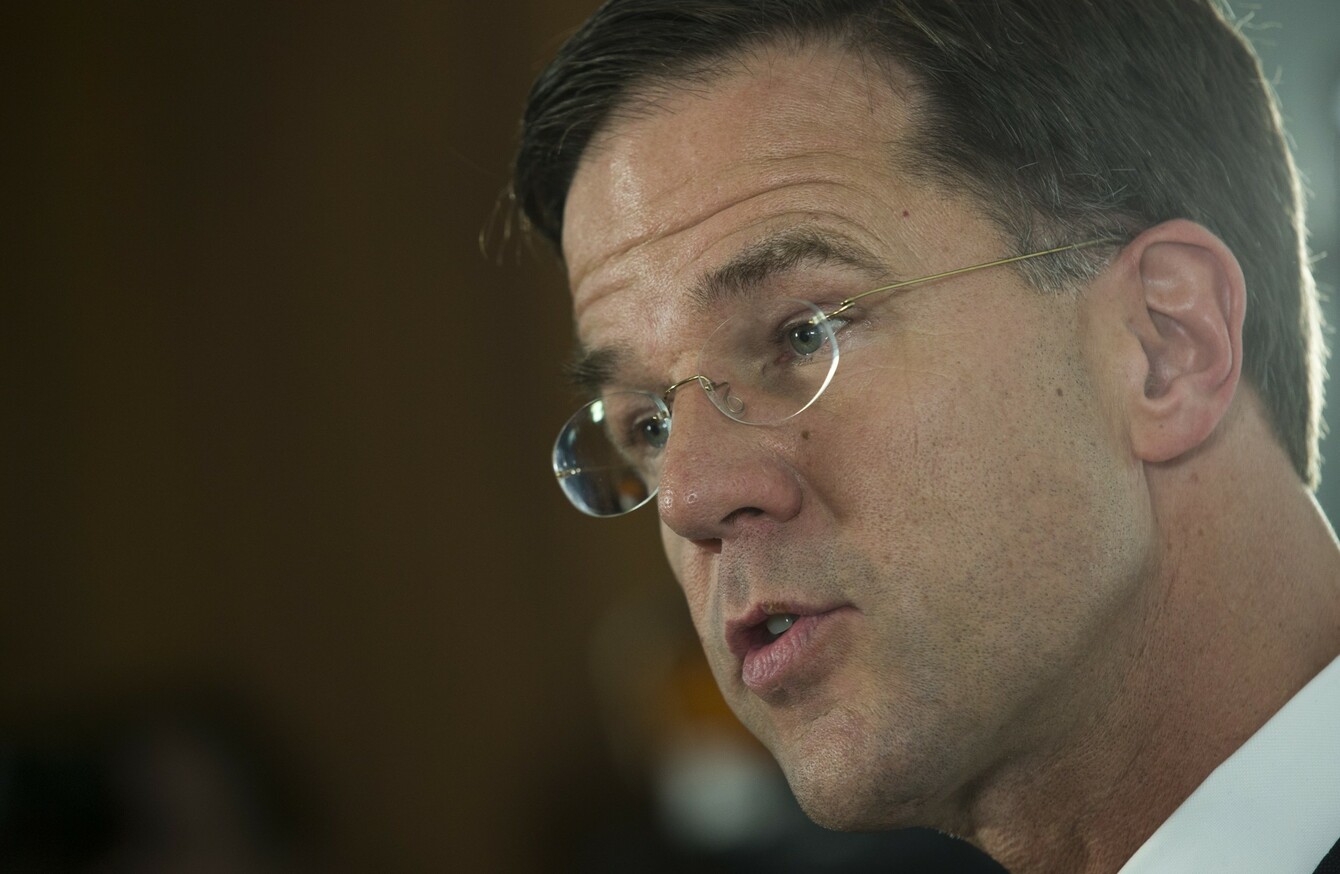 Dutch PM Mark Rutte
Image: Peter Dejong
Dutch PM Mark Rutte
Image: Peter Dejong
DUTCH PRIME MINISTER Mark Rutte has urged The Netherlands to stop the march of right-wing populism in Europe.
His comments came amid a spiralling diplomatic crisis with Turkey, which has forced simmering concerns about immigration and integration back to the top of the political agenda.
If his arch-rival Geert Wilders wins tomorrow's general election, that "would send a signal to the rest of the world", Rutte told reporters.
"I want The Netherlands to be the first country which stops this trend of the wrong sort of populism," Rutte said.
The elections are being closely watched as a signal of the rise of far-right and populist parties in Europe, with key elections also planned later this year in France and Germany.
"You could say these are the quarter-finals in trying to prevent the wrong sort of populism to win. The half-finals are in France in April and May and then in September in Germany you have the finals," Rutte said, speaking in English.
The leader of the Liberal VVD party, Rutte is bidding for a third term, but faces a strong challenge from Geert Wilders and his right-wing Freedom Party (PVV).
While Wilders has delighted in the chaos which erupted over the weekend when Dutch riot police moved in to disperse hundreds of protesters waving Turkish flags in Rotterdam, Rutte has appealed for calm.
But he has angrily rejected Turkey's calls to apologise for expelling one of its ministers who tried to attend a pro-Ankara rally in Rotterdam.
Instead, he urged Turkish President Recep Tayyip Erdogan to say sorry for likening the Dutch to Nazis, a jibe that has cut deep in a country which was bombed and occupied in World War II.
'Expel ambassador!'
While Rutte says he also wanted to defuse the crisis with a fellow NATO member, Wilders urged the Dutch government to up the ante.
"Erdogan repeats we are Nazis and Fascists. He insults Dutch police. No de-escalation. Expel Turkish Ambassador and entire staff!" Wilders tweeted yesterday.
The stakes are high, with Rutte's Liberals (VVD) predicted to return as the largest party in the 150-seat parliament with between 23 to 27 seats, according to the latest aggregated polls.
That is well down from 40 VVD MPs in the outgoing lower chamber however, and would leave him scrambling to cobble together a viable coalition which may have to include four to five parties to reach the 76-seat majority.
After weeks of flirting at the top of the polls, Wilders has seen his ratings slip and may now come second with between 19 and 23 seats, polls suggest.
If Wilders emerges as one of the largest parties in parliament, he may be a difficult voice to ignore even though other parties have vowed to snub him.
Rutte again repeated Monday that he would not work with Wilders again, saying that in 2012, the peroxide-haired MP "ran away from his responsibilities .. because he put party interests above the national interests" withdrawing his support and causing Rutte's coalition to collapse.
'Here to Stay'
Wilders has vowed to close mosques, ban sales of the Koran and bar Muslim immigrants. But his one-page manifesto is glaringly short on detail.
Since Wilders has skipped most of the debates, the Dutch are "interested to hear how he's going to implement that since he's going against the constitution, against many laws that we have in the Netherlands," Monika Sie Dhian Ho, director of the Clingendael Institute, told AFP.
The latest polls also suggest support for traditional Dutch establishment parties such as the Christian Democratic Appeal (CDA) and the Democracy Party D66 is rising as the vote looms.
Wilders' "ideology might be negative, it's anti-Muslims, it's anti-EU, it's anti-immigration, it's anti-refugees. But it is a clear ideology that addresses concerns of a substantial group of the Dutch. So it is there to stay," said Sie.