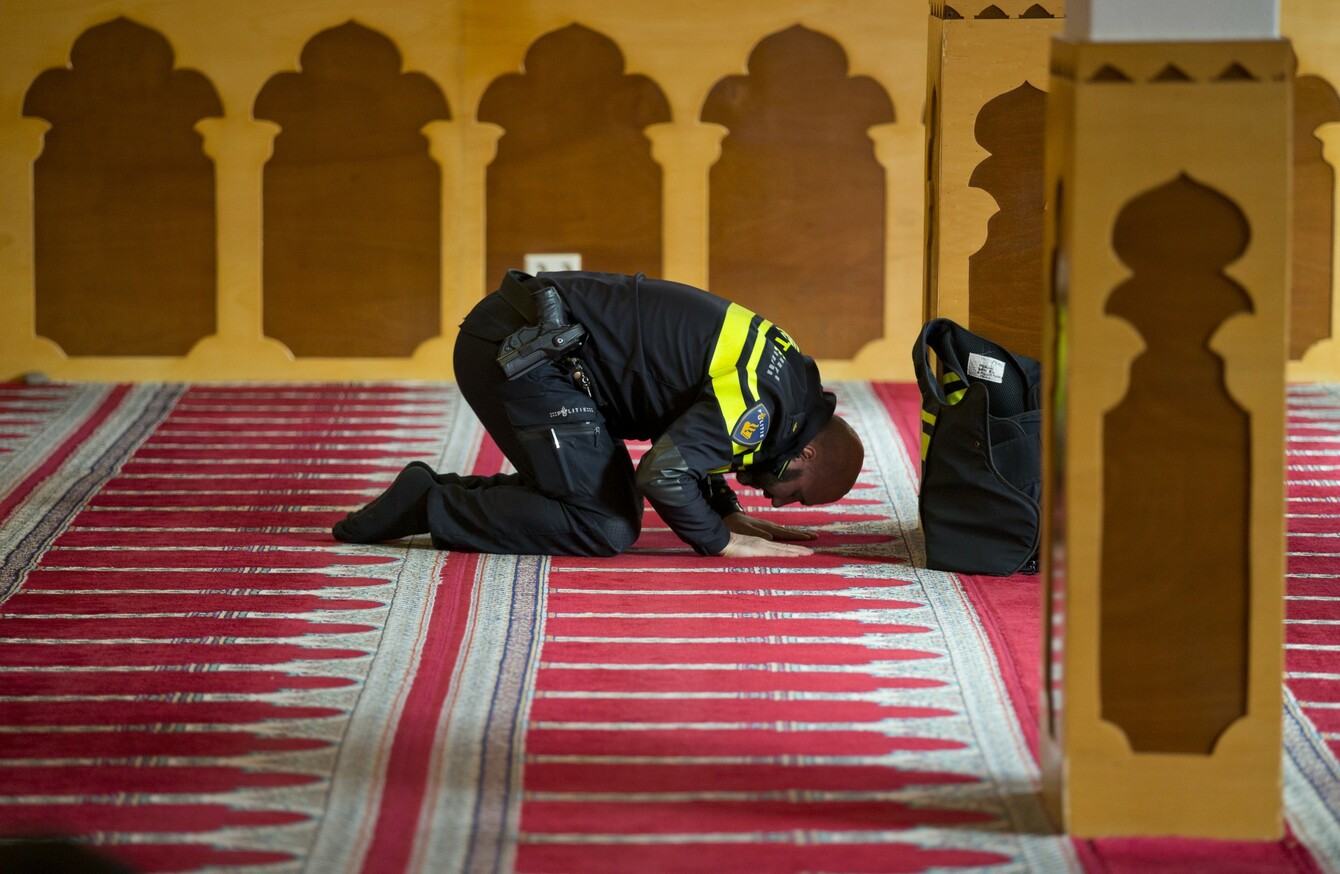 A Dutch police officer prays at the Al Kabir mosque in Amsterdam.
Image: Peter Dejong/PA
A Dutch police officer prays at the Al Kabir mosque in Amsterdam.
Image: Peter Dejong/PA
HUNDREDS OF DUTCH citizens met at an Amsterdam mosque to show solidarity with the country's Muslim population, as an anti-Islam MP again vowed to shut mosques and ban the Koran should he win upcoming elections.
Some 200 people representing a broad coalition against racism in The Netherlands gathered at the central Al-Kabir mosque, saying they were deeply worried about the rise of discrimination against Muslims in the European country.
"It's very important that we make our voice heard. We as a Muslim community pose no danger whatsoever to society," said Najem Ouladali, one of the organisers of the meeting which also included members of Amsterdam's gay and lesbian community.
"In fact, we are victims too of Islamic extremism," added another speaker, Abdou Menebhi, who chairs a Moroccan organisation in The Netherlands.
Various estimates put The Netherlands' Muslim population between 840,000 to 960,000 people, or around 5% out of a population of some 17 million people. Most Muslims are from Turkish or Moroccan descent, according to the Dutch central statistics office.
'Dangerous to society'
Talk during the meeting, which was paused for afternoon prayers, constantly returned to Dutch far-right MP Geert Wilders, who is campaigning ahead of elections on an anti-Islam ticket.
The 53-year-old Wilders has courted controversy with his hardline anti-Islam, anti-immigrant stance and his incendiary insults against Moroccans and Turks.
He has vowed in his party's one-page manifesto that if elected he would ban the sale of Korans, close mosques and Islamic schools, shut Dutch borders and ban Muslim migrants.
Support however for Wilders and his extreme stance seems to have withered in recent days according to the latest polls.
"We believe that what Wilders is doing is very dangerous to our society," Ouladali told AFP after the mosque meeting, speaking in Dutch.
Ineke van der Valk, a researcher at the University of Amsterdam told the meeting that incidents of hate crimes against Muslims were on the rise in The Netherlands.
Since 2015 incidents involving discrimination have almost doubled and there were at least 54 incidents involving mosques — like threatening letters displaying Nazi symbols she said.
"There has been a worrisome rise in this kind of activity in our country," Van der Valk said.