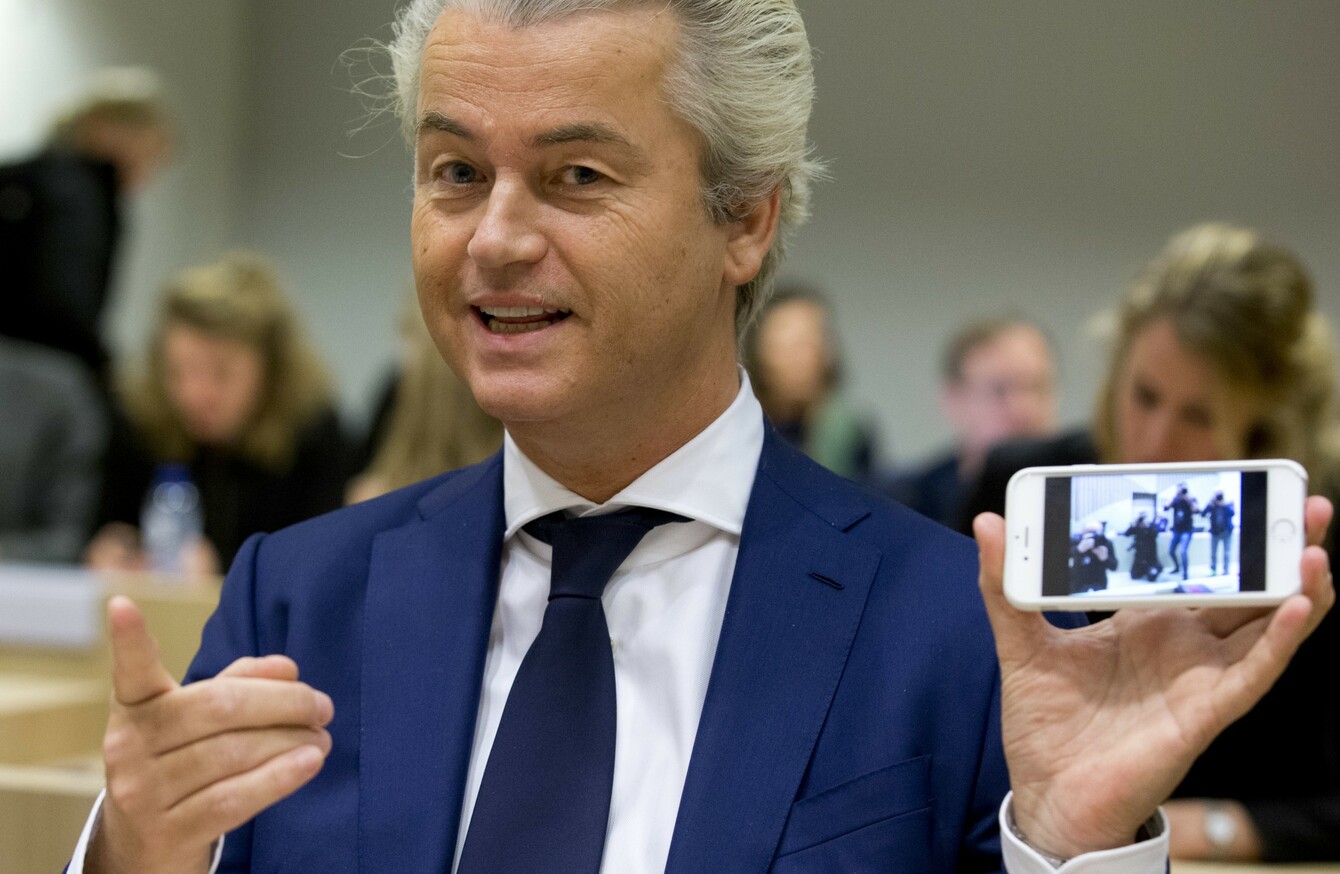 Geert Wilders pictured on Friday.
Image: Peter Dejong
Geert Wilders pictured on Friday.
Image: Peter Dejong
POLICE HAVE ARRESTED 166 radical left-wingers at a protest in the Dutch capital The Hague over police violence.
About 200 protesters had gathered for Saturday's demonstration, organised under the slogan "Stop oppression against anti-facists and anarchists".
The city had approved the rally as long as people left their faces uncovered.
"At the start of the demonstration, a number of protesters covered their faces with scarves, hoods and sunglasses," the police said in a statement.
After they refused to unmask, the mayor ordered the event to end. The police added:
A group of 166 protesters resisted… and were arrested for breaking the law on public demonstrations.
Illegal fireworks, paint bombs, sticks and a hammer were found on the ground when police moved in to make the arrests.
Far-right trial
Late last week, Dutch prosecutors demanded a €5,000 fine for controversial anti-Islam MP Geert Wilders in his hate-speech trial, saying he "insulted Moroccans" and sowed discord among citizens.
"We ask the bench to convict Mr Wilders for insulting a group and incitement to hate and discrimination, and therefore demand a fine of €5,000," public prosecutor Wouter Bos told judges.
But he did not ask for the maximum penalty of €22,250, as Bos said "there are worst statements imaginable" than those made by the far-right leader, known for his fiery rhetoric.
The peroxide-haired politician's comments "were insulting towards Moroccans as an ethnic group" and bore testimony of "strong negative feelings" towards them, Bos said.
Neither Wilders – who has snubbed the sittings at a high security courthouse near Schiphol airport – nor his lawyer were present as prosecutors wrapped up their case.
Wilders, 53, is facing charges of insulting a racial group and inciting racial hatred after statements he made about Moroccans living in the Netherlands.
Moroccans
Due to run until 25 November, the trial focuses on a March 2014 election rally when Wilders asked supporters whether they wanted "fewer or more Moroccans" in the country.
When the crowd shouted back "Fewer! Fewer!" a smiling Wilders answered: "We're going to organise that."
With this speech, Wilders "made a clear distinction between Moroccans and other Dutch citizens," another prosecutor, Sabina van der Kallen told a three-judge bench.
The verdict and sentence are expected on 9 December.
Wilders has so far snubbed the trial which he has denounced as a "political process" and a "travesty" accusing government of trying to silence him.