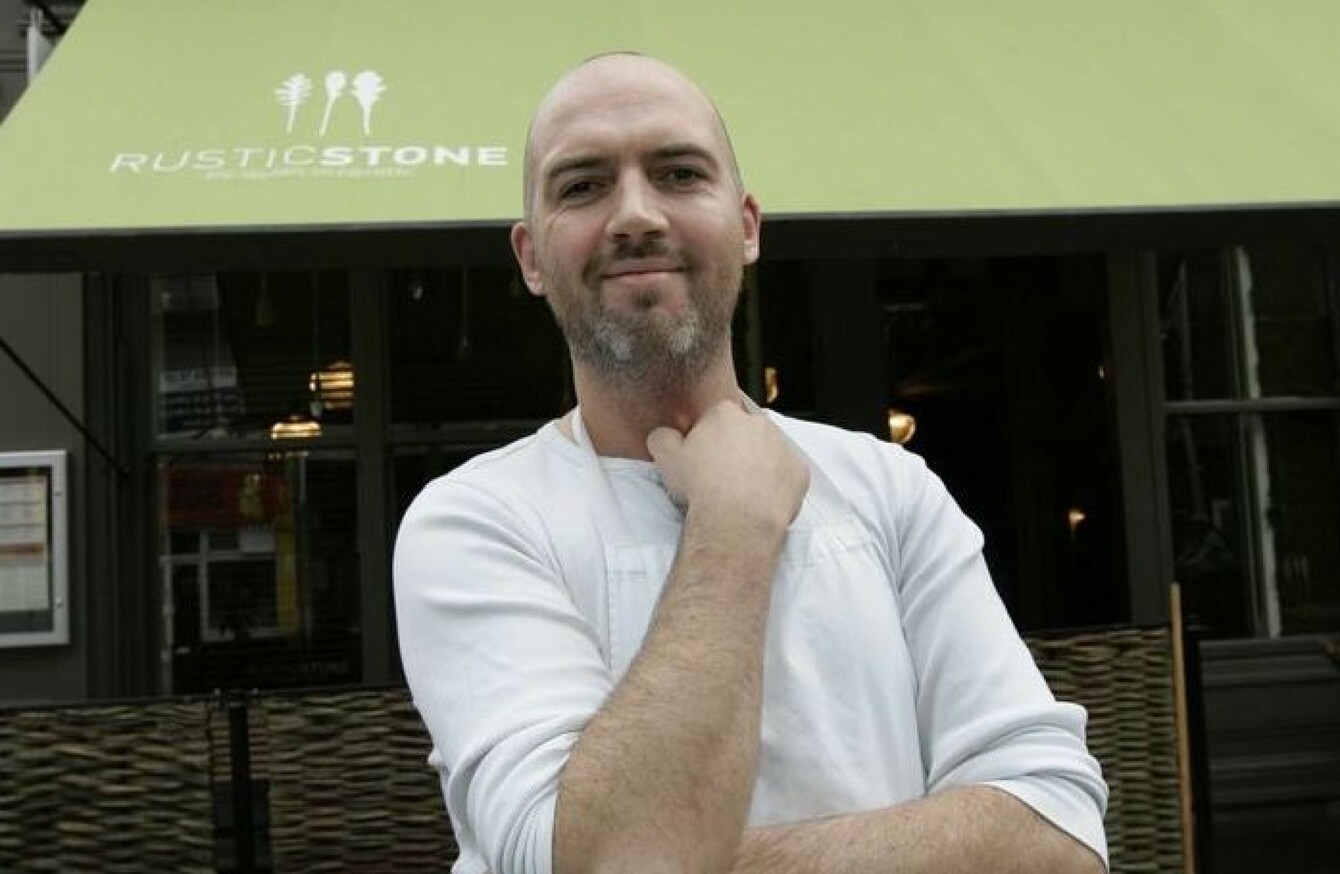 Dylan McGrath
Image: RollingNews.ie
Dylan McGrath
Image: RollingNews.ie
RTÉ FIRST DATES star Daphney Sanasie bombarded celebrity chef Dylan McGrath with nuisance phone calls and disturbing messages including texts about "demons and souls" because she thought it was funny.
The 26-year-old model and student from South Africa, who has an address at Jamestown Road in Dublin 8, pleaded guilty today to harassing McGrath (39) from 9 September until 21 November 2015.
Dublin District Court heard she kept pestering the Belfast-born Masterchef judge after they had gone on two dates in early 2015.
McGrath told reporters "I'm glad it's over" after Sanasie was remanded on bail pending her sentence hearing next month. The court heard he felt threatened and in fear and that "her behaviour was not normal", but she confessed to gardaí that she did it to annoy him and she thought it was funny.
Judge Michael Walsh adjourned the case to consider what penalty he will impose on Sanasie who plans to leave Ireland soon.
At an earlier stage it had been indicated she would be contesting the charge but just before the trial was about to begin the court heard that a guilty plea was being entered.
The charge is contrary to Section 10 of the Non-Fatal Offences Against the Person Act, which can result in a fine as well as a jail sentence of up to 12 months.
Prosecution counsel Seamus Clarke told the court McGrath is a well known chef and owner of restaurants in Dublin who has also appeared on Masterchef. The harassment was principally via phone calls, text messages and others via WhatsApp, he added.
Garda Colm Kelly agreed with Clarke that McGrath made a formal complaint on 20 November 2015.
McGrath explained to Garda Kelly he had been introduced to her by a mutual friend in December 2014. On 7 February 2015 they met for the first time and their second date was a week later, on Valentine's Day.
The court heard that from then on he had no personal contact with her but there was contact by texting and WhatsApp messages and phone calls. After that, the contact was mostly from her but intermittently contact came from him.
'Stop texting me'
Kelly agreed McGrath had become "concerned at the tenor" of some of the messages, particularly in March 2015 when he told her to stop texting him.
The court was furnished with printouts of the messages as Sanasie sat silently in the dock.
Clarke told Judge Walsh one message from McGrath said "Stop texting" followed by another, "Stop texting me" and he referred to not having patience for the silliness of her messages.
The court heard that in summer 2015 he became concerned because his brother had been contacted asking for him to cook for a famous footballer's wedding. The court heard she had turned up at his restaurant with two security guards and a photographer and was shown around because she was supposedly organising the footballer's wedding.
Then there was communication from McGrath telling her not to come to the restaurant. He told her he had family issues and he did not want drama. On 17 August 2015, she replied with a message saying: "It was about time I acted like a grown up and let this go."
Judge Walsh was told on 9 September 2015, between 4.27pm and 5.01pm, there were three messages "of a graphic nature" and he replied to her saying he was sick of them. He text her back saying he tried to ignore them and he "did not want any more stupid texts" and he told her to "pull it together and stop being selfish and indulgent".
He then got another message saying she had been in a car accident which never happened. This was followed by a number of messages "mentioning demons and souls". He told her he wanted no more contact from her "and he felt threatened and in fear because her behaviour was not normal".
Job interview
Kelly agreed McGrath feared she would come to his restaurant after she sent a text claiming she had an interview there for a job as a hostess, which was untrue.
On 28 September she sent him a text saying she had been in a car accident. There were phone calls which he ignored but they were followed by a text message from her saying: "Pick up. I want to clear some things between us."
Over one weekend in mid-November 2015 he received 20 SMS messages and 75 via WhatsApp from her.
In one of them she said "she knew where he lived after he moved and she said they could meet in a café close to his address", the court was told.
On 24 October 2015, she text him again to see if she could come to his restaurant but in a text response he made it clear to her "I have to be left alone, you've gone too far, you should speak to someone". He also sent her a message saying, "NO MORE CONTACT EVER PLEASE".
She replied with "say sorry to me then, an apology for being ignored".
#Open journalism No news is bad news Support The Journal

Your contributions will help us continue to deliver the stories that are important to you

Support us now
Her next message read: "You have to forgive me, seriously, last chance". Judge Walsh heard he followed that with "Forgive you, I do". From 9 September until 21 November there were 120 texts, WhatsApp messages and phone calls. He was concerned by some of the calls where he could hear laughing from the other end, "and he knew it was her because he recognised her distinctive voice".
Kelly confirmed that she was arrested on 1 December and a number of phones were seized at her home. When interviewed she admitted she used them to contact McGrath and that he had replied with requests for her to stop but she did not think they were serious.
Kelly said Sanasie, who has no prior criminal convictions, admitted she did it "because she wanted to annoy him and thought it was funny". All the unwanted messages and calls were done when she was under the influence of alcohol, Judge Walsh heard.
Following her arrest she stopped contacting him, Kelly said.
Victim impact 
Clarke said that McGrath, who sat in the public gallery supported by friends and family, did not want to give a victim impact statement. Kelly said it caused the chef a lot of undue stress, and at the time he had been suffering from problems with his back.
Pleading for leniency, defence counsel Gareth Robinson said his client came to Ireland two years ago as a student and in that time got modelling and TV work.
Before leaving South Africa both her parents died and it was her intention to return there after the case has ended. She was supported in court by friends and her sister who had travelled over from Germany.
The court heard a restraining order is being considered and she has been warned by the judge not to tweet about the case.
Judge Walsh said he had been furnished with the copies of the messages and he would need to review them in detail before finalising the case. He adjourned sentencing until 17 February next.
The model, who remains on bail, was known as Federica Sanasie when she appeared on the first series of the hit matchmaking TV series First Dates last year.
McGrath – one of Ireland's best known chefs – was a proprietor of Mint in Ranelagh in Dublin which was awarded a coveted Michelin Star before opening the Rustic Stone Restaurant on South Great George's Street in Dublin city centre. He later became a judge on the Irish version of Masterchef, which went on to be a hit.
Comments are closed as legal proceedings are ongoing.