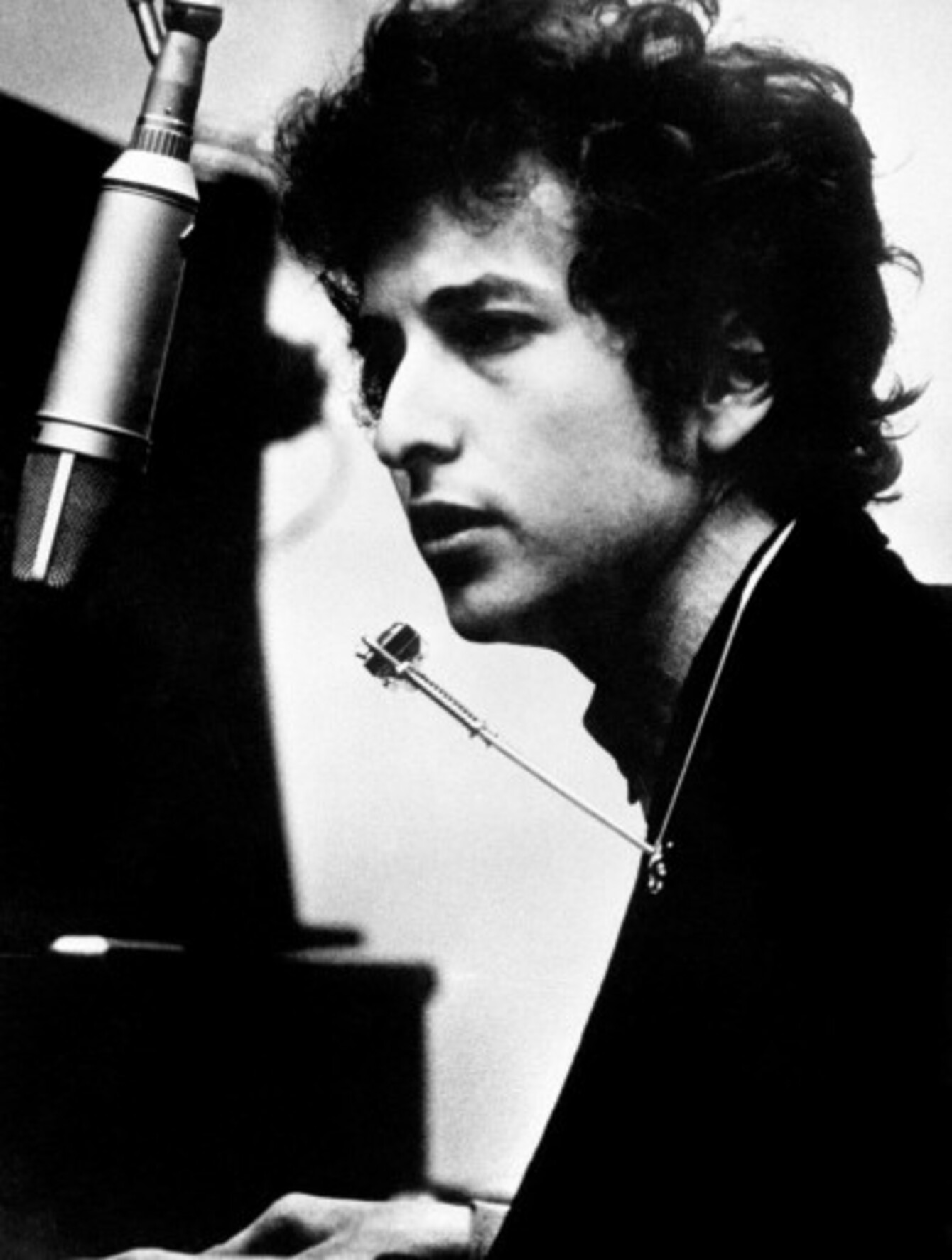 Dylan during his mid-60s peak.
Image: PA Archive/Press Association Images
Dylan during his mid-60s peak.
Image: PA Archive/Press Association Images
FOLK SINGER, VAUDEVILLE performer, "song-and-dance man", rock star, guitarist, pianist, painter, spokesman for a generation – the biggest problem when it comes to Bob Dylan has always been categorisation.
Starting off as a de facto Woody Guthrie tribute act, the man born Robert Allen Zimmerman in 1941 in Duluth, Minnesota had, by the mid-1960s, become the avatar of folk rock – a symbolist poet and pop star in one.
As that decade drew to a close, he was placed at the apex of the supposedly leaderless US counterculture, the man from whom sundry freaks and hippies sought artistic, moral, and political guidance. (By then, of course, he was a devout family man holidaying in Israel, albeit temporarily).
Most enduringly, he has been defined as a poet, and held up against history's greatest – even if the most frequent comparison is, confusingly, with Keats, an artist whose aims and methods differed considerably.
Now the Nobel committee has awarded the singer, in his 76th year, its Prize for Literature, defining him chiefly as a provider of words, albeit "within the American songbook".
For fans of lyrics, or of lyrical music, Dylan's lyrical output rewards thorough exploration like no other artist of the last 100 years. In judging his Nobel Prize award, therefore, it's worth returning to his best writing.
Source: BobDylanVEVO/YouTube
Civil rights
Dylan's haunting first self-titled album, recorded in 1961 at the age of 19 but sounding like the final will and testament of an 80-year-old contained just two original songs. From this standing start, within two years he had become the poet laureate of the civil rights movement, the "conscience of his generation".
The Freewheelin' Bob Dylan, his second album, was when the literary Dylan began. Its opening track Blowin' In The Wind later turned out to have had a powerful impact on those fighting racial segregation.
How many roads must a man walk down, Before you call him a man? / How many seas must a white dove sail, Before she sleeps in the sand? Yes, and how many times must the cannonballs fly, Before they're forever banned? The answer, my friend, is blowin' in the wind

The answer is blowin' in the wind
It was played before Martin Luther King's 'I Have A Dream' speech in 1963 and, in 2007, was the subject of a homily by Pope John Paul II.
Conceptually daring, it used relatively simplistic language. But the album soon showed just how frighteningly good a 21-year-old's lyrics could be. (John Lennon and George Harrison were particularly entranced, their own output changing accordingly.)
This young Dylan was the first performer to write unflinchingly about the power structures embedded in society – none more so than in Masters of War, a tirade against the "military-industrial complex" soon to spill blood in Vietnam.
Cuban Missile Crisis
It wasn't the only prescient song on the album. In the monumental A Hard Rain's A-Gonna Fall, Dylan hears the "roar of wave that could drown the whole world". That was in the summer of 1962 –  three weeks before the Cuban Missile Crisis.
While we embed a video below, it's worth also reading the song - which was adopted by the UN ahead of the Copenhagen climate change conference – as a poem.
In wave after wave of dystopian images, Dylan paints the hidden undercurrents of life.
We see a white man walking a black dog; pellets of poison flooding people's waters; children toting guns and sharp swords; a place where "hunger is ugly and souls are forgotten"; where "black is the colour, where none is the number". It begins:
Oh, where have you been, my blue-eyed son?
And where have you been, my darling young one?
'I've stumbled on the side of 12 misty mountains
I've walked and I've crawled on six crooked highways
I've stepped in the middle of seven sad forests
I've been out in front of a dozen dead oceans
I've been 10,000 miles in the mouth of a graveyard
And it's a hard, it's a hard, it's a hard, and it's a hard
It's a hard rain's a-gonna fall.'
But Freewheelin' also contains moments of profound tenderness, including Don't Think Twice, It's Alright, an almost painfully wistful paean to his emigrated girlfriend Suze Rotolo.
http://www.dailymotion.com/video/xq1q9k_bob-dylan-a-hard-rain-s-a-gonna-fall-1964_music
Explosion
Elsewhere, there is the nostalgia for the lost innocence of youth in Bob Dylan's Dream, the absurdist satire Talkin' World War III Blues – more of a comedy speech than a song – and Oxford Town, a song about the enrolment of a black student in Mississippi that was written for publication in a magazine.
And then after this initial explosion, came a lull.
The Times They Are A-Changin' was a serious affair, although there were still high points: including the epoch-defining title track, the social realism of Ballad of Hollis Brown and the historical satire With God On Our Side, with its references to making friends with the Germans, "though they murdered six million".
Another Side of Bob Dylan, his fourth album, was scrappy, often both overwrought and under-wrought in the same line. Under the malign influence of Brecht, and turning to chemical solace after the departure of Rotolo, Dylan was all getting a bit heavy, man.
"The only beauty's ugly", he wrote at the time, an aesthetic manifesto that said much for his uncompromising style.
But this new-found earnest harshness wasn't to last.
Electric
Stifled in the straitjacket of acoustic folk music, pigeon-holed as a protest singer, and inspired by the strange music emanating from England, he famously went electric on 25 July 1965 at the Newport Folk Festival, returning to his roots as a rock bandleader.
(The ensuing backlash wasn't against electricity per se, but the distortion his amps often created, and his increasingly disdainful treatment of both the audience and his own words, which by then had become sacred texts for vast tracts of the audience.)
Dylan had moved on from writing about issues to the amorphous worlds of his own imagination. Eager to cover new artistic ground, and fired by a cocktail of marijuana, LSD, methamphetamine – and, some claim, heroin – he embarked, in 1965 and 1966, on one of the most productive periods ever sustained by any artist, written or otherwise.
His 1965-66 triptych Bringing It All Back Home; Highway 61 Revisited and Blonde On Blonde stands as his musical, and poetic, peak.
Uniquely, most of songs on these chiefly rock albums also work as stand-alone poems.
Muse
Softened by Sara Lownds – the muse "that speaks like silence" – he began to intersperse his increasingly abstract, surreal songs with hymns of praise to the feminine ideal, beginning with Bringing It All Back Home (a reference to reclaiming rock music from English bands).
It's on this album that many of his stream-of-consciousness classics are found: the dreamscape of Mr Tambourine Man; the rapid-fire social commentary (and top 40 single) Subterranean Homesick Blues and the love song Love Minus Zero.
Here, too, is a rejection of the folk prison of Maggie's Farm, and the restraints imposed upon him there. "I try my best," he writes, "To be just like I am/But everybody wants you, to be just like them. They say 'sing while you slave and I'll just get bored'."
But it's on the second half of the album, with the author mainly on acoustic guitar, that Dylan's most outstanding poems appear: the epic Gates of Eden, with its search for truth untrammeled by religion; and It's All Over Now, Baby Blue – a song that brings down the curtain on a post-war social consensus that had held American society together since Truman.
The rapidly shifting series of images in It's Alright Ma (I'm Only Bleeding), in particular, sees Dylan capable of high linguistic expression, seeking personal autonomy and lambasting the hypocrisy of society. The lyrics are worth reading in their entirety.
Source: NanchatteDesu/YouTube
At this stage, with Dylan just after turning 23, he had already made his meteoric mark upon the world of literature.
Critics lined up to throw garlands at his feet. He was compared to Rimbaud, to Keats and the Beat poets. Allen Ginsberg, a much older and more experienced literary figure, became Dylan's disciple.
Like a Rolling Stone
His lyrics were becoming more strident. Like A Rolling Stone, the opener to Highway 61 Revisited, reached number two in the US charts.
Changing the definition of what a hit single could be lyrically, it was so long that listeners had to turn the record to hear the second half. Listening from across the Atlantic, The Beatles couldn't believe what was unfolding. "It just went on forever," McCartney later said.
The album's sharp tone continues in On Ballad of a Thin Man, where he sums up the generation gap by asking, pointedly:
Something is happening here, and you don't know what it is. Do you, Mr Jones?
But there is lyrical ease, too. It Takes A Lot To Laugh, It Takes A Train To Cry has been described, by critic Sean Egan, as "a slow, tender, sensual anthem".
His work was reaching a fever pitch, both in verse, in his half-formed novel Tarantula and, notably, in interviews – including a celebrated wide-ranging comedic exposition on reality with Nat Hentoff in 1966.
The same year, an increasingly feminised Dylan released one of pop's first double-albums: his magnum opus, Blonde On Blonde.
Beginning with Rain Day Women, a raucous depiction of the loneliness of drug dependency amid increasingly hostile reactions at concerts (he was famously booed and called "Judas!" for a particularly haughty display in Manchester), the album progresses through different scenes from late-night New York.
Visions of Johanna is a perennial favourite among critics. The opening lines set the scene of urban alienation:
Ain't it just like the night to play tricks when you're trying to be so quiet? We sit here stranded, though we're all doing our best to deny it
Seeking solace in women and art, the author then takes the listener – or reader – through a set of hallucinatory visions.
Although never without a sense of humour, and containing several hits, the album's increasingly impressionistic language also saw the dangerously strung-out Dylan open to accusations of pretentiousness.
Motorcycle accident
And then? And then came the crash.
In 1966, feeling the heat from incessant touring, recording and a drug intake that can only be described as Herculean, Dylan used a motorcycle accident to absolve himself from contractual commitments, sought medical help, and sequestered himself in Woodstock, New York, with his wife Sara and their children.
He would go on to write some excellent songs, both catchy and lyrical – All Along the Watchtower; Knockin' On Heaven's Door; Lay Lady Lay; The Hurricane; Jokerman, and Tangled Up In Blue, but the sustained poetic gifts that had set him apart from his peers in his storied mid-period had deserted him.
Years later, recalling the time after his 1966 crash, he confirmed that he forgot how to write songs entirely, and only summoned up Blood On The Tracks (a fine album) through "willpower" – amid a rancorous divorce.
While there have been listenable, and some very good, albums since 1967 (and a superb first instalment of his memoirs, Chronicles) it's doubtful whether the Nobel committee would have come calling without the astonishing body of work that preceded it.
His influence on writers, songwriters and poets means, like him or not (and many justifiably choose the latter course) he is a major figure in the history of the written word, comparable in many ways to his fellow singer-guitarist James Joyce.
But then Joyce never won a Nobel Prize.