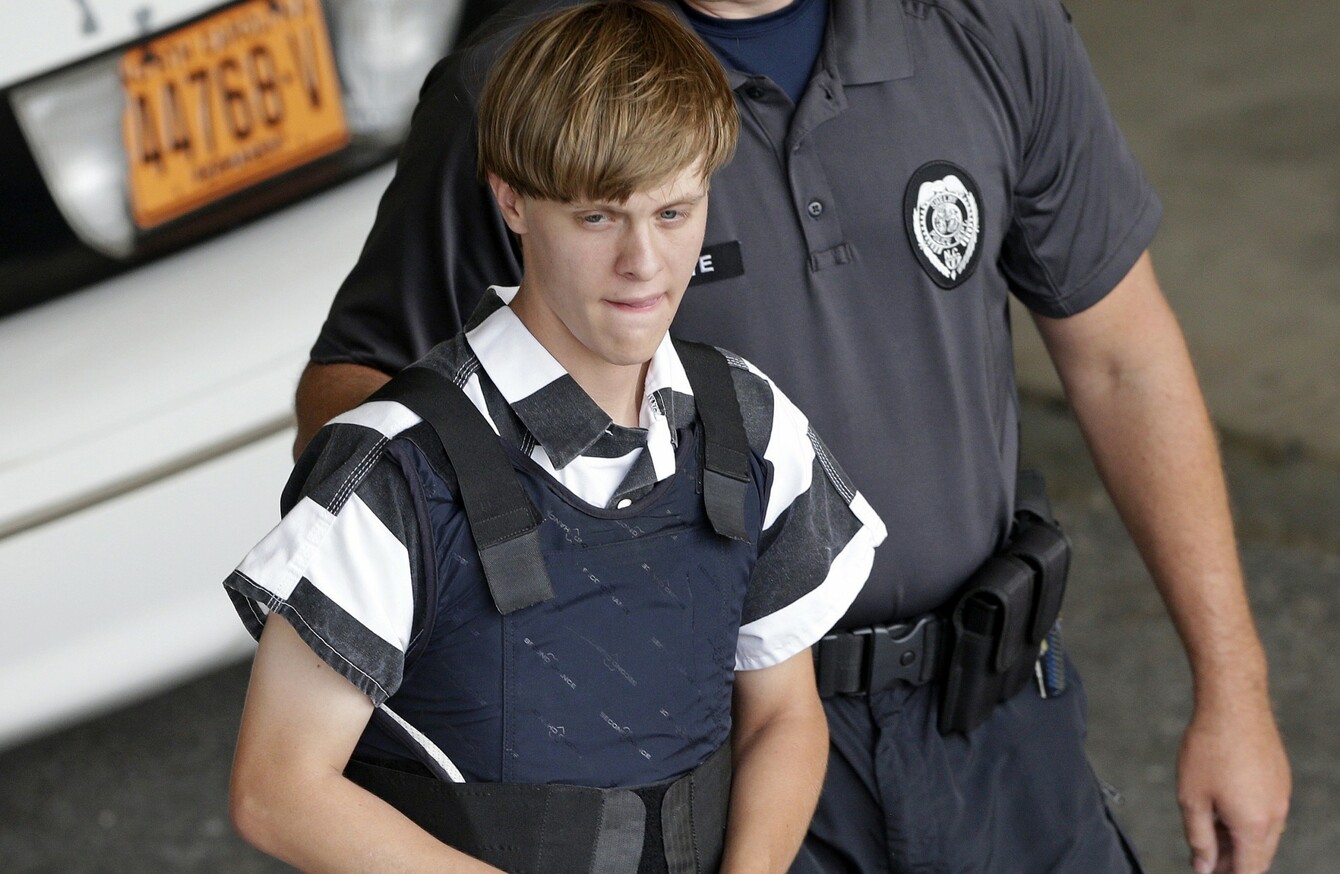 Image: Chuck Burton AP/Press Association Images
Image: Chuck Burton AP/Press Association Images
THE SELF-DESCRIBED white supremacist facing the death penalty after gunning down nine African-American churchgoers in Charleston has said that he will call no witnesses during the sentencing phase of his federal hate crimes trial.
Dylann Roof, 22, also confirmed that he intends to represent himself during the stage in which the jury in the South Carolina court will decide whether to execute him or imprison him for life.
"As far as I know, I am not intending to offer any evidence at all or call any witnesses whatsoever," Roof told US Judge Richard Gergel in a Charleston courtroom, The Post and Courier reported.
"I think it's a bad idea," Gergel said about Roof's decision to represent himself, telling him that he has until Tuesday, the first day of the hearings, to change his mind.
Roof, who told Gergel he will make his own opening statement, also said he will not argue that he has mental problems to persuade the jury to spare his life.
The government plans to call more than 30 witnesses, mostly survivors and victims' family members, to testify during the sentencing phase, The Post and Courier reported.
The same jury found Roof guilty on all 33 charges he faced, including hate crimes resulting in death, earlier this month.
His lawyers did not deny that he carried out the June 2015 massacre at the Emanuel African Methodist Episcopal Church after taking part in an evening Bible study class.
During the first phase of his trial, the court saw a video of Roof's confession following his arrest. In it, he justified his actions as a reprisal for crimes he said African-Americans commit against white people.
"Somebody had to do something because black people are killing white people every day," he said calmly and without emotion to the FBI special agent questioning him. "They rape 100 white people a day."
Three members of the Bible study group survived the massacre.
The church, also known as "Mother Emanuel," is one of the oldest black congregations in the American South, with strong links to the fight against slavery and segregation.