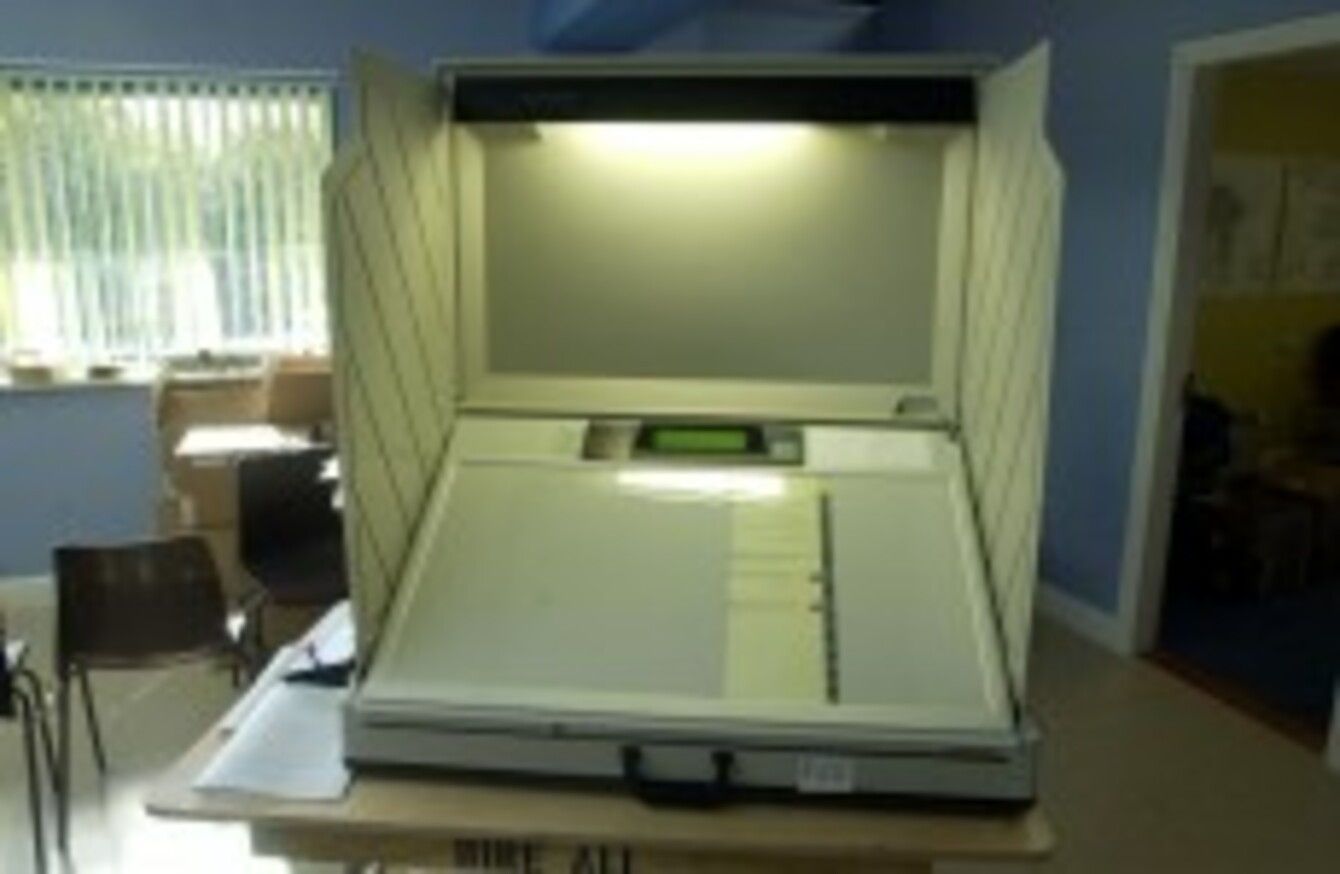 The e-voting machines (File)
Image: Haydn West/PA Archive
The e-voting machines (File)
Image: Haydn West/PA Archive
THE GOVERNMENT HAS announced that the ill-fated e-voting machines will be disposed of after Environment Minister Phil Hogan signed a contract with a metal recycling company to take the 7,500 machines off the State's hands.
Describing it as a "sorry episode", Hogan said in a statement this evening that the contract with Tullamore-based KMK Metals Recycling Limited will see the firm pay just over €70,000 to the State for all the equipment, gradually removing them from storage and disposing them.
"Removal of the equipment from the present storage locations and transportation to the recovery facility by the contractor will commence in the coming week and will be completed by September," Hogan said.
"The storage costs of the machines were €140,000 per year for the past  three years, and from next year we will not incur those costs any longer."
E-voting machines were purchased by the State at a cost of €51 million back in 2002 but were only ever used in three constituencies at the 2002 general election – Dublin North Dublin West and Meath – and the second referendum on the Nice Treaty later that year.
Since then storage of them has cost the State around €4 million and led to much ridicule including from the Finance Minister Michael Noonan who suggested earlier this year that they could be put in pubs as the machines were "valueless".
Former environment minister John Gormley announced that the project was being officially abandoned three years ago saying that the machines would be disposed of after a report commissioned by the government criticised the omission of a backup paper trail from the machines' mechanisms.
As well as the disposal of the e-voting machines themselves, 12,842 ballot modules on which voting data is saved, 154 programme reading units which read the modules, 292 cases for the cartridges, 1,232 transport trolleys, 2,142 hand trolleys, 4,787 metal tables, and 918 tray attachments are also being disposed of.
Over 60 per cent of the voting machines have been stored at the Gormanstown Army Camp where there are no ongoing rental costs. However the remaining machines are stored at 13 local premises around the country.
The government says the removal of the machines from storage and their disposal will be completed by September and will ensure that there will be no storage costs incurred in 2013.
"I want to finally draw a line under the electronic voting project and to see that the equipment is disposed of properly," Hogan added.