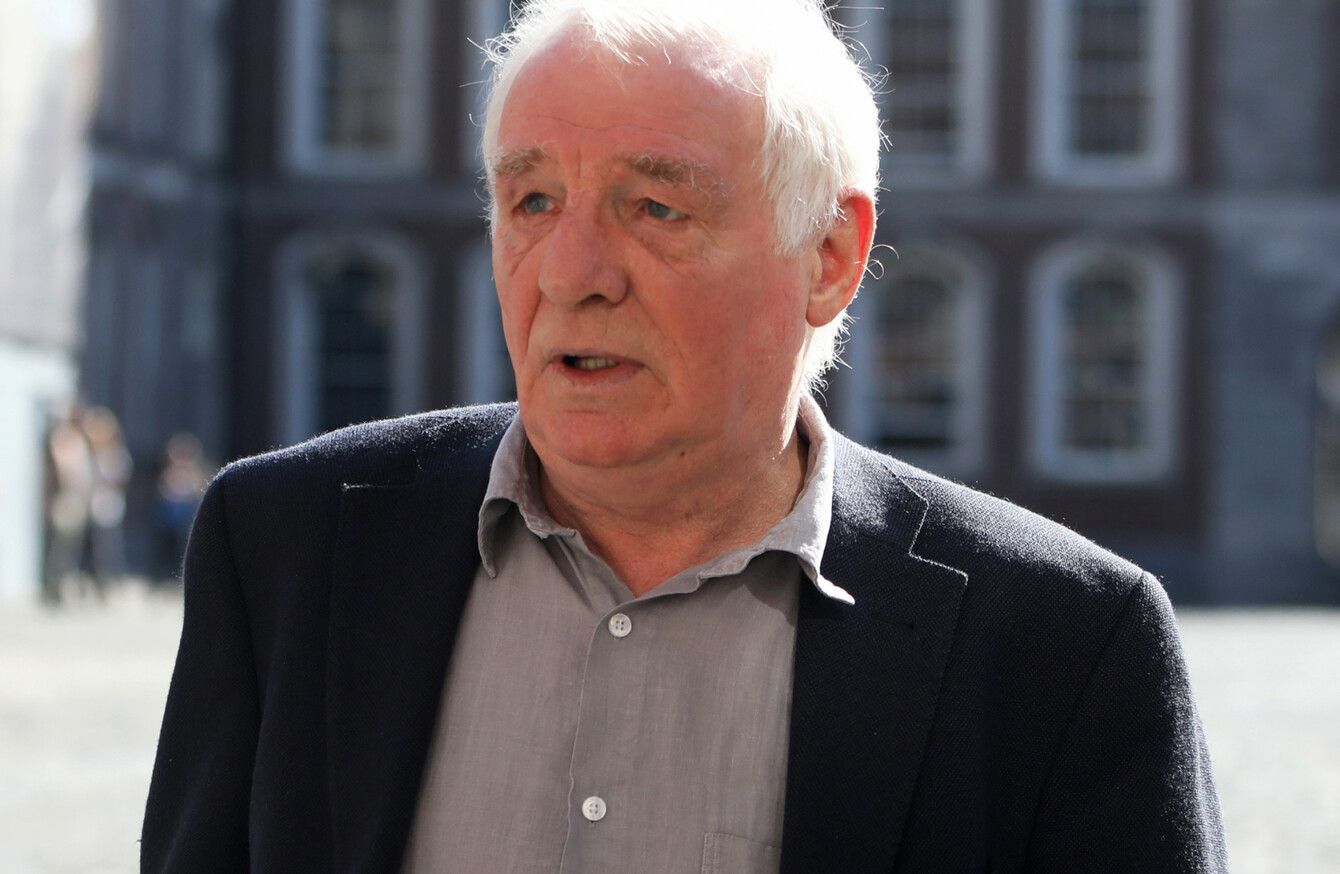 Image: Leah Farrell/RollingNews.ie
Image: Leah Farrell/RollingNews.ie
EAMON DUNPHY HAS defended his decision to visit convicted sex offender Tom Humphries in hospital after hearing about allegations of sex abuse, but before he was charged.
Speaking last night on the Tonight Show on TV3, Dunphy said the story he had heard at that time was "more benign" than that which emerged in the evidence of the trial, which led to a two-and-a-half year sentence for Humphries.
The court heard that the former Irish Times sports journalist groomed his victim from the age of 14, sending her 16,000 text messages over a three-month period alone.
On one occasion, Humphries picked the then 16-year-old up from her school on a Sunday and went to his apartment where he sexually abused her.
'Having sex with an underage girl'
After Humphries was confronted by his estranged wife and brother-in-law about inappropriate text messages his daughter had found on his phone, he talked about taking his own life and was hospitalised. The trial heard he was transferred to St Patrick's mental health hospital following  a suicide attempt, and Dunphy said he went to visit his former colleague there.
He said he believes he "was misled" about the "gravity" of the allegations.
"It was more of a question, I was told, of underage sex which is, of course, serious but he had been a colleague of mine. I went to see him and brought him a book," Dunphy said last night.
I spent an hour with him because I felt he hadn't at this stage been charged with anything but I knew this was pending. But I didn't know the nature of it, the grooming.
I thought he would be charged with having sex with an underage girl. I did know there was a connection with the Gaelic club and he was in a position of authority. But the gravity of it, I didn't know.
'Just about right'
In a victim impact statement, the young woman had described to the court how the events had made her  "physically, emotionally and mentally ill" and caused her to "block out childhood memories" in an effort to also "block out all the abuse".
Dunphy said he feels "dreadfully sorry" for the victim and acknowledged that Humphries had "unforgivably abused" his position of authority.
However, he said he thought the two-and-a-half year sentence was "just about the right sentence" for the crime.
"He has to live with the shame. His own family, he has hurt. He has hurt this girl. I believe that mitigation is part of a criminal justice system and I also believe that redemption is important."
Dunphy's comments sparked criticism from viewers of the programme last night:
'Terrible suffering'
Yesterday former Cork hurling goalkeeper Donal Óg Cusack resigned as Clare senior hurling coach following criticism of a character reference he wrote for Humprhies.
In a statement he said he had showed "a lack of judgement" and that he condemned the crimes committed by the convicted sex offender.
I cannot begin to imagine the terrible suffering of the victim.
I apologise for any hurt or offence caused by my action. My intention was to help a human in a dark place who asked me for help.
The Sunday Times chief sports writer David Walsh also wrote a character reference for Humphries.
Speaking yesterday, Walsh said:
"As justice has now run its course I want to say that I unequivocally condemn what Tom Humphries did and have every sympathy for the victim in the case.
"I read her victim impact statement and have some sense of the terrible ordeal she has been through. Furthermore, in a radio interview five years ago I spoke about the case in a manner that was insensitive and ill-judged – I apologise unreservedly for that."