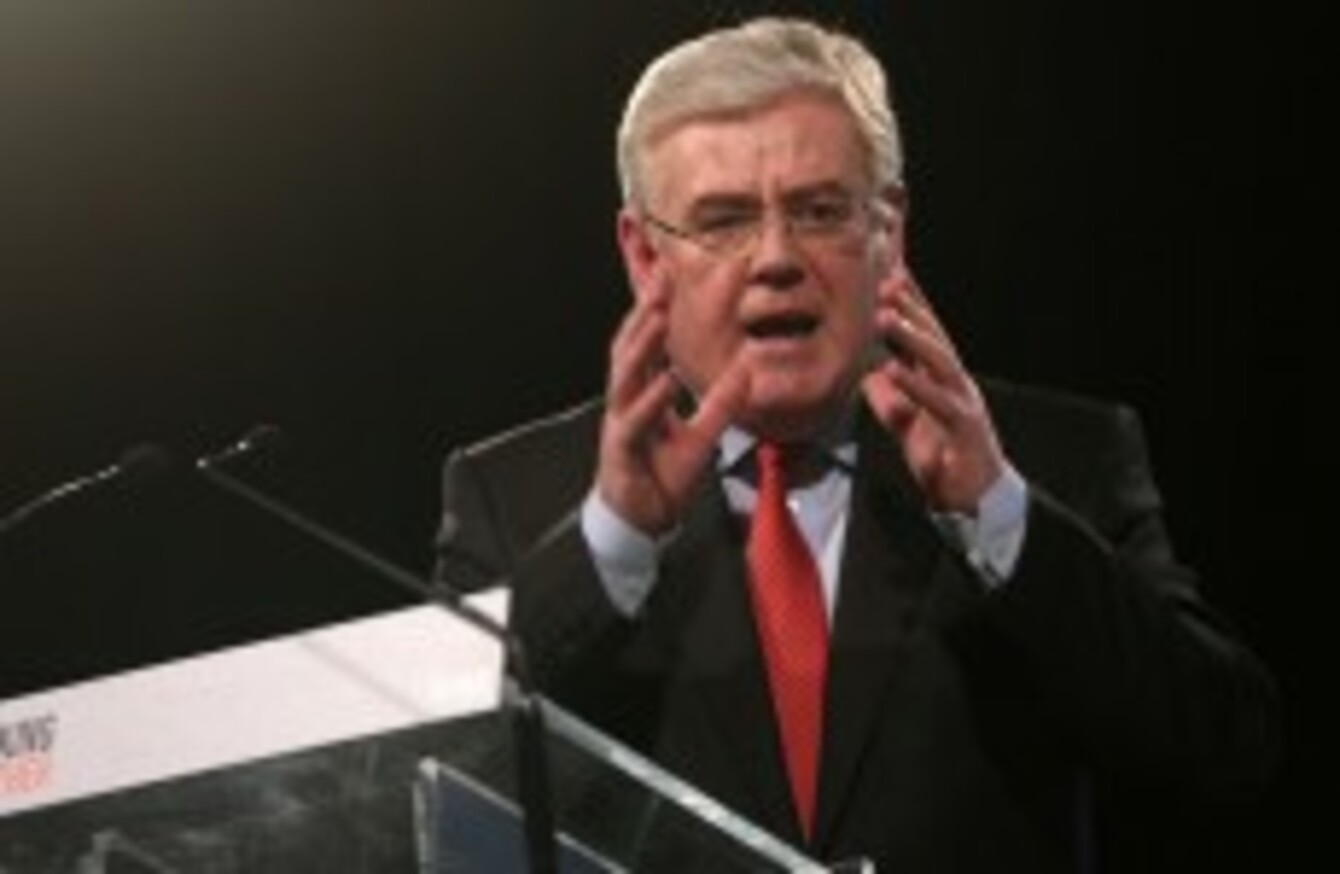 Eamon Gilmore
Image: Laura Hutton/Photocall Ireland
Eamon Gilmore
Image: Laura Hutton/Photocall Ireland
TÁNAISTE EAMON GILMORE has said that this year will be the most important since the crisis began and that his party needs to "maintain a threshold of decency" as he claimed it has done for the past three years.
In a keynote speech to delegates at the Labour conference in Meath tonight, Gilmore has said that his party must adhere to a set of basic principles, including maintaing a "threshold of decency" that he said the junior coalition partner has done for the past three years in government.
"For six long years, our country and our people have been to hell and back," Gilmore told delegates as he also paid tribute to the families throughout the country who have been affected by the recent adverse weather.
He warned that the country faces a difficult path in the year ahead, saying "our job is not yet done" and "our mission not yet complete".
The Tánaiste sounded a warning to the party faithful of the alternative choice the country faces of "going back to the bad old days" when, he said, "Ireland was run by a different Troika – a Troika of bankers, developers and Fianna Fáil".
He repeated a call to "take the pressure off the people who have made the sacrifices to achieve recovery" – an indication that the government may introduce tax cuts in the next Budget.
#Open journalism No news is bad news Support The Journal

Your contributions will help us continue to deliver the stories that are important to you

Support us now
Gilmore also reiterated a commitment, made in his conference speech three months ago, to legislate for collective bargaining rights and said the party would fight, and win, a referendum on same-sex marriage net year.
Read the speech in full:
My first thoughts tonight are with all those families, throughout the country, who have been so badly affected by the storms, floods and bad weather of the past few weeks. I want to thank all the volunteers, the utility workers, and the public servants who have helped people in distress, and I want to acknowledge the work of Joan Burton, Brendan Howlin, and our colleagues in Government for coming to the aid of distressed households and businesses.

It has been said, that we are our choices. That is true in life, and it is true in politics.

Like the choices that Labour made to bring our country back from the brink and put it on the road to recovery.

The choices that we must make now, to protect the recovery, and make sure it is felt in the lives of our people.

And the political choices, that the Irish people have to make at the elections in May.

For six long years, our country and our people have been to hell and back.

Since 2008, we have been through the worst economic crisis in our history.

Thousands of jobs lost, businesses lost, savings slashed, and a generation of young people whose future has been put on hold.

This time three years ago, we were in the middle of a general election campaign. The country was broke, unemployment was heading for half a million, people were taking their savings across the border. Everyone was apprehensive about the future. I remember meeting a pensioner who was genuinely worried, and I think with some justification, that the state would not be able to continue to pay his pension.

Labour made a choice back then.

Labour took the decision to go into Government to fix the crisis. To roll up our sleeves, with Enda Kenny and his Fine Gael colleagues, and take on the worst economic storm this country has ever faced.

And now tonight, thanks to the patience and sacrifice of the Irish people, we can report that it is working.

Jobs are being created again

Confidence is growing again

We are out of the bailout and able to shape our own future again.

Of course, there is still a long way to travel. But, if we stick to the task, if we are clear about our destination, then there is hope again.

But, our job is not yet done. Our mission not yet complete

And this year, 2014, may be the most important year since the crisis began.

Because the choices we make now, as we leave the bailout behind and as we embark on recovery: these are the choices that will shape our future, this year, next year, and for years to come.

The troika is gone, so the choices that we now make are our choices – about the future that we want to build, working together.

We can stick to the task, of building recovery and creating jobs and work, or we can put that all at risk. By indulging in fairytale economics.

We can build a recovery that is genuinely felt in the lives of all our people, or we can stand back and watch the gains being reaped by a select few.

We have the choice, of going back to the bad old days, when Ireland was run by a different Troika – a Troika of bankers, developers and Fianna Fail – or we can work together to build a better, fairer, more prosperous and tolerant Ireland.

For the past three years, Labour has made choices that have mattered.

We made the decision after the last election to enter Government and face into the crisis, not to run away from it.

We made the choice that, even if hard decisions were needed, we would insist on a threshold of decency in how the crisis was managed.

We made the choice to protect core welfare rates. To restore the minimum wage. To put back in place the structures that protect the low paid. To take 330,000 people out of the USC net. Not to increase income taxes. To protect the weekly pension, and to keep the pupil-teacher ratio intact.

In difficult times we built 2,700 classrooms, creating jobs and giving our children better places to learn. We found the money for a national children's hospital. And we chose to put up taxes on wealth so that we could avoid higher taxes on ordinary incomes.

The story of the past three years, is a story of hard decisions taken, but it is also a story of roads not travelled. Of the cuts that could have been made, but were avoided. Of the jobs that could have been lost, but were saved. Of the homes that might have been lost, but were protected.

As a party we have taken political risks with the choices we have made, but we will never regret putting the needs of the next generation ahead of the demands of the next opinion poll. You can't clean up a mess without getting your hands dirty. And having taken the risks, we will not now put the recovery at risk.

Now we move on with the next phase.

About how we make recovery real in the lives of hard-pressed families.

About how we go from improving bond yields, to improving living standards.

About how we move from better national budgets, to better family budgets.

About how we take the pressure off the people who have made the sacrifices to achieve recovery, and who feel that they pay for everything and get nothing in return.

Too many of our people are still just getting by from day to day, and from week to week. Existing, rather than living. Too many people are worried about what next week and next month will bring, and about the future of their children.

These are the people for whom we have to make recovery real.

Leaving the bailout means that we again have a choice about our future. We could go back to the bad old ways. Of insider politics. Of tax breaks for those in the know. Of a casino economy where people build and sell property to each other and where families who need homes are priced out. Of a country and an economy run, not by the people for the people, but for a special few, who think they're worth it.

That's not the future we choose.

I want Ireland to be a genuine Republic. Where opportunity is open to all our people. Where if you work for a living, you can afford to live. Where a job pays enough to pay the bills, to buy a home and raise a family. Where you can hope for something better for your children, and where you can grow old in safety and dignity. Where life is about more than just scraping by, and where the people who work hard and play by the rules can get on, without fear or favour.

That is an aspiration that this country has yet to realise. Instead, down the decades, we have gone from bust to boom and back again. And generation after generation has paid the price, as they left these shores to find a future in a different land. This time we need to learn from the mistakes of the past. Determine not to repeat them. And determine too, not to return control of our affairs to those who caused the crisis.

What the last three years show us is that we can have a better future, if we make the right choices for our children. If we build on the recovery that is emerging; if we are clear about our destination; and if we work every day to get there, then there is nothing that, working together, we cannot do.
What we do now after the bailout has to be guided by four principles.

Firstly, we need a sustainable prosperity. Too many of our people still don't have work, or don't have enough work. We have to create more and better jobs.

Secondly, we need a shared prosperity, which means that we have to invest in our people, and make sure that recovery is spread across society, and across the regions

Thirdly, we need to maintain a threshold of decency, as we have done for the past three years, and to make sure that nobody gets left behind.

And fourthly, we have to commit ourselves to tolerance and freedom at home, and to promoting Irish values abroad.

Labour is the party of work, and that is why we put jobs at the heart of Government policy for the last three years. Why we cut VAT on job-rich areas like hospitality, why we brought in stimulus measures, like building and repairing roads and schools, why we worked every day to repair Ireland's reputation and attract in new jobs and investment.

Three years on, it is working. Three years ago this country was losing 7,000 jobs a month; today we are creating 5,000 per month. Since the start of the year, 10,000 job vacancies have been advertised. We have got the live register below 400,000, and we are working every day to create more jobs and to help people to get back into work.

And we will do more. We will continue the work of rebuilding our reputation and attracting investment. We will work to achieve recovery in the domestic economy, especially in the construction sector. There are parts of Ireland where we need more new homes, and at affordable prices, and we have the building workers who can build them.

We are working for a sustainable, and fairer recovery.

We have made a start by introducing free GP care for children under six. And by cutting the cost of sending children to school.

We will, in the lifetime of this Government, deliver comprehensive climate change legislation, because Labour doesn't just talk about the environment, we act to protect it.

We will, in the coming months, legislate for collective bargaining rights so as to make for a fairer workplace.

And, we will, by the end of this year, have a dozen projects up and running in some of the most disadvantaged areas of our country designed to break the cycle of poverty for children.

Recovery does not just happen by itself. It needs to be managed so that it spreads out fairly. So that the industrial peace that we have enjoyed is maintained. So that we see living standards rising, as the economy grows, and so that people see the benefits in their pockets and in their family budgets. So that when we have the resources to do so, we reduce taxes on income and family homes, rather than cutting capital taxes and developing new tax breaks for the wealthy. That is the choice we want to make on tax.

Our country is changing. Our economy is growing again. And our society is changing too. Yes, our core task is to focus on jobs and the economy and hard pressed families.

But families don't all look the same. In politics, as in life, you have to be able to do more than one thing at a time.

That is why Labour is leading reform.

We are the party of freedom and tolerance. Labour is proud of the role we have played to build an open and modern Ireland. This Party is taking on the difficult social issues, and we are leading on them, because that is who we are, and that is what we have always done.

That is why, after 20 years, we have changed the law to make pregnancy safer for Irish women. That is why we are doing the patient and painstaking work of addressing patronage in our schools. And that is why we are going to fight and win a referendum campaign for the equal right to marry for all our citizens.

Change is difficult. Change takes courage, just like bringing our economy back from disaster, took courage. But this party has never lacked for courage.
We will put our case in a calm and rationale manner, we will respect all points of view, and we will win by appealing to the decency and fairness of the Irish people.

Openness, tolerance, fairness and freedom. Those are Labour values. Those are our values at home. And those are our values abroad. We will continue, as we have always done, to promote Irish values on the world stage. We will keep faith with the world's poor through our aid programme. We will maintain our commitment to peace and neutrality and human rights. Believe me, Ireland's restored reputation is due not just to keeping the Troika targets. It's due to the contribution we make at the United Nations and elsewhere, when we stand up for the values we hold dear.

As I've said earlier, 2014 is the year which will decide where our country goes after the bailout, and who is to benefit from the recovery. The choices which will decide those questions, are not just for political leaders and political parties. In a democracy, the individual political choices we make, as voters, are the most important of all.

On May 23rd, we will all be asked to choose the councillors who will govern our city and county councils for the next five years, and we will choose the 11 MEPs who will represent the Irish people in the European Parliament, almost to the end of this decade. These are important choices.
We all live in local communities, and local services matter to all of us, and to our families, every single day. The parks, the roads, the playgrounds, the footpaths. The public space that we all share.

It matters to our daily quality of life, to whom we entrust our local government.

Across Ireland, Labour councillors are working every day, to build a better life for the people and communities that they represent. They are hard working people who care passionately about their communities. Who believe in protecting the environment, providing young people with opportunities to play and learn, providing better facilities for families.

Over the next five years, in council chambers around Ireland, the councillors we elect on May 23rd, will make decisions which will affect every local community. They will decide what will be built, and where it will be built.

And when we think back on our economic crash, and we think about the property bubble that led to it, that bubble had its origins in the bad planning decisions made in council chambers in the 1980s and 1990s. The frenzy of land rezoning. The permissions to building housing estates on flood plains. The planning corruption scandal that led to an expensive 14 year Tribunal of Inquiry. They can all be traced back to decisions made in the council chamber.

For more than a century, Labour has an honourable and honest record in local government. Labour has an unrivalled record for good, sensible, sustainable planning, and the Labour Party can be proud that no Labour councillor has ever been found to have taken a corrupt payment.

There has never been a "for sale" sign on this Party, and there never will be.

The elections for the European Parliament on May 23rd, matter to Ireland and matter to Europe.

Europe matters for Ireland. 54 per cent of all the exports which go out through our ports and airports go to member states of the European Union. Jobs in Ireland, the success of Irish businesses and Irish living standards all depend on the health of the European economy. As we have seen, especially over the past few years, the direction of European policy impacts on almost everything we do. And the European Parliament is now more powerful than ever – in deciding European Laws, in approving European budgets and in determining the leadership of Europe for the next five years.

There are choices to be made in Europe. Does it keep cutting budgets and contracting, or does it grow and create jobs?
Is it going to be a Europe for all its citizens, or will it just be for markets and capital?

Who will lead the next European Commission? Another Conservative? Or Martin Schultz, who has been nominated by the Labour and Social Democratic Parties of Europe, and who has always been a good friend of Ireland.

On May 23rd the future direction of Europe will be decided, not by the Leader of any big member state, but by the people of all its member states, voting for the MEPs they want to represent them in the European Parliament. Coming out of both the Irish and European recession, this is probably the most important vote we have yet cast in elections for the European Parliament.

And we are doing so too, at a time when a new and nasty form of extreme right-wing politics is on the rise across Europe. The conservative consensus failed Europe. And now, the extreme right is growing in France, Holland, Austria, Finland – and even in the UK where an inward looking anti-European political force is now driving debate to take Britain out of the EU.

History cautions us to be wary of what can happen in an economic crisis, and we have just had the worst since the Great Depression of the 1930s. The rise of the extreme right in Europe must be challenged and halted, and it is the Labour and Social Democratic Parties that stand the best chance of doing so. Because we believe that Europe must do more to promote jobs and growth, and stem the politics of fear and hatred. Europe must be grounded in the solidarity that is the fundamental value of our movement.

Three years ago, the people of Ireland chose the Labour Party and our partners in coalition, Fine Gael, to fix our broken country.
In those three years, we have led our country out of the bailout. We have turned the economy around from recession to recovery. Turned rising unemployment into increasing jobs. We have restored Ireland's reputation so that trade, investment and tourism are on the rise again.

But we are not yet done. And we won't be until we have jobs for everyone who is seeking work, whether they are on the live register at home, or on Skype from abroad. And we are not done until, home by home, we help families struggling under mortgage debt. Or family by family, those who are in need of housing.

Because for Labour, recovery is not an end in itself, and not measured just by cold economic indicators. Recovery is about improving the life chances, and the living standards, and the quality of life of the hard-pressed families whose sacrifices made recovery possible. That is why we are bringing in free GP care for children, and bringing down the cost of sending children to school.

That's Labour's choice. And when Labour makes its choice it stays with it to the end. We made some difficult choices to make recovery possible. And now we are just as determined to make the choices that will make recovery real.

We have been through tough times. And we have had the strength to pull through. We have rescued our country from ruin. So, let us not let up now. We can now build that better, fairer Ireland. No, not overnight, because that is only the stuff of fairy tales. But bit by bit, day by day. Confident. Determined. And united!