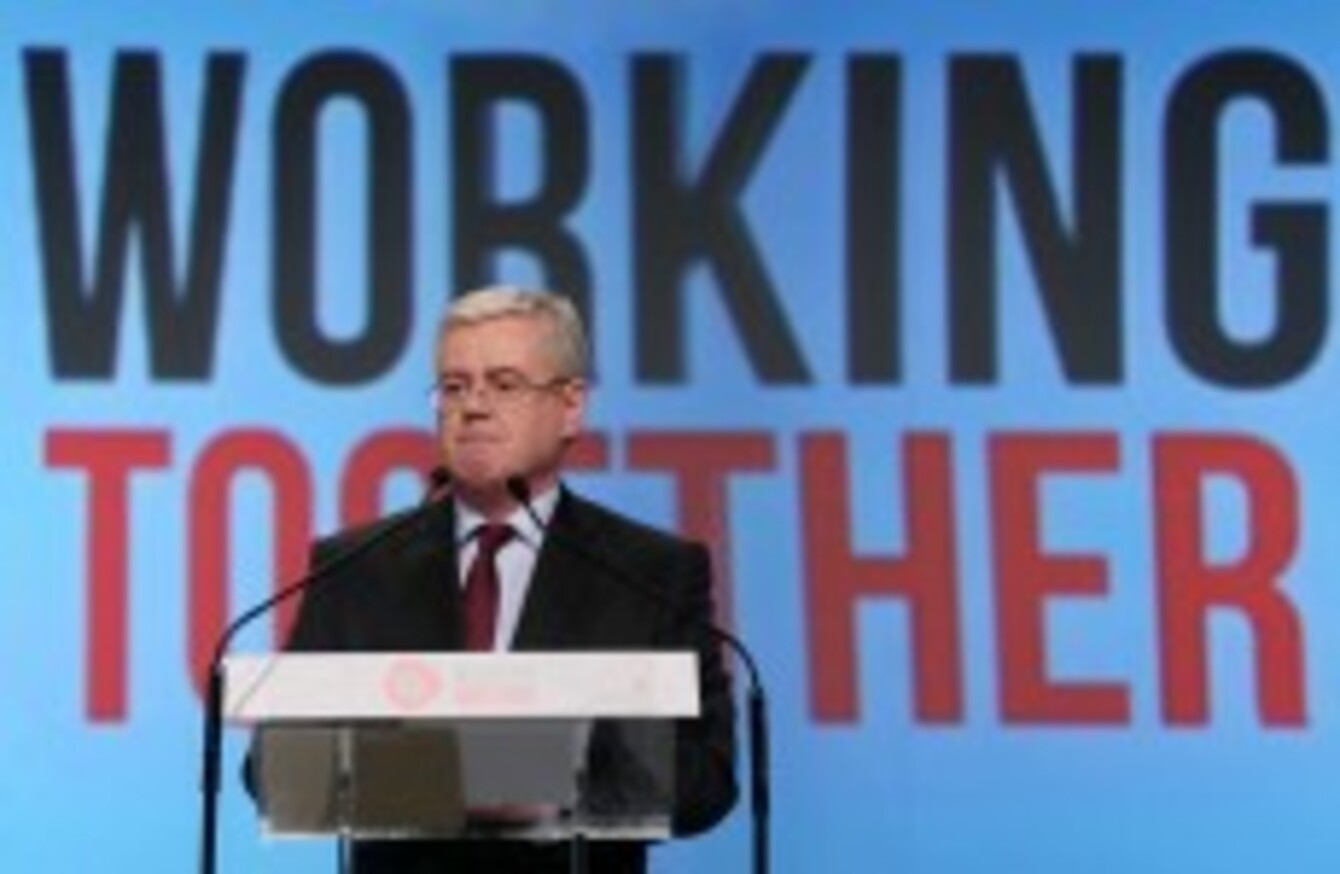 Eamon Gilmore speaking at the Labour conference last night.
Image: Laura Hutton/Photocall Ireland
Eamon Gilmore speaking at the Labour conference last night.
Image: Laura Hutton/Photocall Ireland
TÁNAISTE EAMON GILMORE has faced a call to resign at the Labour Party conference in Killarney this morning.
The party has debated and voted on a number of health motions including cuts to disability services, medical cards and fluoridation of the water supply.
One speaker, Gerry Kerr from the Dublin North West branch, called on Gilmore to resign over the "disproportionate and cumulative effect" that spending cuts have had on the disabled community.
Kerr claimed that Gilmore had promised during the general election that his number one social policy priority was the protection of the disabled and that subsequent cuts have "proved he has failed on this".
"Words like fair but tough, decent, protection of the vulnerable, no longer have a currency or a credibility when spoken by Eamon Gilmore," Kerr said.

"I believe the requirements of this motion will not be fulfilled unless there is a change in leadership. I want to call for Eamon Gilmore to resign."
Kerr, who has previously criticised Ruairí Quinn over DEIS school cuts, was speaking on a motion put forward by the Finglas branch of Labour. The motion called on the party to ensure there are not further cuts to services, benefits, allowances or grants to people with disabilities.
Junior health minister Kathleen Lynch defended Gilmore saying he has done an "incredible job" in defending the disability budget.
"We are doing our very best," she said, adding that she would "dread" to think what might happen if Labour was not in government.
The conference carried all but one of the health motions considered this morning with a debate on water fluoridation sparking some interesting comments from the party's chief whip Emmet Stagg.
He said that fluoridation of the Irish water supply is a "most unscientific way in taking a substance" calling it "mass medication".
Others spoke against the motion which called for an examination of the practice of fluoridation. One delegate, Padraig McLoughlin, said the campaign against fluoridation is "vociferous but misguided".
There have been no major protests at the conference this year with security tight following protests at last year's event in Galway.
The Psychiatric Nurses Association is holding what it says is a "canvass" outside the event, calling on the government to end the "current and long standing second class status afforded [to] mental health services".