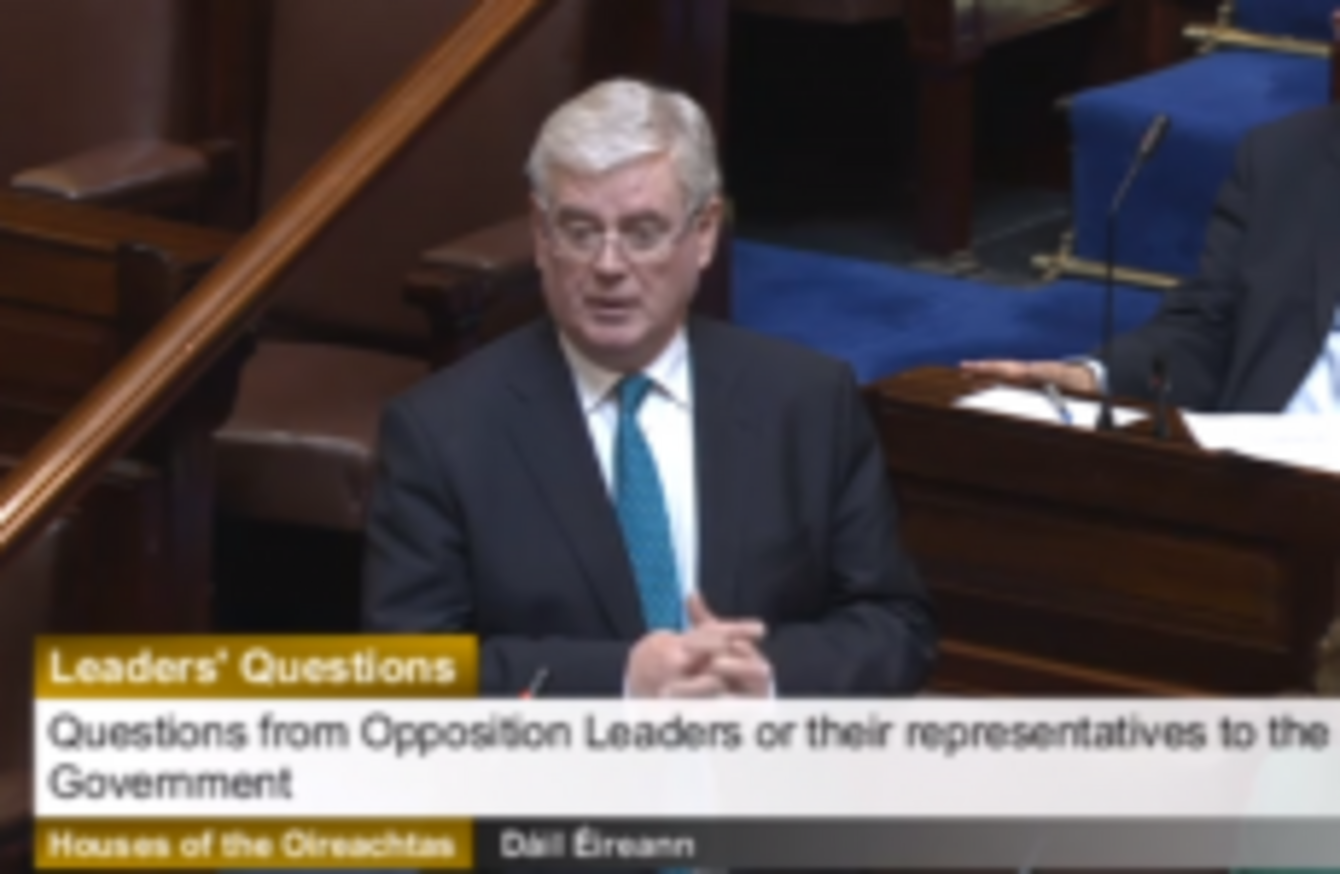 Eamon Gilmore in the Dáil this morning
Image: Screengrab
Eamon Gilmore in the Dáil this morning
Image: Screengrab
TÁNAISTE EAMON GILMORE has said that the removal of two Roma children from their families is disturbing "at a number of levels" and said today that a number of questions arise from the two cases this week.
Speaking at Leaders' Questions this morning, Gilmore said he welcomed the fact that the children have been returned to their families and cautioned that "nobody should jump to conclusions" about what happened.
"I'd like to know the nature of the complaints or information that was given to gardaí," he said adding: "I'd like to know what was the immediate and serious threat to their safety which was considered to justify their removal."
The issue was raised by both Fianna Fáil and Sinn Féin this morning. Fianna Fáil's Robert Troy asked if the "extreme actions would be acceptable if the families involved were Irish nationals".
Gilmore said that people of particular ethnic background "clearly should not be given extra or special attention in respect of child safety matters" and said that every child in Ireland irrespective of ethnic, religious or any other background should enjoy the same rights.
"People in this country irrespective of their background have a right to be treated equally," he said.
He also said that Children First Bill, which Troy said has been delayed for two years, will be published in this legislative session.
Sinn Féin's Mary Lou McDonald said there is "a history and a legacy of the State confiscating children" and said it is not appropriate that the HSE and the gardaí are investigating themselves, calling for the Children's Ombudsman in the first instance to carry out a probe into the case.
Gilmore said it is important to get basic questions answered and then hear what the Children's Ombudsman has to say.
Independent TD Stephen Donnelly raised the issue of Ireland getting retrospective recapitalisation of its banks from the permanent eurozone bailout fund, and asked the Tánaiste to set out how much Ireland is looking for.
Gilmore said he is not doing to disclose the country's negotiating position but said "we are determined to get the best outcome for the Irish taxpayer" and said "we have some form in this area", relating to the promissory note deal and the reduction in the interest paid on bailout loans.
Donnelly pointed out that the interest rate reduction came on foot of a reduction given to Portugal and said that the promissory note deal had not changed anything.
"We're still going to pay the money," the Wicklow TD said.