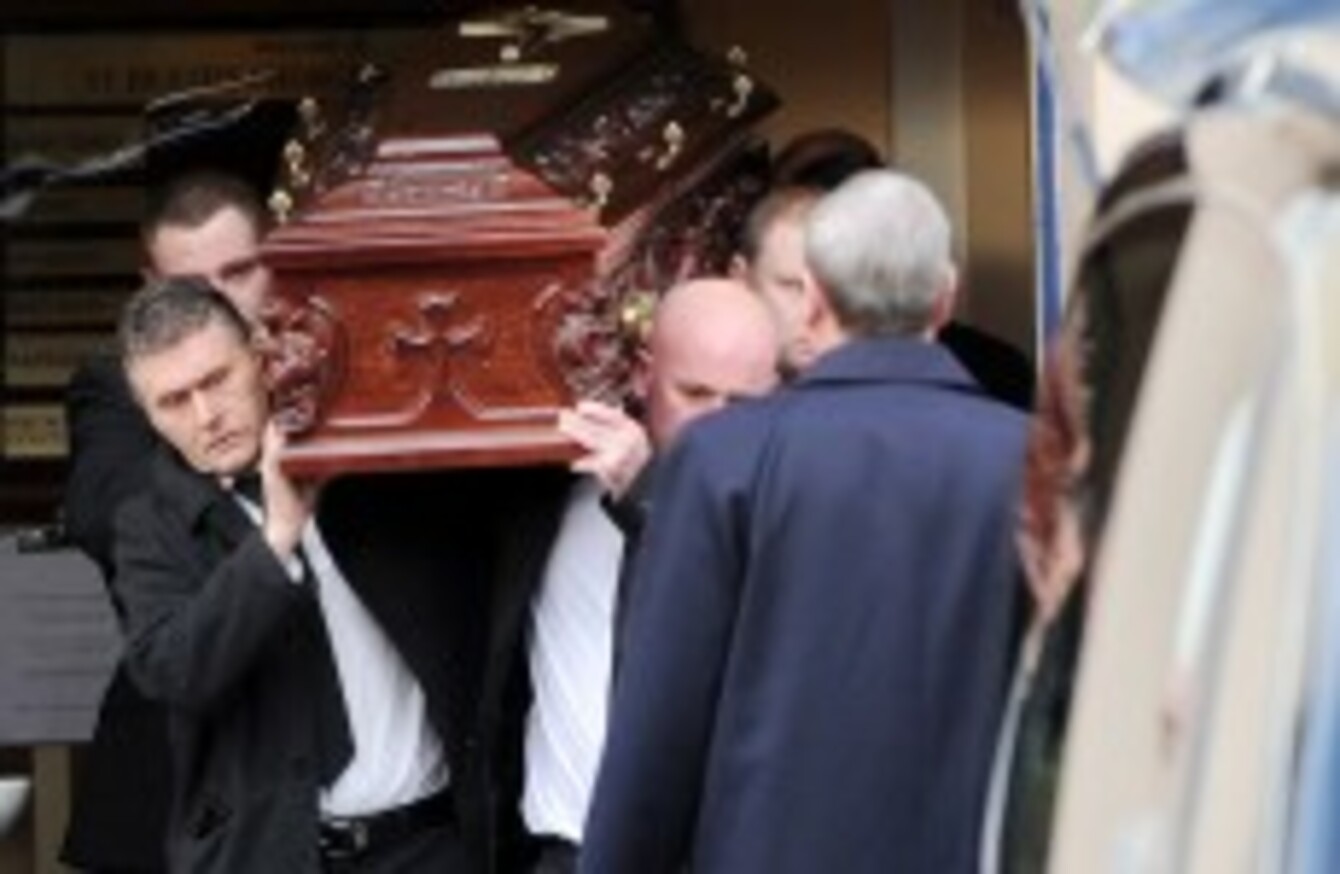 Scenes from the funeral of Eamon Kelly.
Image: /Photocall Ireland
Scenes from the funeral of Eamon Kelly.
Image: /Photocall Ireland
A DUBLIN MAN was jailed for life by the Special Criminal Court today for the Real IRA murder of veteran criminal Eamon Kelly who was shot four times in the back outside his home on the city's northside over two years ago.
Sean Connolly (35), of Bernard Curtis House, Bluebell, Dublin pleaded guilty on Tuesday to the murder of Mr Eamon Kelly at Furry Park Road, Killester on 4 December 2012.
The court heard that Connolly was arrested a short time after he shot Mr Kelly four times in the back as he returned home from Ladbrokes betting shop in Killester.
Detective Garda Aine Ni Chathain of the Special Detective Unit arrested Connolly as he walked towards the entrance of Clontarf Castle twenty minutes after the shooting.
The court heard that firearms residue on Connolly matched eight spent 9mm cartridges found at the murder scene, that accelerant found on his shoes matched that used to burn out a black Lexus car used in the killing and that Connolly made admissions to gardaí  after his arrest in which he admitted his part in the murder.
Detective Inspector Paul Scott, the senior investigating officer, said that gardaí had warned Kelly that his life was in danger after an unsuccessful attempt to shoot him in 2012 had failed when the gun jammed.
"We were satisfied from the investigation that this was a highly professional operation carried out by the IRA" he said.
The Detective Inspector said that Kelly had cracked ribs following a fall at his home a couple of weeks before the murder and that his mobility was impaired. Witnesses at the scene saw him trying to run away from the gunman and towards his house before he was shot in the back.
He said that three of the four bullets that his Kelly exited through his body and the fourth was found in his body at the post mortem. The gunshots had caused damage to his vital organs.
Kelly's daughter, Alison, who gave a victim impact statement to the court, said that the senseless murder of her father had caused pain and suffering to all her family.
"He was my closest confidant, friend and father," she said. Ms Kelly said that her father's life was brutally taken away.
"He lived for his family but his murder has destroyed our lives," she added.
Mr Justice Paul Butler, presiding at the three judge non-jury court, said that the murder was "a most heinous crime" and the court was not in a position to do anything about sentencing as the sentence was mandatory. The court sentenced Connolly to life imprisonment.
'Crime godfather'
Eamon Kelly (65) was one of the country's longest serving criminal figures, having been involved in organised crime for more than four decades.
In the early 1970s he used a carpet business in Dublin's north inner city as a front for his criminal activities, which included armed robbery and extortion.
He was associated with the Official IRA, although he never joined the republican movement. Kelly used the threat of the Official IRA to back up his extortion activities and to terrorise other criminals while he built his criminal empire.
He also contributed funds to the Official IRA and helped them with armed robberies as part of their "fundraising" activities.
The carpet business was wound up by the High Court in 1981 and a liquidator was appointed on behalf of the Revenue Commissioners over unpaid bills.
His association with the Official IRA led to his conviction in 1984 for the stabbing of a man outside the old Workers Party Club in Gardiner Street. He was jailed for 10 years but following an appeal, a retrial was ordered and he was sentenced to three years.
Kelly was jailed in 1993 for smuggling a large shipment of cocaine into the country, one of the first criminals jailed for importing the drug.
He was sentenced to 14 years after he was caught with almost a kilo of cocaine worth an estimated €500,000.
Kelly was linked to other major crime figures, such as Martin Hyland and Eamon Dunne and it is believed he fell foul of the Real IRA gang led by Alan Ryan who was himself murdered by a drugs gang. It is believed that Kelly had refused to pay protection money to the Real IRA and this led to an unsuccessful attempt on his life in 2010.