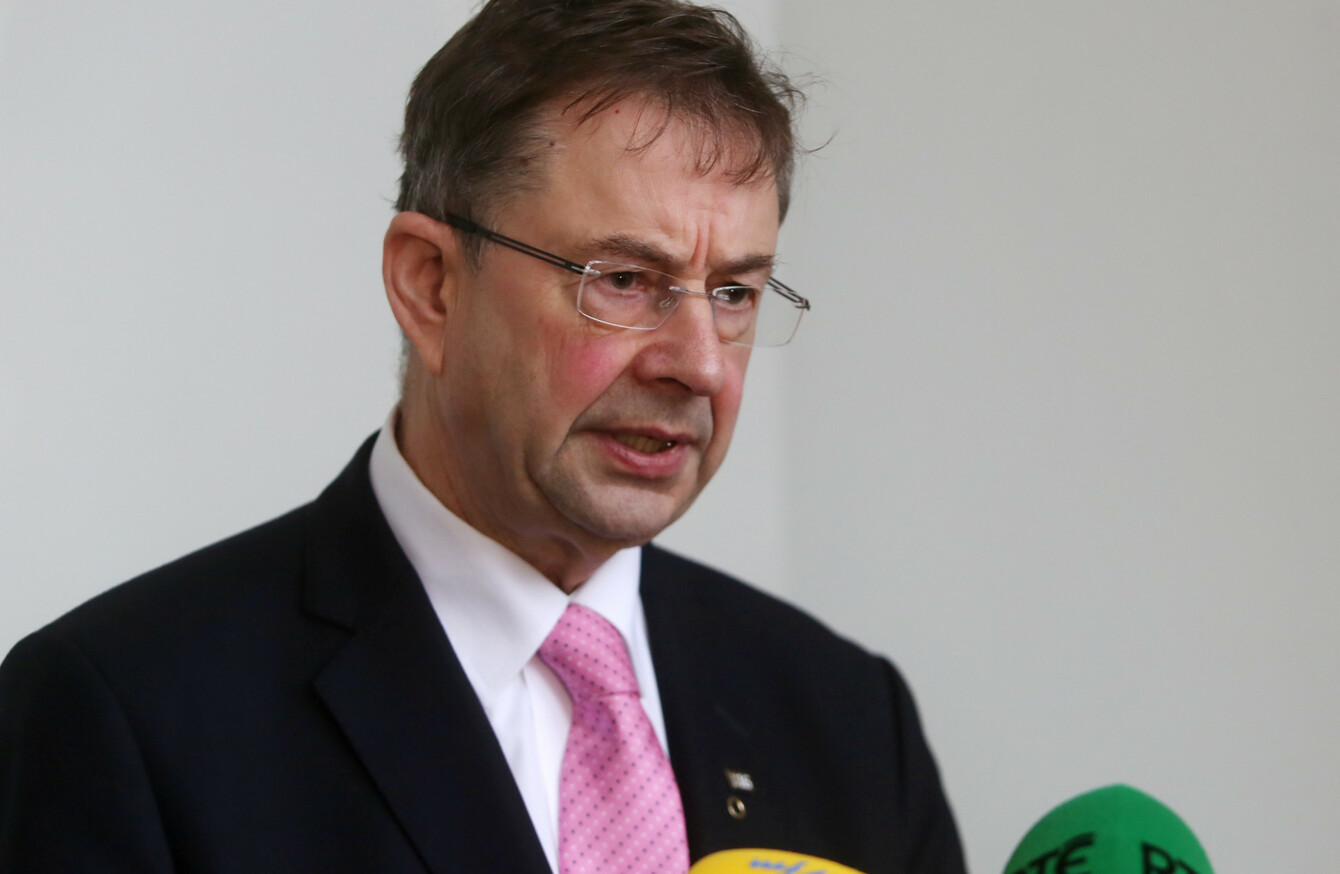 Éamon Ó Cuív.
Image: RollingNews.ie
Éamon Ó Cuív.
Image: RollingNews.ie
FIANNA FÁÍL TD Éamon Ó Cuív has defended writing a letter to the solicitor of now convicted IRA member Seamus McGrane who was today sentenced to 11 years in prison for "directing terrorism".
The Special Criminal Court sentenced McGrane (63), of Little Road, Dromiskin, County Louth, for being the leader of a splinter dissident group. The court had also found that McGrane had discussed a potential IRA operation involving explosives in the run up to the visit of Prince Charles last year.
One judge at the Special Criminal Court noted a letter had been received from Ó Cuív in which he expressed the opinion that McGrane was "fully supportive" of efforts to facilitate the peace process.
This letter was described by Fine Gael TD Noel Rock as "disgusting".
Rock has called on the Fianna Fáil member to explain why he attempted to convince a judge that "a terrorist was supportive of the peace process".
He said: "It is absolutely outrageous that Deputy Ó Cuív would send such a letter to the court. Deputy Ó Cuív claims that Mr McGrane was 'fully supportive' of his efforts to facilitate the peace process.
"Does Deputy Ó Cuív believe that planning to murder a member of the British royal family is supporting peace?"
However, in an interview with RTÉ's Raidió na Gaeltachta this evening, Ó Cuív said that he had not written the letter to the court but instead to McGrane's solicitor. The TD said he had no idea that the letter was to be submitted to the non-jury trial. He explained that he has known McGrane for a long time and had been "working with them [dissidents] for almost two years to persuade them to move away from violence entirely as a group".
He said: "They released a statement to the media on 12 November saying that they were going to move in a new direction, a peaceful direction.  I knew that that statement would be forthcoming from them, due to the work I'm involved in, and it's no secret that I am working in prisons in the north and the south.
"In the statement I outline the work that I was involved in.  I describe the process we were involved with with this particular group (of dissidents) for the last while, and that I believed that they were moving in another direction now and that I believed Seamus supported that process… (I did) not (mean) the Peace Process.   And not all the dissidents … just that particular group."
McGrane has two previous convictions. The first was for IRA membership and dates back to 1976 for which he spent one year in custody. The second conviction, from 2001, related to training others in the use of firearms for which he was jailed for four years by the Special Criminal Court.
In October 1999, McGrane had been arrested in Meath in a training camp discovered in an underground bunker, where a firing-range had been constructed.
During the most recent trial, in October, the court heard evidence from two audio recordings, from April and May 2015, of McGrane and Donal O'Coisdealbha in conversation in the snug of The Coachman's Inn on the Airport Road in Dublin – a pub that had been bugged by garda detectives.
McGrane had issued instructions to Mr O'Coisdealbha to contact a person he referred to as the "motorbike man" to collect ingredients required to manufacture explosives.
He had also made statements about providing bomb-making material for others.
Speaking after the sentencing outside the Criminal Courts of Justice, Detective Chief Superintendent Tom Maguire, of the Special Detective Unit (SDU), said that it was a "very significant conviction" for An Garda Siochana.
He said that while the sentence was not something he wanted to comment on, he did want to acknowledge the work that had gone into the operation from the investigative team in the SDU and the Crime and Security Unit.
He said that these were "people who in the normal course of events never get mentioned due to the nature of the work that they do".
With reporting by Daniel Hickey