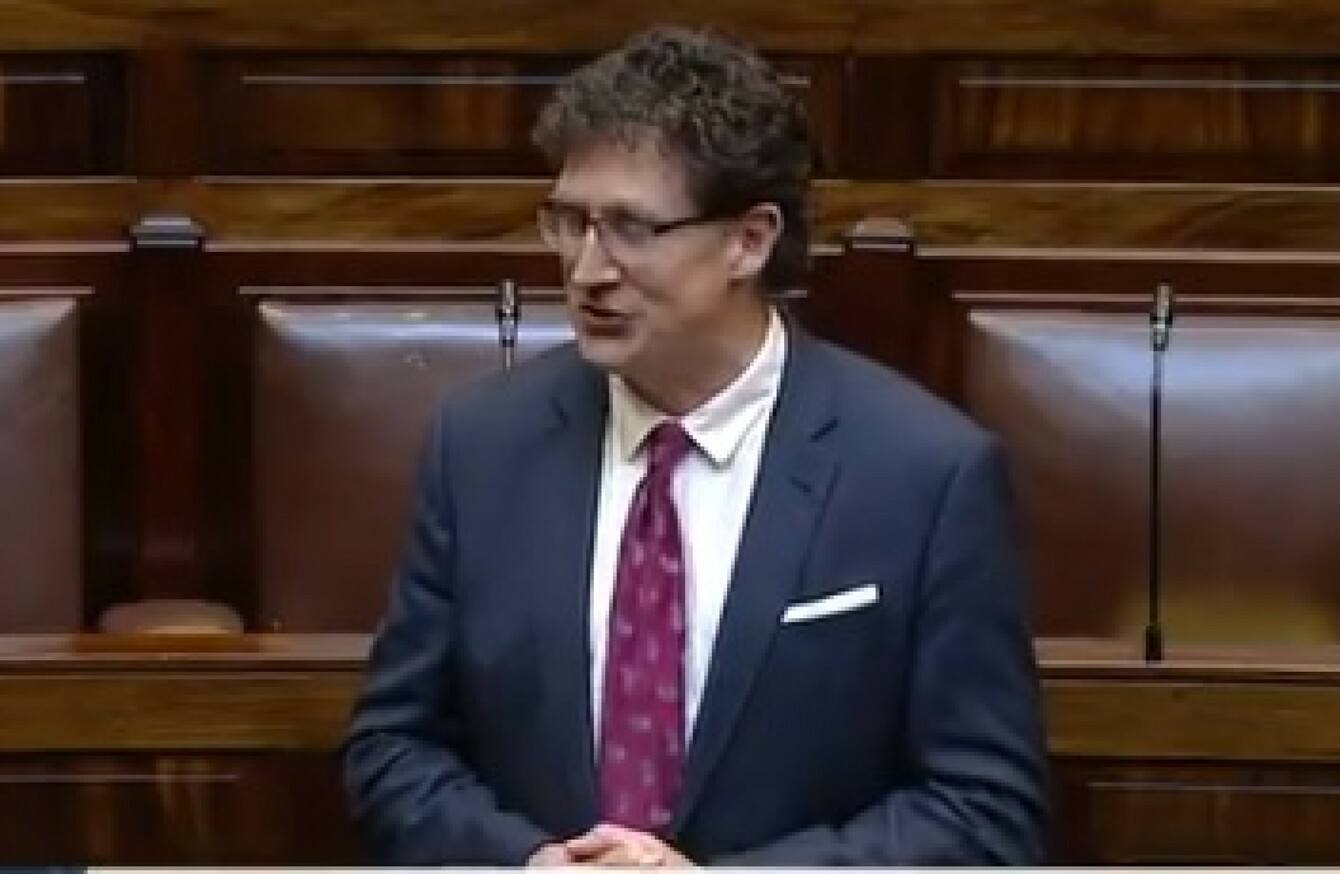 Green Party leader Eamon Ryan speaking in the Dail today.
Green Party leader Eamon Ryan speaking in the Dail today.
Updated Jun 11th 2020, 7:58 PM
GREEN PARTY LEADER Eamon Ryan has apologised for any hurt caused by using the n-word during a Dáil debate on racism in Ireland this afternoon.
Ryan was citing an article by Sean Gallen in today's Irish Times, in which the author uses asterisks to self-censor the word.
"In a newspaper today there was a story about a young Irishman, Sean Gallan, who gave his experience of being othered and of his being given the name "n*****" from the age of six. He explained how this completely undermines people. Friends and relations of colour in this country, in addition to Travellers and other minorities, speak of the same experience. It is real," said Ryan.
The Green Party leader apologised on Twitter after the debate. He said he repeated a racial slur, and "was completely wrong to do so".
"I want to apologise for any hurt caused. I know this particular word should never be used," he said.
Speaking on Drivetime on RTÉ Radio this evening, Gallen described Ryan's use of the word as "surprising" and "disappointing", but said he beleived the Green Party leader's intentions were good.
"Honestly I was surprised to hear it. I think his intention was good, he wanted to bring up racism in a wide and public forum," he said.
"It's unfortunate that he made such a misstep, but I think the intention was to bring up an issue that needed to be talked about in the Dáil.
"It's confusing and disappointing."
He did not comment on whether the comments reflected on Ryan's suitability to be the leader of the Green Party.
Some TDs have criticised Ryan for mentioning the n-word in the House, with Rise's Paul Murphy tweeting:
Some within his own party have also been critical of his remarks today, at a time when a leadership challenge is underway against him.
Councillor Daniel Whooley, Green Party  representative for Ongar, said Ryan's comments in the Dáil were "morally reprehensible".
"No person should use such words of hate regardless of context, especially in Dáil Éireann. The language used is the most unparliamentary and beneath the Houses of the Oireachtas. I do not believe that any parliamentarian who invokes such words, be it by mistake or on purpose, should lead an Irish Political party, the use of these words is disgusting 
#Open journalism No news is bad news Support The Journal

Your contributions will help us continue to deliver the stories that are important to you

Support us now
"His comments today go against core principles of the Green Party. It does not matter if it was a mistake, what matters is that he used the words.
"I have seen his apologies, and I know he regrets what he has said, however, this is not good enough. I joined the Greens to stand up against racism and social injustice in society," said Whooley.
Green Party Dublin City Councillor Janet Horner said:
What was said in the Dáil today was unequivocally wrong. We have work to do. As individuals. As a party. And as a society. We know that being anti-racist is an active, not passive process so let's do the work.
Horner said she is not seeking Ryan to drop out of the leadership race.
During the debate today, Ryan said the Black Lives Matter movement is strengthening and correctly building a community response to what needs to be done in the United States, but said racism needs to be tackled here in Ireland also.
If Ireland is serious about the issue, the government should ensure our education system is fully integrated "so there will be no segregation and separation as pupils start out in the school system".
Citing statistics, Ryan said "one in ten of our children is from a non-Irish or new Irish background but only one in 20 of our teachers is. We know from our own constituencies that, increasingly, there is segregation in our school system, whereby certain schools take all the pupils from the new communities while others take pretty much take none".
Ryan also added that An Garda Síochana should be "blind to one's colour, ethnicity or postcode, or where one comes from". He said only one in 200 gardaí are from a new Irish ethnic background.