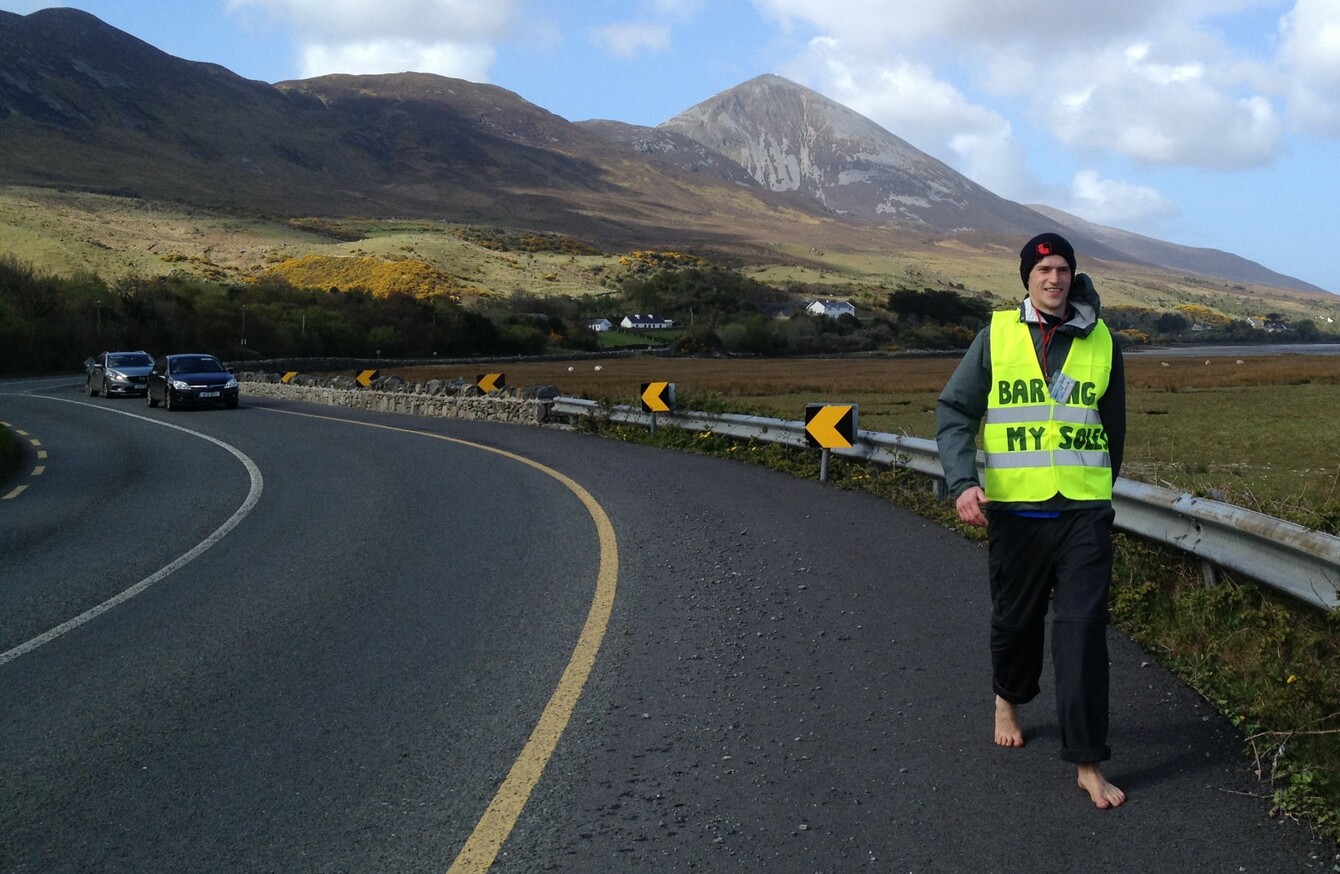 Image: Yvonne Keaveney
Image: Yvonne Keaveney
YOU MAY REMEMBER the Mayo man who decided to walk around the Irish coast barefoot to raise money for Pieta House.
Eamonn Keaveney set off on 1 May from his hometown of Claremorris – and just over eight weeks later he's reached his destination.
Keaveney arrived in Dublin on Wednesday after travelling approximately 1,200km and raising over €10,000 for Pieta.
He remarked how "one of the most amazing things about the journey has been the tremendous people who've helped me out".
People have been amazing, kind to me and helping me out. I'm getting some incredible views on life. I've met Buddhists, priests, Catholics and atheists. They've all had really interesting things to say.
Pieta House, his chosen charity, focuses on preventing suicide and self-harm. Keaveney chose Pieta because he knows a lot of people who've thought about suicide, and that it's something that has affected almost everyone.
People have come up to me on this walk and told me stories about a brother, cousin, parent or child they've lost to suicide. It just goes to show that so, so many people are affected by this in the country.
Walking around Ireland barefoot for eight weeks would definitely take a toll on the body.
"The hardest part of it is the physical part of walking. It's really, really tough on my feet, especially when it starts to rain," said Keaveney.
He said:
It's mentally draining – most of the time I'm looking down on the road to make sure I don't step on anything. Because I'm walking on main roads I have to watch out for traffic. I'm not leisurely strolling. Being really aware of where you're walking, it's tiring.
He's been able to take some time to appreciate Ireland's scenic spots, especially the beaches – but hasn't convinced himself to go for a swim yet. He described one particular moment in West Cork, where he admired the views for about 15 minutes after walking up a big hill that overlooked a peninsula.
He acknowledged that his feet have gotten used to the surfaces and that in the last few days, he's been able to easily walk over surfaces he previously found difficult.
But the journey isn't over yet, and he still has another 800km to go. He's hoping to set off again later today to continue his journey back to Claremorris.
"I'm heading west towards Maynooth, then towards Dundalk, Drogheda, Belfast, over to Donegal and then back down to Claremorris. I'd say it'll take about six or seven weeks," he said.
Keaveney is only €400 away from his €11,000 fundraising goal and is "tremendously grateful" for all the support he's received.
Donations can be made on Eamonn Keaveney's fundraising page here. You can follow the home leg of Eamonn's journey on Facebook or Twitter.