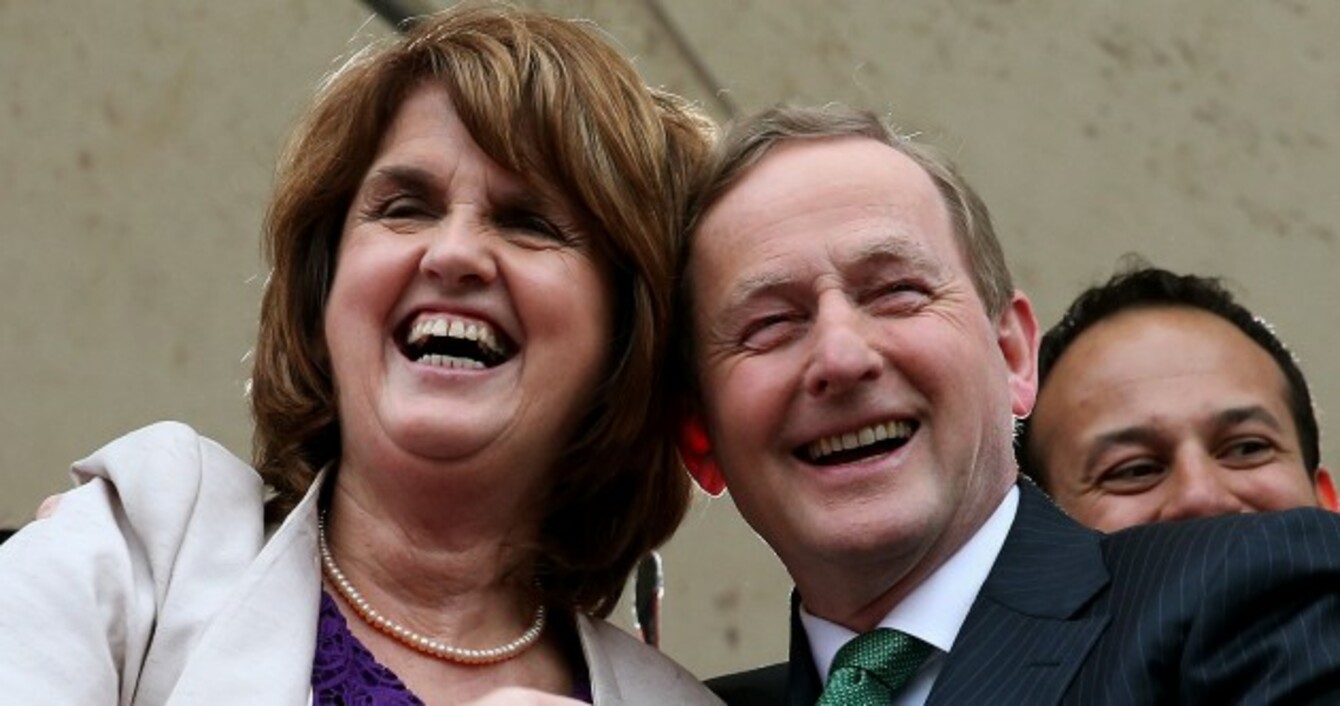 Joan Burton and Enda Kenny were the toast of Dublin Castle on Saturday.
Image: PA WIRE
Joan Burton and Enda Kenny were the toast of Dublin Castle on Saturday.
Image: PA WIRE
ENDA KENNY AND JOAN Burton embraced on the makeshift stage as thousands cheered and showed their appreciation for the Taoiseach and Tánaiste.
It was another extraordinary moment on a day of extraordinary moments last Saturday in the Dublin Castle courtyard.
For cynical and jaded political correspondents the sight of TDs from all sides of the political divide hanging around the VIP area, chatting, laughing and generally having a great time together was an odd experience.
Whenever they went on the main stage where the TV cameras were set up there were huge roars of approval. Gerry Adams took possibly the most extraordinary selfie in Irish political history with Panti and Justice Minister Frances Fitzgerald.
For members of the government it was as if they had just won an election on a tide of goodwill.
In reality, they are approaching the end of a term in office that has been a success in terms of restarting economy but hugely controversial when you consider the cuts, the taxes, and the scandals. It has been, many would admit, a bruising experience.
It isn't that long ago that Joan Burton was being held against her will by angry water protesters in Jobstown or that Enda Kenny was being heckled everywhere he went over the same issue. The same was true for many ordinary backbenchers.
We were dealing with an entirely different issue over the weekend but there is no doubt there was an enormous amount of goodwill towards Fine Gael and Labour right now.
Both parties put in a great effort to get the referendum passed and the appreciation wasn't just coming from a minority of people directly affected by same-sex marriage being legalised.
It was coming from people of all ages, of all different political outlooks. Some of them were first-time voters, who've been energised by this campaign. The challenge for all politicians now is to get the motivate those same people to participate and vote in future referendums, and of course, the next general election.
For sometime, the conventional wisdom has been that this will not take place until early next year (we're putting our money on February) but there has been some talk of the Taoiseach going to the country election after the Budget in October.
But how about a snap election right now?
The passage of this referendum and praise for the government could be capitalised upon, especially if an opinion poll due out this weekend shows a rise in support for Fine Gael and Labour.
The likes of Leo Varadkar and John Lyons were, quite rightly, treated like rockstars at Dublin Castle over the weekend.
Yes, those in the upper court yard are not representative of the entire country but there is definitely a feel-good factor all over Ireland right now.
It's the sort of feeeling we haven't had since those exhilarating few weeks in May 2011 when both the Queen and Barack Obama paid a visit to these shores and support for Fine Gael and Labour was actually higher than what they got in the election three months previous.
The government has a good story to tell. Not just on same-sex marriage, but on the economy and the promise of more tax cuts in future Budgets. A snap election focusses voters' minds on what they want.
With Fianna Fáil in yet more disarray today and Sinn Féin performing strongly, but not strong enough to be in a position to lead a government (which is their only aim), the coalition can hammer home that same message it has been subtly putting out there in recent months: There is no alternative.
Several coalition figures who we put this idea to over the weekend smiled politely but dismissively. When we raised the idea with one senior cabinet minister this morning, they smiled and laughed before departing the conversation.
While it's unlikely, it certainly merits consideration.