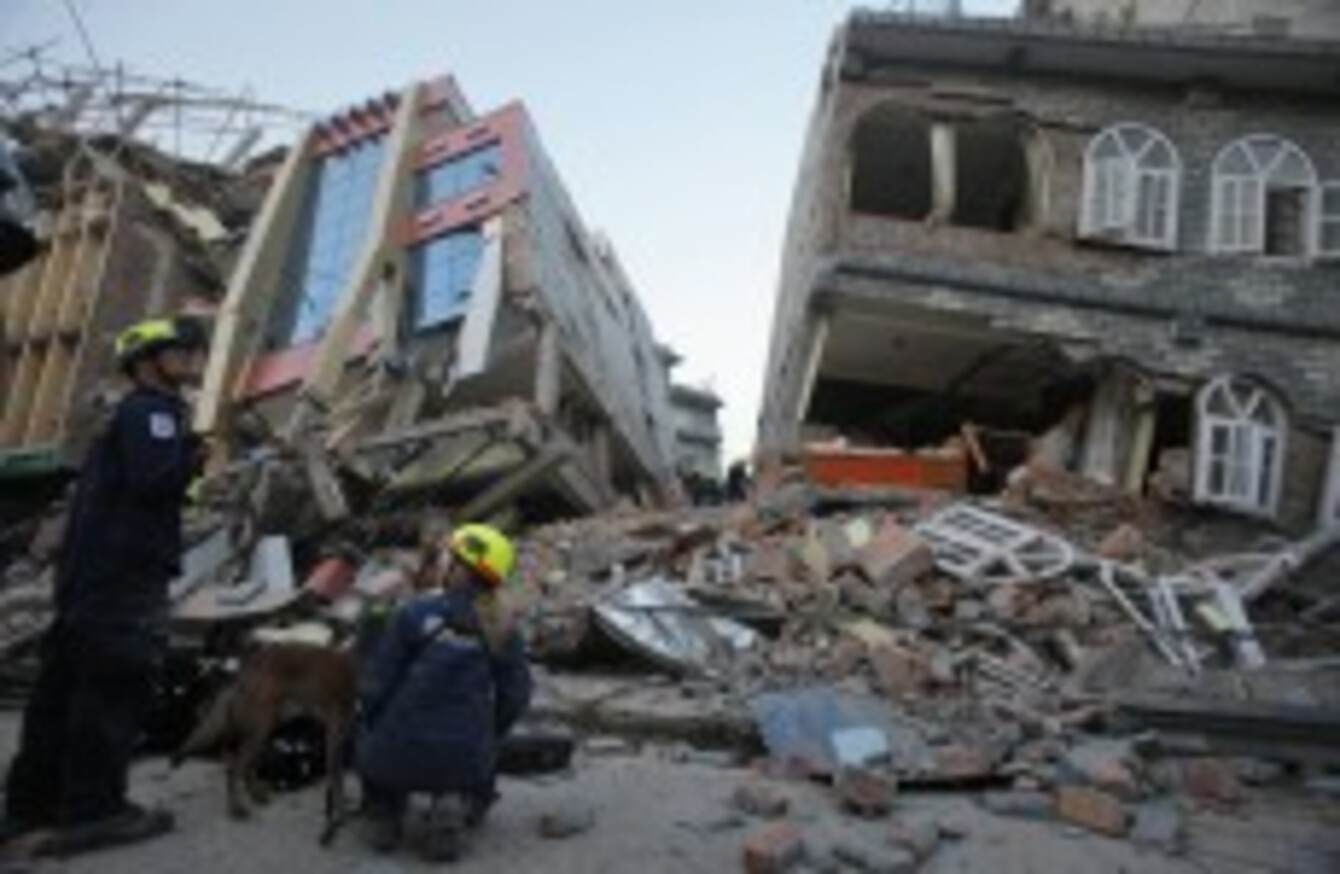 Damage caused by the earthquake in
Image: Bikram Rai/PA Wires
Damage caused by the earthquake in
Image: Bikram Rai/PA Wires
YESTERDAY SAW A second earthquake hit Nepal, just two weeks after the first that devastated the country and killed more than 8,000 people.
Tremors measured more than 7.3 in magnitude and officials in the country said yesterday that 36 people were thought to have been killed, as well as 17 more across the border in northern India.
The initial earthquake was followed minutes later by another 5.6-magnitude aftershock, according to the US Geological Survey.
On the ground
TheJournal.ie spoke to Colm Byrne, Humanitarian Manager with Oxfam Ireland, who is on the ground in Nepal, about what happened when the earthquake hit.
"We were sitting in a car at around lunchtime today in the middle of the town of Chautara, which is in the middle of the area that was most affected by the earthquake two weeks ago. We were sitting in the car when it started to shake and I immediately assumed that the driver had put his foot on the accelerator and had forgotten to take off the handbrake," he said.
The car started to shake and it started to shake more and more and immediately I realised that people were screaming and starting to run. We all realised quickly that this was an earthquake and it was sheer pandemonium everywhere.
Monsoon season
The damage caused by the earthquakes is compounded by the forthcoming monsoon season. Agencies like Oxfam face a race against time to provide aid to areas that need it.
The biggest concern I think that we have looking forward is that we not only just respond to the here and now, but also that we look at what will happen in a few weeks' time.
The forthcoming monsoons have the potential to cause widespread disruption.
"If there has been more seismic activity then there will be more soil that has been moved, and the more likelihood that there will be landslides. And you combine that with heavy rainfall, there will be serious problems in terms of access to roads being cut off," Byrne explains.
Sleeping outside 
With the potential danger of buildings collapsing, many of those in affected areas will be deciding to sleep outside tonight. However, in a mountainous country like Nepal, the difficulty of doing this is compounded.
"Sleeping outside in Nepal is a big problem because there isn't actually that much room to do so. Tonight all of our team is sleeping on a dry riverbed. Not the ideal place but nobody wants to sleep inside," says Byrne.
There are no large, flat open spaces where people can convene. In many cases people were living in shelters right next to their homes, the homes that had been destroyed.
Other agencies
Other groups that are operating on the ground in Nepal include Médecins Sans Frontiéres (MSF) and Irish NGO Concern.
Speaking about yesterday's earthquake, Kieran McConville, a Concern emergency response team member, said, "There have been five big new earthquakes and several aftershocks in the last few hours.  Right now, we're surrounded by landslides limiting our ability to move around."
Individuals can contribute to Oxfam's emergency earthquake appeal through their website here.