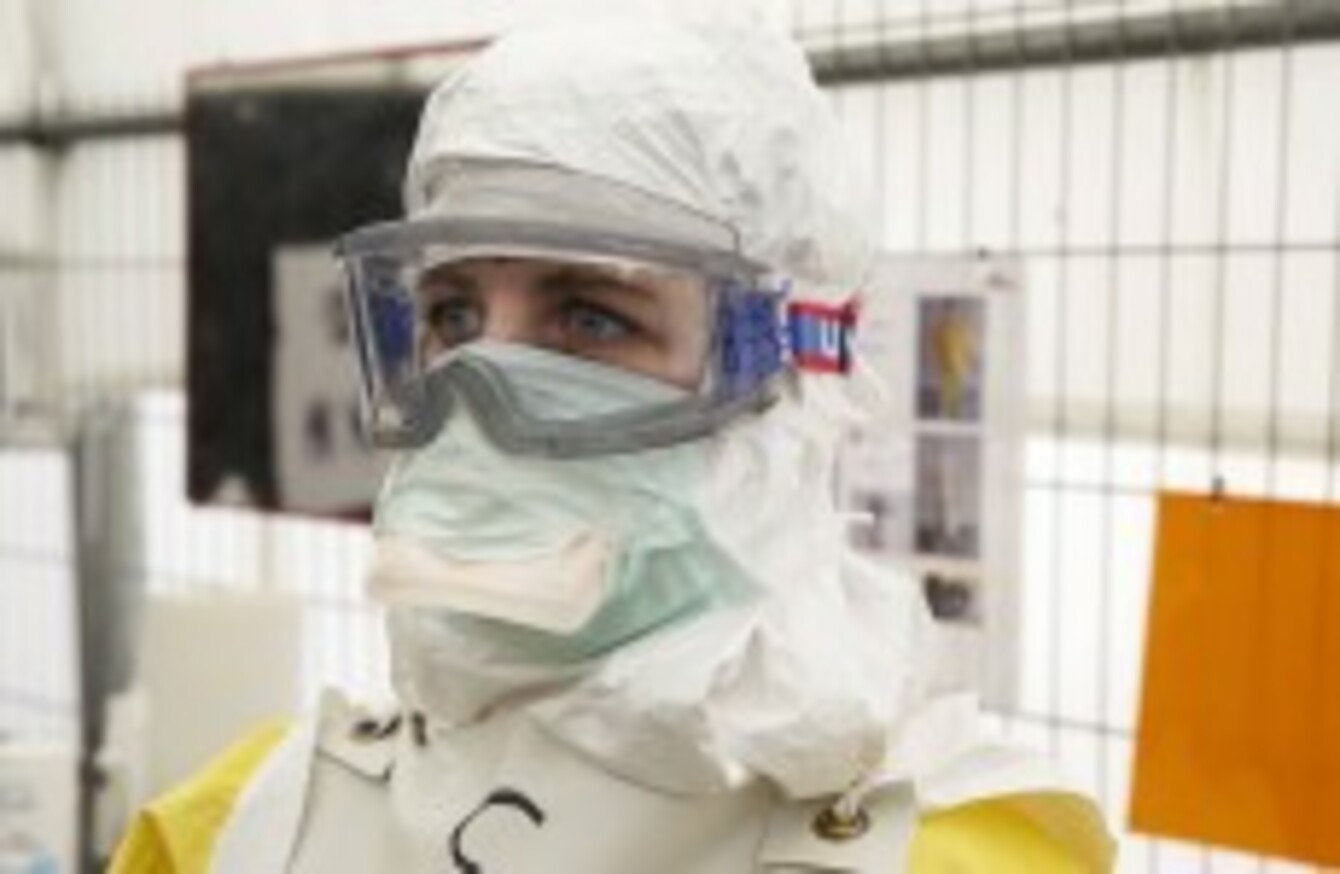 A doctor pictured at the MSF Ebola training centre in Brussels.
Image: Press Association Images
A doctor pictured at the MSF Ebola training centre in Brussels.
Image: Press Association Images
MÉDECINS SANS FRONTIÈRES is set to begin clinical trials on new Ebola treatments in West Africa next month.
The international medical humanitarian organisation will host three separate clinical trials in partnership with the World Health Organisation and other associations.
Dr Annick Antierens of MSF said that the development is "an unprecedented international partnership which represents hope for patients to finally get a real treatment".
He added that the people being treated in these accelerated clinical trials will have "a better chance of survival", but cautioned: "We need to keep in mind that there is no guarantee that these therapies will be the miracle cure."
More than 5,000 people have died from the virus since the latest outbreak began. Between 50 and 80% of those infected don't survive.
The French National Institute of Health and Medical Research (INSERM) will lead a trial using antiviral drug favipiravir in Guéckédou in Guinea, while the Antwerp Institute of Tropical Medicine (ITM) will lead a trial of convalescent whole blood and plasma therapy at the Donka Ebola centre in Conakry in Guinea.
The University of Oxford will lead a trial of the antiviral drug brincidofovir on behalf of the International Severe Acute Respiratory and Emerging Infection Consortium (ISARIC) at a site yet to be determined.
Professor Peter Horby, the Chief Investigator of the ISARIC-led trial said that "conducting clinical trials of investigational drugs in the midst of a humanitarian crisis is a new experience for all of us, but we are determined not to fail the people of West Africa".
It has been a privilege to witness the extraordinary willingness of all the partners in this initiative to step outside their comfort zones in order to fast track these critically important trials.
Antierens noted that all three trials will "prioritise community engagement and informed consent from patients or their representative".
Each patient who consents to be part of a trial will have the potential risks of being subjected to a new therapy clearly explained to them.
Initital results from the trials are expected in February 2015.