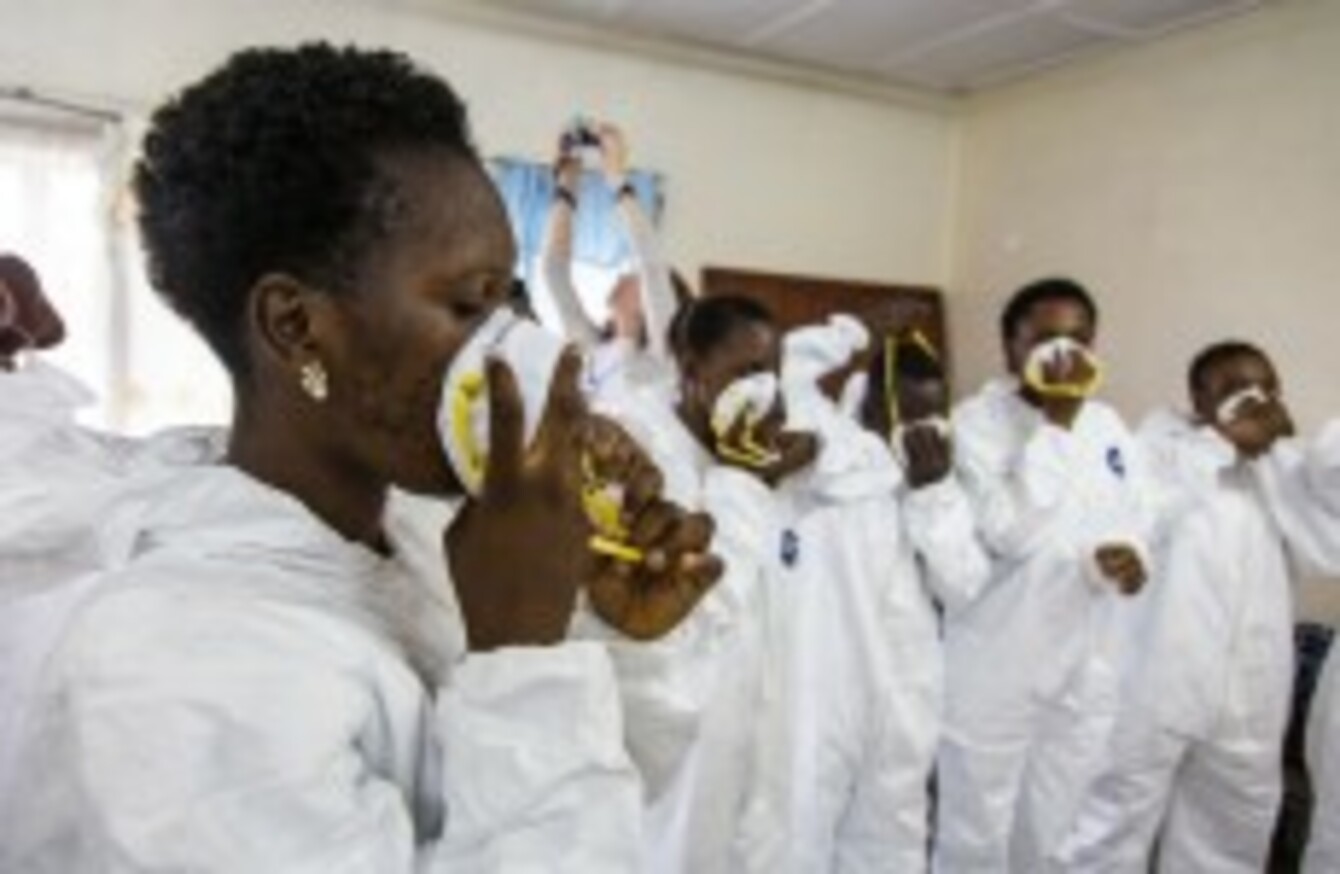 Nurses are trained to use Ebola protective gear by World Health Organization
Image: AP/Press Association Images
Nurses are trained to use Ebola protective gear by World Health Organization
Image: AP/Press Association Images
POLICE IN GUINEA have arrested 27 suspects over the murders of an eight-member Ebola education team attacked by angry locals in an area at the epicentre of the outbreak.
The victims, said to include local health officials and journalists, went missing after their delegation came under attack during an outreach visit to the southern town of Womey on Tuesday last week.
Eight bodies were recovered from the septic tank of a nearby primary school two days later.
Under arrest
"Most of the main perpetrators of these crimes have been placed under arrest — a total of 27 people," Justice Minister Cheick Sacko told a news conference in the capital Conakry.
He said the suspects were being questioned in the southern city of N'Zerekore by the public prosecutor.
The government will see this to the end. I promise to see that justice is done and to make the guilty pay the price for this inhuman tragedy.
The deadliest Ebola epidemic on record has killed nearly 3,000 people in west Africa and infected twice that number, according to the World Health Organization.
The virus emerged in Guinea at the start of the year and has infected 1,008 Guineans, killing 632 of them.
The spread in Guinea has been accompanied by fear and paranoia by villagers who feel the government and the international community cannot be trusted.
Part of a conspiracy?
Many Guineans believe local and foreign healthcare workers are part of a conspiracy to either deliberately introduce the outbreak, or invented it as a means of luring Africans to clinics to harvest their blood and organs.
Police lieutenant Richard Haba told AFP last week the outreach team was attacked by protesters who had come "to kill them because they think Ebola is nothing more than an invention of white people to kill black people".
At least 21 people were wounded during violent scenes in which the team was pelted with stones, according to local police.
There was further violence on Tuesday in the southwestern town of Forecariah between security forces and locals angry at the burial by Red Cross workers of an elderly woman thought to have contracted Ebola.
Witnesses told AFP on Wednesday protesters threw stones at the burial team, forcing them to flee as traffic came to a standstill and shops and offices were closed.
A local government official said the family had been wrongly informed that the Red Cross were going to cut up the body.
There was no immediate information on the size of the crowd and whether there had been any casualties.