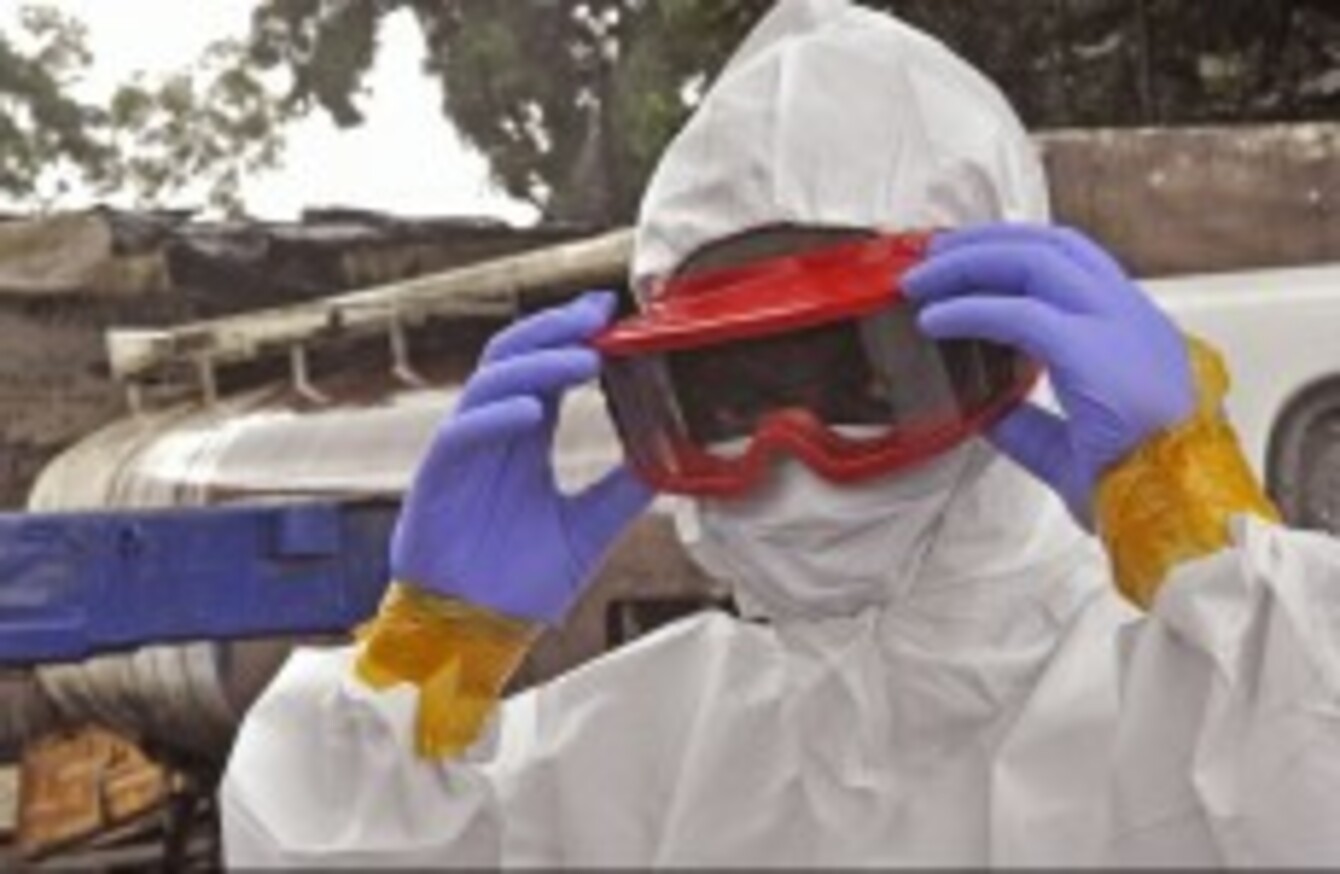 A Liberian health worker prepare his Ebola protective gear.
Image: AP/Press Association Images
A Liberian health worker prepare his Ebola protective gear.
Image: AP/Press Association Images
LIBERIA HAS SAID it will deny permission for any crew to disembark from ships at the country's four seaports until the Ebola epidemic ravaging west Africa is under control.
Sailors on commercial ships can normally ask for a "show pass" allowing them to get off the vessel and access the port but the documents are being withdrawn to curb the spread of the virus, said Matilda Parker, head of Liberia's ports authority.
"For vessels coming in we have cancelled show passes. Absolutely no one from on board vessels will be allowed down," she told AFP.
The country's four seaports, including the Freeport of Monrovia, would adopt a "zero tolerance" approach, Parker said, against an outbreak which has claimed 1,500 lives since the start of the year.
Liberia, the hardest-hit of five west African nations struggling with the epidemic, has seen almost 700 deaths.
Men, right, working for a humanitarian group, give water in small bags to West Point residents behind a gate at a holding area, as they wait for a second consignment of food from the Liberian Government to be handed out, at the West Point area, near the central city area of Monrovia, Liberia. [Abbas Dulleh/AP/Press Association Images]

"For the workers who are going onboard vessels, they are going through three layers of screening at the gate, at the security desk and also at the pier. They have been instructed not to get in contact with anybody on board," Parker added.
Monrovia's port is run by APM Terminals, which operates in 63 countries, as part of a deal committing the company to a €110 million investment including a 600-metre wharf and state-of-the-art container tracking technology.
The port — known as the "gateway to Liberia's economy" — handles the majority of imports in an economy which has to buy in almost all commodities, meaning the price of fuel, machinery, manufactured goods and food rely heavily on its smooth running.
Source: AFP news agency/YouTube
Meanwhile, Morocco, the last country to maintain regular scheduled flights to Ebola-hit nations after Air France halted departures, is carrying on through "solidarity", an airline official has said.
In a bid to stop the spread of the virus, many African governments have sought to ring-fence Sierra Leone, Guinea and Liberia.
On Friday, Senegal became the fifth country in the region to be affected, confirming its first case of the deadly virus for which there is currently no cure. Nigeria is the other.
This week, after Air France announced it would stop flying to Sierra Leone's capital Freetown, the World Health Organization (WHO) said it was "absolutely vital" that airlines resume flights because bans were hindering the emergency response.
The French carrier's move followed a similar decision by British Airways which said it was stopping its flights to Freetown and Monrovia, the capital of Liberia, until next year.
Royal Air Maroc is keeping up its regular dozen flights a week to the three worst hit countries.