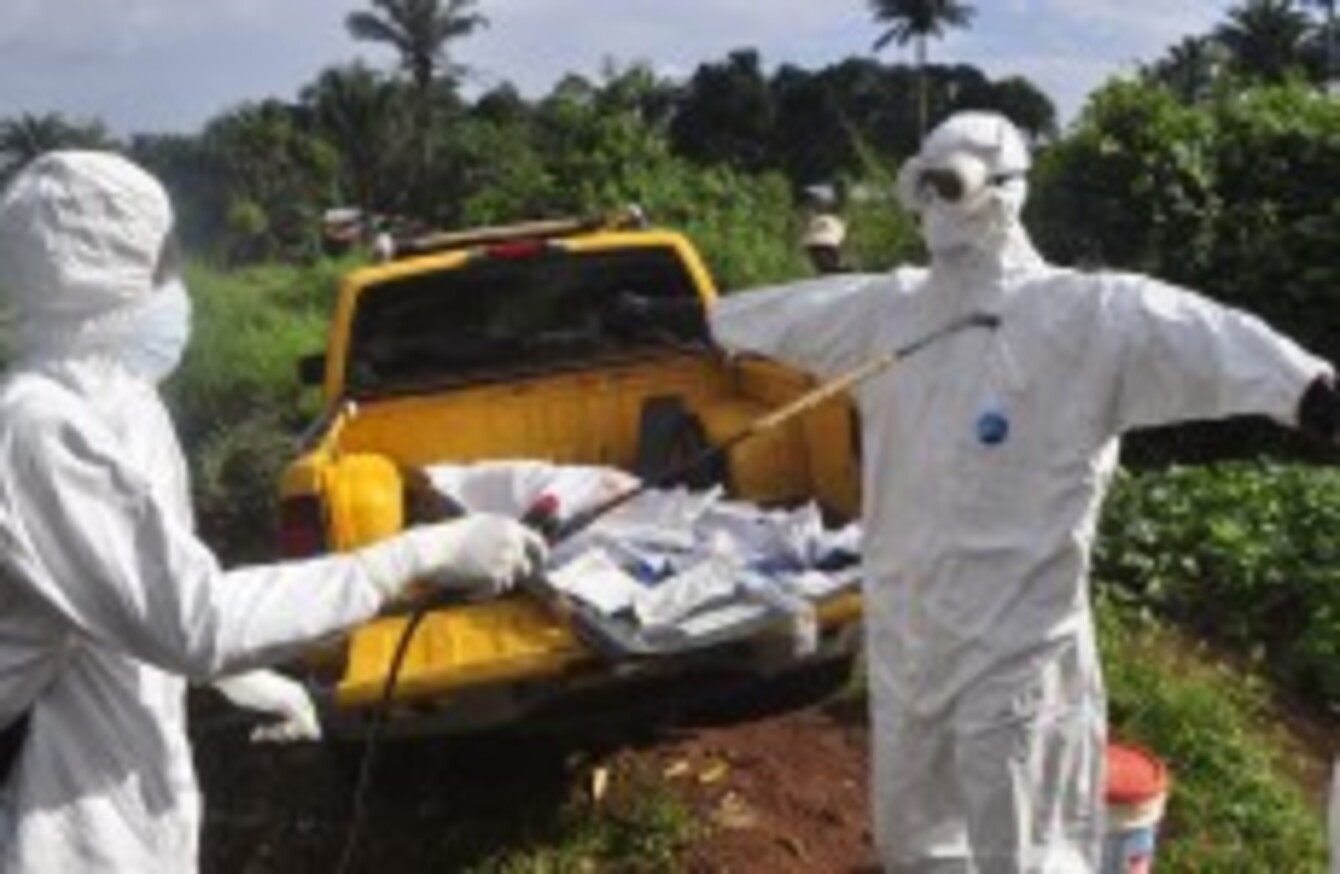 A health worker sprays disinfectant on the outskirts of Monrovia, Liberia.
Image: AP/Press Association Images
A health worker sprays disinfectant on the outskirts of Monrovia, Liberia.
Image: AP/Press Association Images
PEOPLE, INCLUDING HEALTH workers, returning to the US from West Africa should undergo "active direct monitoring" but not be quarantined, according to authorities.
The Centres for Disease Control and Prevention (CDC) say "active direct monitoring" means people in this high-risk category must be checked for fever daily for 21 days, and must restrict travel and public activities for the duration of the virus's incubation period.
The CDC made the announcement in an update of previously issued guidelines.
Those at highest risk of having contracted Ebola include health care workers who experienced a needle stick or had fluids from an infected person splash in their eyes or on broken skin.
The high-risk category also includes those who handled bodily fluids without wearing personal protective equipment, those who touched the corpse of a person who died of Ebola, or family members who cared for an Ebola patient.
The monitoring means that someone accountable to the local or state health department observes the person's temperature being taken, has a conversation with them daily including going over a checklist of potential Ebola symptoms, and reviews plans for their daily activities, CDC chief Tom Frieden said.
"That, we think, is good sound public health policy," Frieden told reporters.
"We are concerned about some policies that we have seen in various places that might have the effect of increasing stigma or creating false impressions. You don't catch Ebola from someone who is not sick."
Frieden added that experts know Ebola is more infectious as the illness progresses.
"So those first few hours or days of the beginning of symptoms are far less likely to result in any infections than are the later courses of the disease, when people have much, much larger numbers of virus that they are excreting."
The CDC does not have the power to enforce these rules, and said it would defer to local and state health authorities to decide how to proceed and execute the guidelines.
Medical exams recommended 
People at some risk of Ebola include anyone who spent "a long time" in the presence of a symptomatic Ebola patient without wearing protective gear, or any healthcare worker who cared for Ebola in patients in West Africa even when wearing protective coverings.
These people should also under active direct monitoring, though travel restrictions can be decided on a case-by-case basis, the CDC said.
People at low risk of Ebola include those who were in a country stricken with the virus but who had no known exposure, or those who were in the same room as an Ebola patient but did not touch them.
All three categories are urged to have a medical examination to rule out the infection.
People at no risk of Ebola include those who came in contact with an Ebola patient before the person was showing symptoms — which include fever, aches, vomiting and diarrhea — and those who have gone three weeks since traveling to a country with Ebola.
The CDC guidelines were issued after a US nurse was quarantined in New Jersey on Friday after she returned from treating Ebola patients in West Africa.
Kaci Hickox protested her conditions over the weekend and was released yesterday, a day after New York eased strict new quarantine orders under pressure from President Barack Obama's administration.