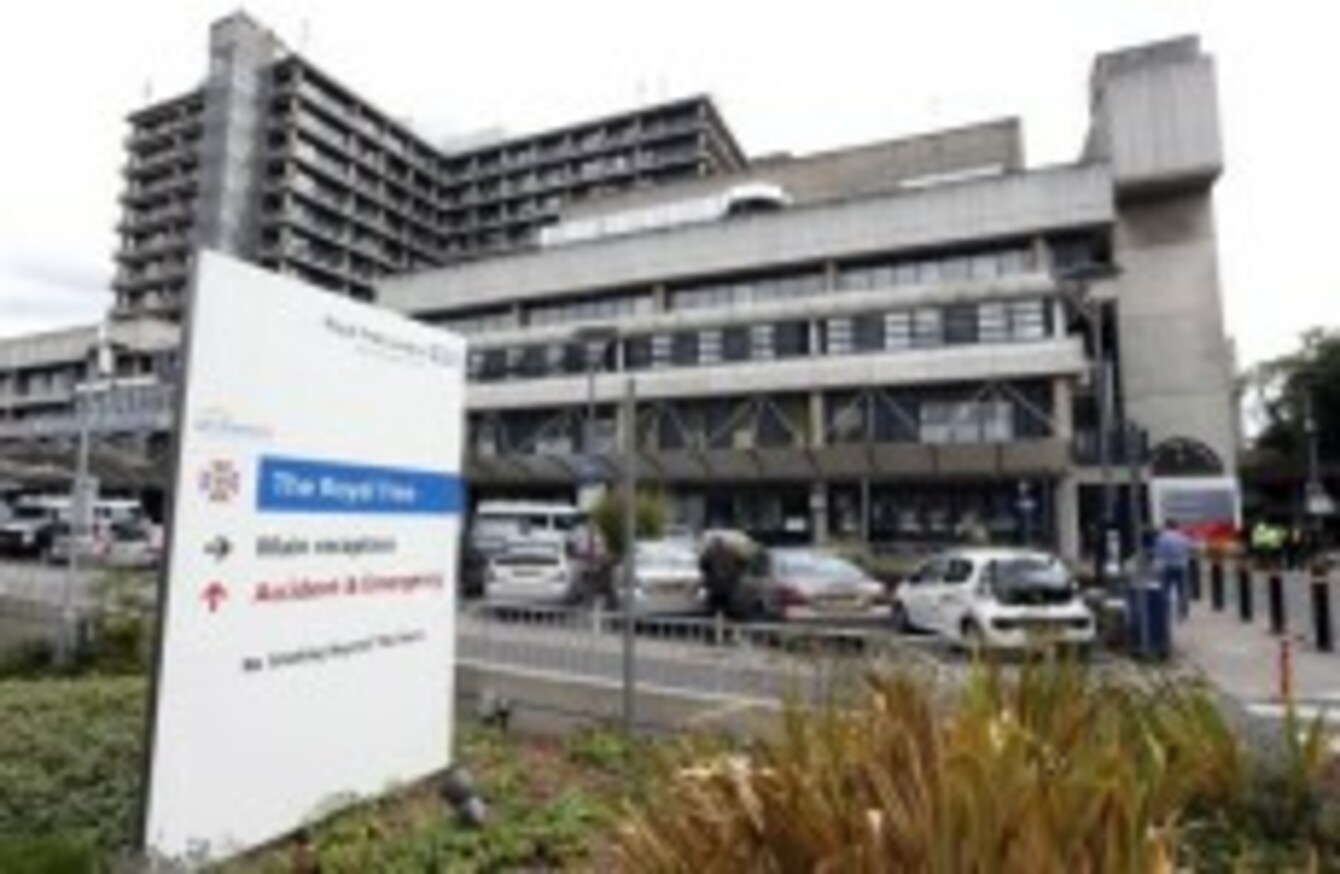 Image: Jonathan Brady via Press Association Images
Image: Jonathan Brady via Press Association Images
Updated 6.36pm, 30 December
A BRITISH NURSE who contracted Ebola in west Africa is being treated in a specialist hospital today. Meanwhile, infection rates are growing again in eastern parts of Sierra Leone where the outbreak had subsided.
The volunteer, who returned on Sunday from a treatment facility in Kerry Town in Sierra Leone run by the Save the Children charity, was transferred overnight from a Glasgow hospital in a Royal Air Force plane.
British media named her as Pauline Cafferkey, a nurse who was part of a 30-strong team of medical volunteers sent to Sierra Leone last month.
The Guardian quotes Scotland's First Minister Nicola Surgeon as saying that Cafferkey is "doing as well as can be expected in the circumstances".
In an emotional diary written for The Scotsman newspaper, Cafferkey talked about her work at the facility, including meeting an orphan boy.
"The sad thing is that this is a regular occurrence and we see and hear of whole families being wiped out by this awful disease," Cafferkey wrote.
It is the first time someone has tested positive for Ebola in Britain and she is the second to be treated for the virus in the country after fellow nurse William Pooley, who made a full recovery earlier this year and has since returned to Sierra Leone.
Meanwhile in Ireland, Health Minister Leo Varadkar sought to reassure the public, commenting that there is no immediate threat or danger of an Ebola case here, the Irish Times reports.
However he said authorities are in daily contact with their counterparts in Britain and Europe as they monitor the situation.
Testing two more people 
Around 100 people have been tested for Ebola in hospitals across England alone so far this year, with all of them testing negative so far.
A second person returning from the affected region was being tested for the virus in Cornwall in southwest England and a third, also a healthcare worker, was to be tested in Aberdeen, Scotland.
Officials said that as far as they knew neither of the two had contact with the confirmed case and the test results were expected later on today.
The patient arrived at the Royal Free Hospital in London this morning, having left Scotland at 3am.
The Royal Free confirmed last night that was expecting to receive a patient, saying they would be treated in the high level isolation unit (HLIU).
In the HLIU:
A specially-designed tent, with controlled ventilation, is set up around the patient's bed and allows the staff to provide clinical care while containing the infection.
Health authorities said they had contacted 63 of the 70 people who were on the plane with Cafferkey on the last leg of her journey from London Heathrow Airport to Glasgow.
The National Health Service worker was admitted to hospital on Monday after feeling feverish.
"She did not have the symptoms that make us worried about transmission before she was in the isolation facility in Glasgow," said Professor Paul Cosford from the Public Health England agency.
Ebola is transmitted through contact with bodily fluids and officials emphasised that the risk of the virus spreading was "negligible".
New cases in Sierra Leone
Sierra Leone's deputy government spokesman Abdulai Bayratay defended screening measures in place.
#Open journalism No news is bad news Support The Journal

Your contributions will help us continue to deliver the stories that are important to you

Support us now
"The screening process she went through at the Lungi International Airport was of quality standard and as far as was detected, she left the country without any symptoms of Ebola," he told AFP.
But British medic Martin Deahl, who said he had travelled with Cafferkey from Sierra Leone, criticised what he called the "shambolic" testing process at Heathrow.
"They ran out of testing kits and didn't seem to know what they were doing," he told The Daily Telegraph newspaper.
The Guardian said that Public Health England will review its Ebola screening measures following Deahl's comments.
The patient returned to Scotland late Sunday via Casablanca and London Heathrow, arriving at Glasgow Airport at around 11.30pm local time, according to a Scottish government press release.
She was admitted to Gartnavel Hospital campus on Monday after feeling unwell and placed in isolation at 7.50am.
British Prime Minister David Cameron said that "all measures would be taken to protect public health."
The death toll from the Ebola outbreak in west Africa has risen to 7,842 out of 20,081 cases recorded, the World Health Organisation said today.
In Sierra Leone, a five-day Christmas lockdown in the north aimed at preventing new Ebola infections ended on Monday. However, Ebola infections have increased in the diamond-rich Kono district in the country's east, where the infection rates had been decreasing.
- © AFP 2014 with additional reporting by Aoife Barry