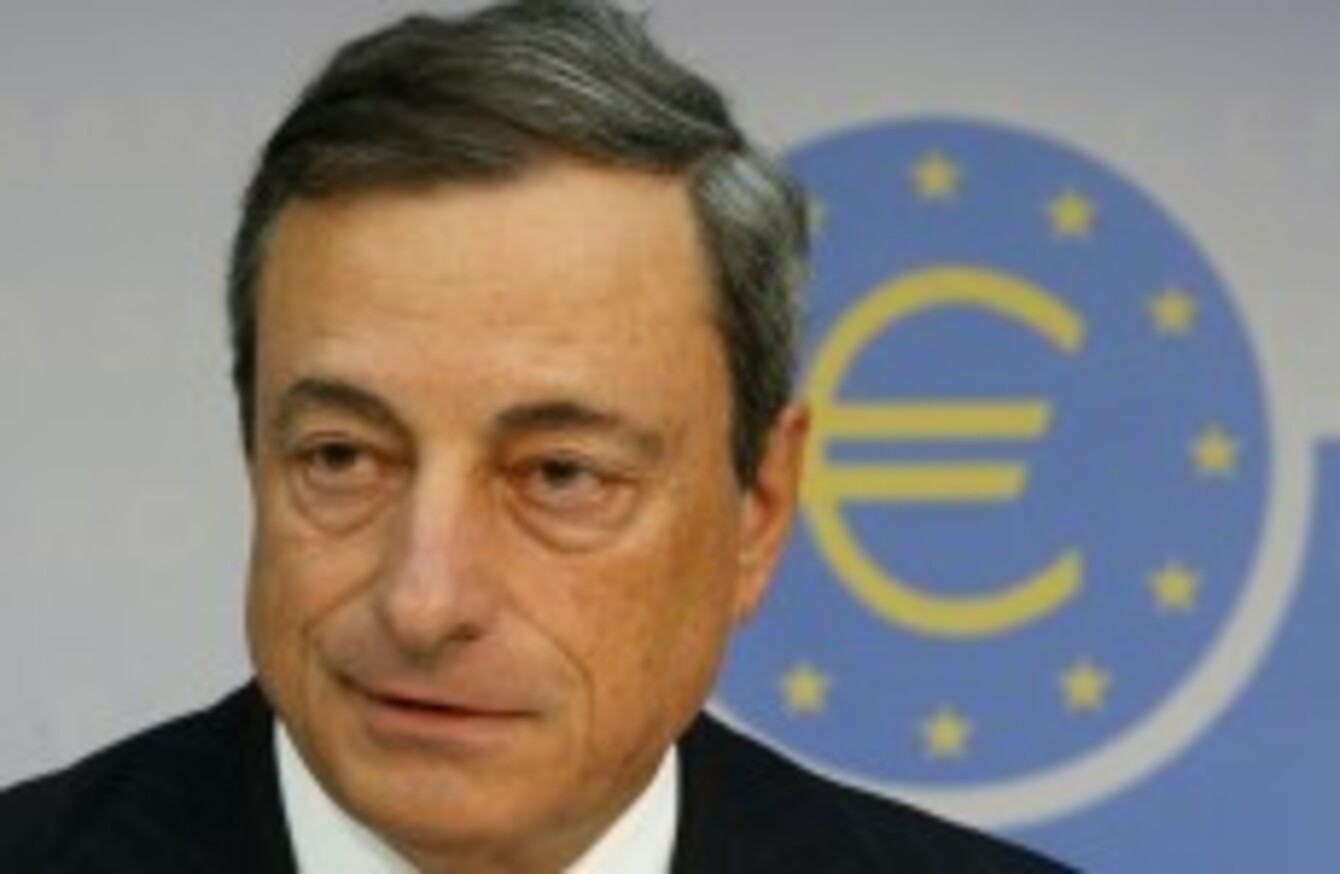 President of the European Central Bank, Mario Draghi.
Image: Michael Probst/AP
President of the European Central Bank, Mario Draghi.
Image: Michael Probst/AP
THE EUROPEAN CENTRAL Bank held its key rates steady yesterday but has said it is cautious about the eurozone's recovery and stood ready to cut rates again if the situation deteriorated.
At its regular monthly policy meeting, the ECB held it key interest rate at its current all-time low of 0.50 per cent, where it has been since May.
But president Mario Draghi appeared keen to temper burgeoning hopes that the eurozone was on the verge of a strong rebound, insisting that the recovery remains extremely fragile.
"I am very, very cautious about recovery. I can't share the enthusiasm," Draghi told his regular post-meeting news conference.
And the ECB "stands ready to act" should the situation suddenly deteriorate again in face of, for example, geo-political risks related to the situation in Syria, Draghi said.
Indeed, a possible rate cut had been discussed by the decision-making governing council at yesterday's meeting, but there was no consensus on any such move, Draghi said.
"Certainly we are alert to geopolitical risks that may come out of the Syrian situation and economic risks that may derive from emerging markets situation," he said.
Exiting recession
The eurozone's gross domestic product (GDP) expanded by 0.3 per cent in the second quarter of 2013, exiting a recession that had lasted a year and a half.
Since then, survey-based confidence indicators up to August had "improved further from low levels, overall confirming our previous expectations of a gradual recovery in economic activity," Draghi said.
Nevertheless, the ECB was keeping an "easing bias", meaning it is more likely to cut rates again than raise them, he said.
"Looking ahead, our monetary policy stance will remain accommodative for as long as necessary. The governing council confirms that it expects the key ECB interest rates to remain at present or lower levels for an extended period of time," he said.
Certainly, the ECB's updated growth and inflation forecasts for the 17 countries that share the euro were barely different from those it had issued in June and therefore offered no reason for the bank to change its monetary policy stance.
Draghi said that the central bank's staff projections saw the eurozone economy shrinking by 0.4 percent this year and then growing by 1.0 per cent next year.
In the previous forecasts in June, the economy had been expected to contract by 0.6 percent in 2013 and grow by 1.1 percent in 2014.
Inflation
Looking at price developments, area-wide inflation was projected to average 1.5 per cent this year and then 1.3 per cent in 2014, compared with the previous forecasts of 1.4 per cent and 1.3 per cent respectively.
"The ECB was very cautious in its assessment of the economic outlook today, caution that we think is warranted," said Marie Diron at Eurozone Forecast.
"Despite positive data in recent weeks, the growth forecast for 2014 was revised down slightly. We welcome the signs of recovery but it is essential that the national and eurozone-wide reforms stay on track as several factors mean that the recovery will be muted," Diron said.
- © AFP 2013.