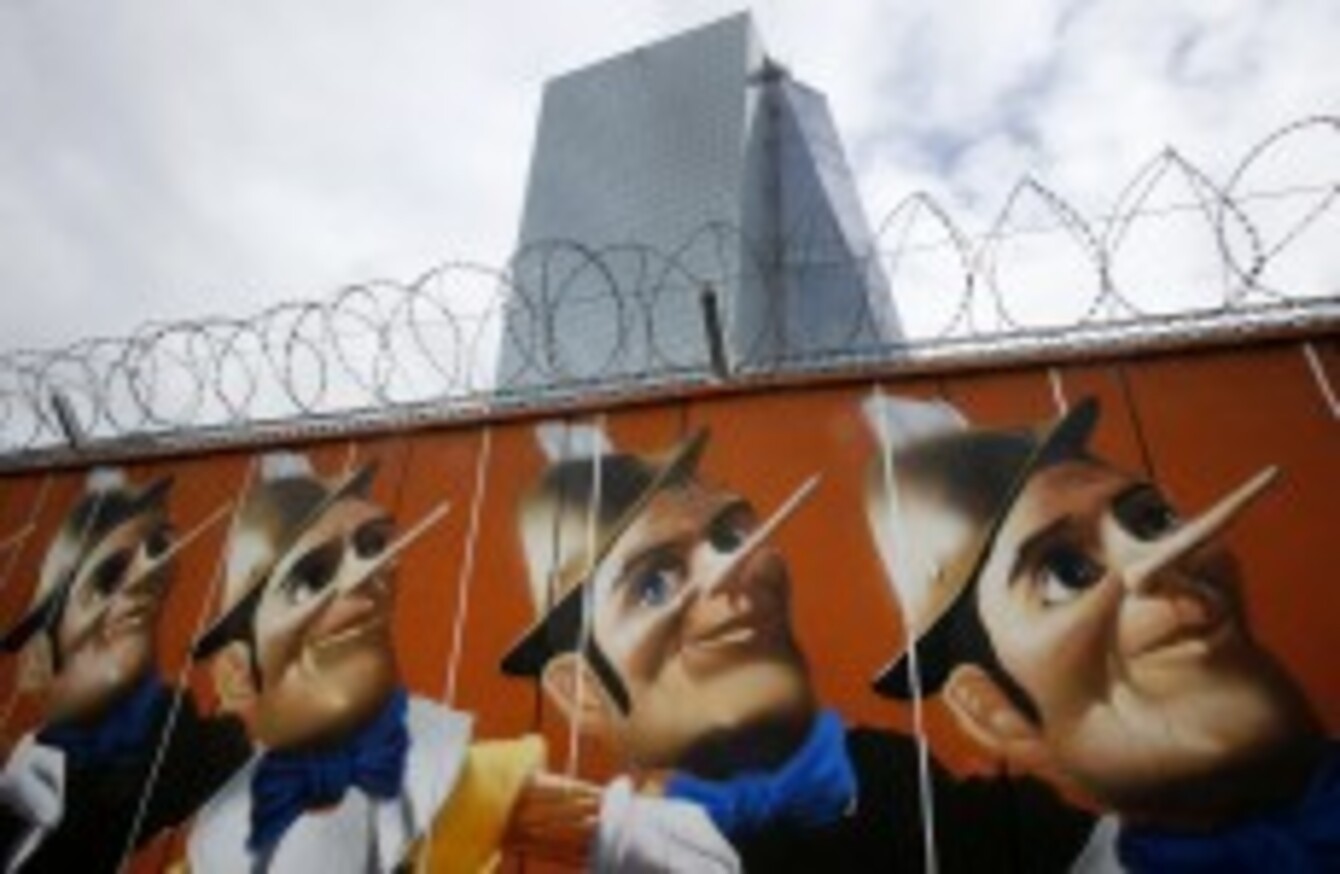 Graffiti on a hoarding outside the ECB in Frankfurt
Image: Michael Probst
Graffiti on a hoarding outside the ECB in Frankfurt
Image: Michael Probst
EUROPEAN CENTRAL BANK president Mario Draghi announced a slew of new measures to combat deflationary pressures in the euro zone yesterday.
Among them was a plan to make up to €400 billion available for banks to call on when lending to SMEs.
Similar plans have been tried before, but this one promises more stringent oversight of where the funds go – and penalties for banks that don't use them for lending to the non-financial sector.
Yesterday, Draghi said that one of the main measures of the success or otherwise of his plans would be if there is a big increase in funding to SMEs.
From yesterday's announcements, it is clear that the ECB is desperate to see funds travel into the real economy, but will it work?
The verdict
According to KBC Bank chief economist Austin Hughes, the funding injection is welcome, but will not be enough to reverse the fortunes of cash-starved SMEs overnight.
"It won't be the catalyst but it could be a contributory element."
He said that in recent years, SMEs have been reluctant to take on extra debt, while banks that have been bruised by the economic crisis have been slow to lend to anything with too much of a risk profile attached.
The new funding package won't completely counteract that, but it will play a part, he said.
"I think it will help, but anyone who expects a seismic change will be disappointed."
Fundamentally, the eurozone economy is still weak and looming stress tests are still likely to stay the hand of any bank when it comes to lending to small business, he said.
Nonetheless, he said that the funding package is "a small step in the right direction."
"It is complementary to other elements rather than something in isolation that will be the defining change in the economic outlook."
"If the environment improves for other reasons, it will be very helpful."