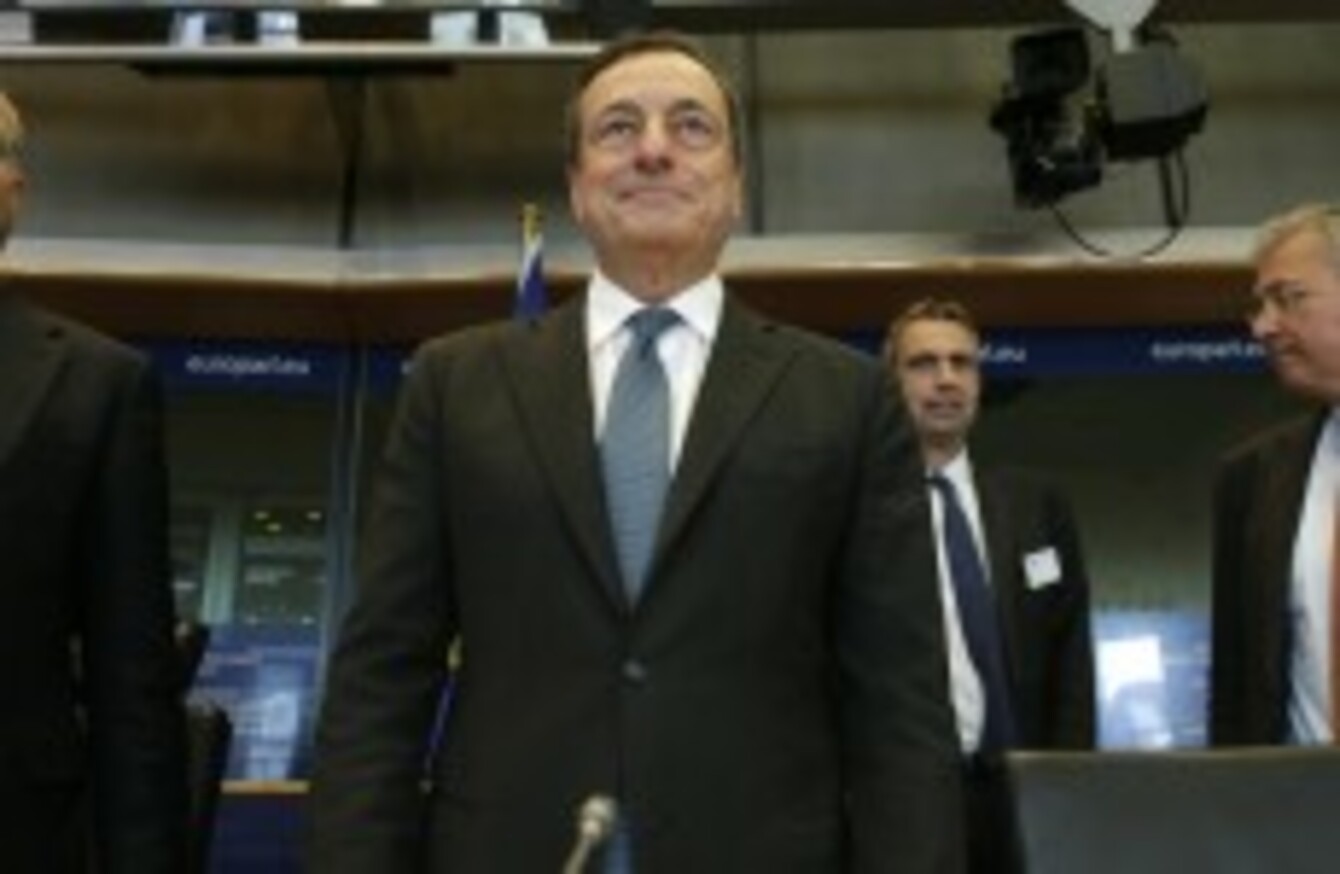 ECB president Mario Draghi
Image: Yves Logghe/AP/Press Association Images
ECB president Mario Draghi
Image: Yves Logghe/AP/Press Association Images
THE EUROPEAN CENTRAL Bank will spend at least two years buying up debts in a bid to inject more money into the region's flagging economies.
ECB president Mario Draghi made the announcement today as the bank opted to keep its headline interest rates at record lows of 0.05%.
It will also leave its deposit rate in negative territory – meaning lenders have to pay to park their cash with the central body.
But as a further attempt at getting cash flowing into the eurozone, the ECB said it will spend a minimum of two years buying asset-backed securities and covered bonds.
Draghi did not put a figure on how much the bank would pay out, although he said the covered-bond purchases would start this month and the overall program would have "a sizeable impact on our balance sheet".
Meanwhile, thousands of protesters took to the streets outside the meeting in Naples, Italy, where they clashed with riot police armed with water cannons.
Just say no to deflation
Draghi said the bank's move was focused on "maintaining price stability over the medium term and … to supporting economic activity", a reference to ever-rising concerns the eurozone would slip into deflation after recent figures showed the region's economy was growing at only 0.3%.
"However, in order to strengthen investment activity, job creation and potential growth, other policy areas need to contribute decisively," he said.
In particular, the legislation and implementation of structural reforms clearly need to gain momentum in several countries."
What does it all mean?
Asset-backed securities are packages of loans, leases or other assets which banks can bundle together and sell in one lot.
Similarly, covered bonds are private-sector debts backed with the security of a loan package.
Because of the extra "cover", these bonds are considered lower-risk than unsecured bonds which leave the buyer out of pocket if the issuer goes under.
By buying the assets from banks, the ECB hopes lenders will use the spoils to turn on the cash taps and feed more money into the wider economy.
No money printing, yet…
It was previously speculated the bank would soon start a more radical stimulus program of so-called quantitative easing – effectively printing money – although the plan is yet to materialise.
But analysts have already flagged the latest buying spree will not be enough to get the eurozone going again and the ECB will soon have no choice except to take more drastic steps.
READ: Eurozone stagnates as Ireland steams ahead
READ: Pressure is mounting on Mario Draghi to turn on the cash taps