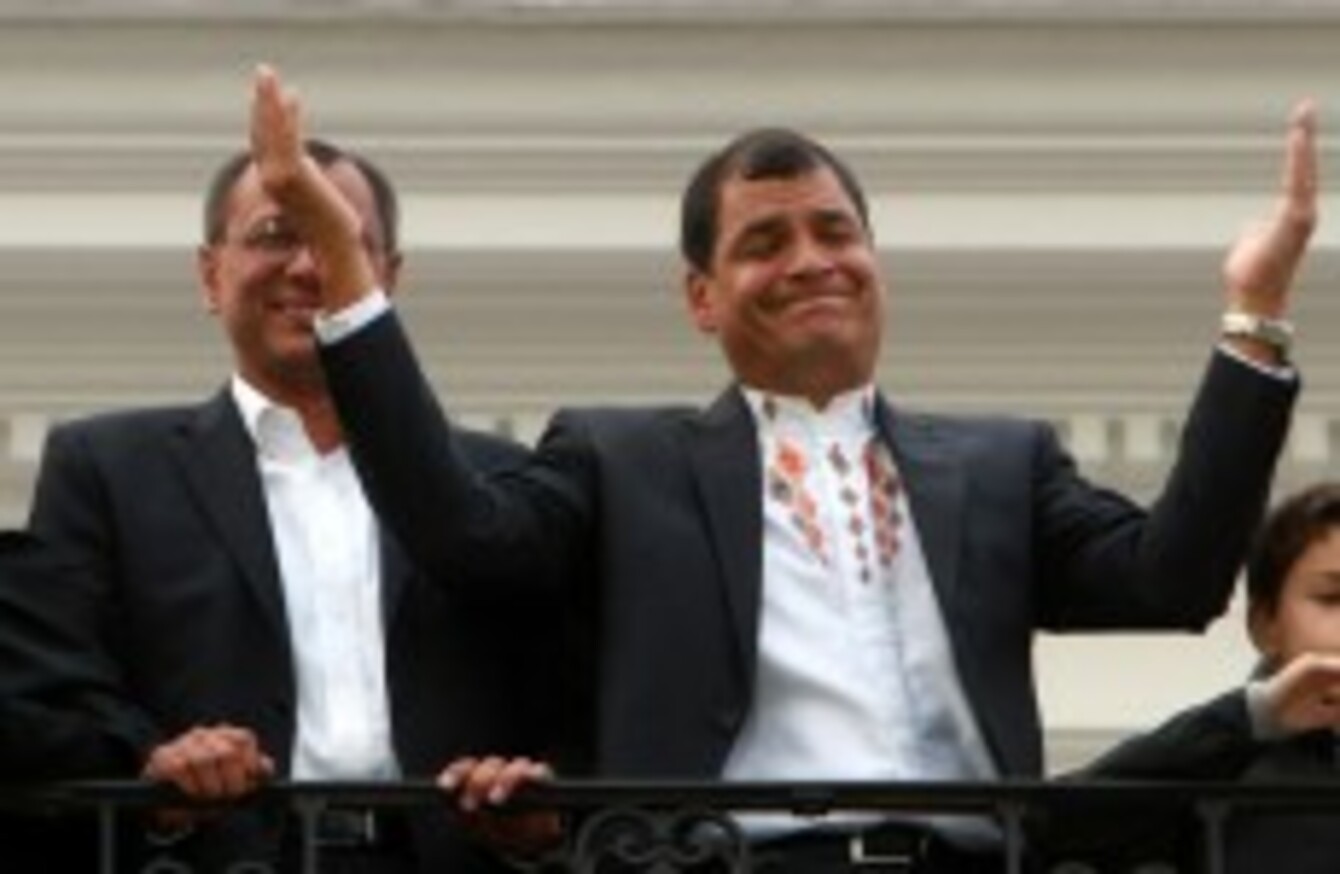 Rafael Correa celebrates his electoral successor in Quito, Ecuador.
Image: Martin Jaramillo/AP/Press Association Images
Rafael Correa celebrates his electoral successor in Quito, Ecuador.
Image: Martin Jaramillo/AP/Press Association Images
ECUADORAN LEADER RAFAEL Correa has insisted his revolution is unstoppable as he celebrated victory in the country's presidential election, with early results giving him a huge 33-point lead over his main rival.
"Nobody is going to stop this revolution. We are making history," said Correa, claiming outright victory in the first round of the vote. "We are building our small homeland, and a larger one, too" he said, referring to Latin America.
With 54 per cent of the ballots counted, Correa was ahead with nearly 57 per cent of the vote, compared to banker Guillermo Lasso's 23.7 per cent.
To avoid a second round run-off, Correa must secure either 50 percent of the valid votes or 40 percent with a 10-point lead over the nearest contender.
And the numbers indicated there was little that could stop him from achieving this goal. Lasso, who served as finance minister during an economic crisis in the 1990s, conceded defeat shortly after the results were announced.
"Decent people like you, my family and my co-workers recognised the victories of other, and this night, I want to recognize the victory of President Rafael Correa," Lasso said in his concession speech.
Correa, 49, told a crowd from the balcony of the presidential palace that he was determined to continue serving his people and ensuring the country's progress.
Chavez tribute
"And I'd like to take this chance to dedicate this victory to that great Latin American leader who changed Venezuela, Comandante Hugo Chavez Frias," Correa said, the cancer-stricken Venezuelan president a swift recovery in Cuba.
Charismatic in his supporters' eyes and authoritarian to his foes, Correa's announcement came shortly after polls closed in an election he had been widely expected to win.
At stake besides the presidency were the country's vice presidency and 137 seats in the unicameral legislature. Opinion surveys indicated that Carrea's Country Alliance was poised to win between 60 and 65 per cent of the parliamentary seats.
About 30 percent of Ecuador's 15 million people live below the poverty line, and Correa's popular social programs have won him support across the geographically diverse nation, from the Galapagos islands to the sweltering Pacific coast, up the towering Andes and down to Amazon basin lowlands beyond.
Correa, a Roman Catholic supporter of left-leaning liberation theology, grew up in lower-middle class surroundings, mostly separated from his father who served time in a US prison on minor drug charges.
At a time when such social mobility was no small feat, Correa was able to rise up and get a Masters at the Catholic University of Leuven, in Belgium, and go on to earn a doctorate in economics from the University of Illinois, in the US.
'Socialist revolution'
A self-declared foe of neo-liberal economics, he has also taken on big business and media groups, imposing new contracts on oil companies and renegotiating the country's debt while touting his poverty reduction efforts.
After clashing with privately-owned media, which he accuses of backing a police revolt in 2010, Correa barred his ministers from talking with opposition newspapers.
And while he presents himself as a "defender of freedom of expression," Correa wants to enact a new media regulation law.
Last year, Correa irritated Britain and the United States by granting asylum to WikiLeaks founder Julian Assange — who is wanted for questioning in Sweden over sexual assault allegations — at Ecuador's embassy in London.
Critics accuse Correa of scaring away foreign capital, pointing to his friendships with the leaders of Cuba and Venezuela, though the Ecuadoran president has been more pragmatic than his leftist allies.
Ahead of the vote, the Country Alliance held the largest bloc of seats in the legislature, but Correa told supporters on Thursday that he needs an absolute majority to deepen his "socialist revolution."
Correa, in office since 2007, has brought a measure of political stability to Ecuador, which had seven presidents in the turbulent decade that preceded him, including three who were overthrown.