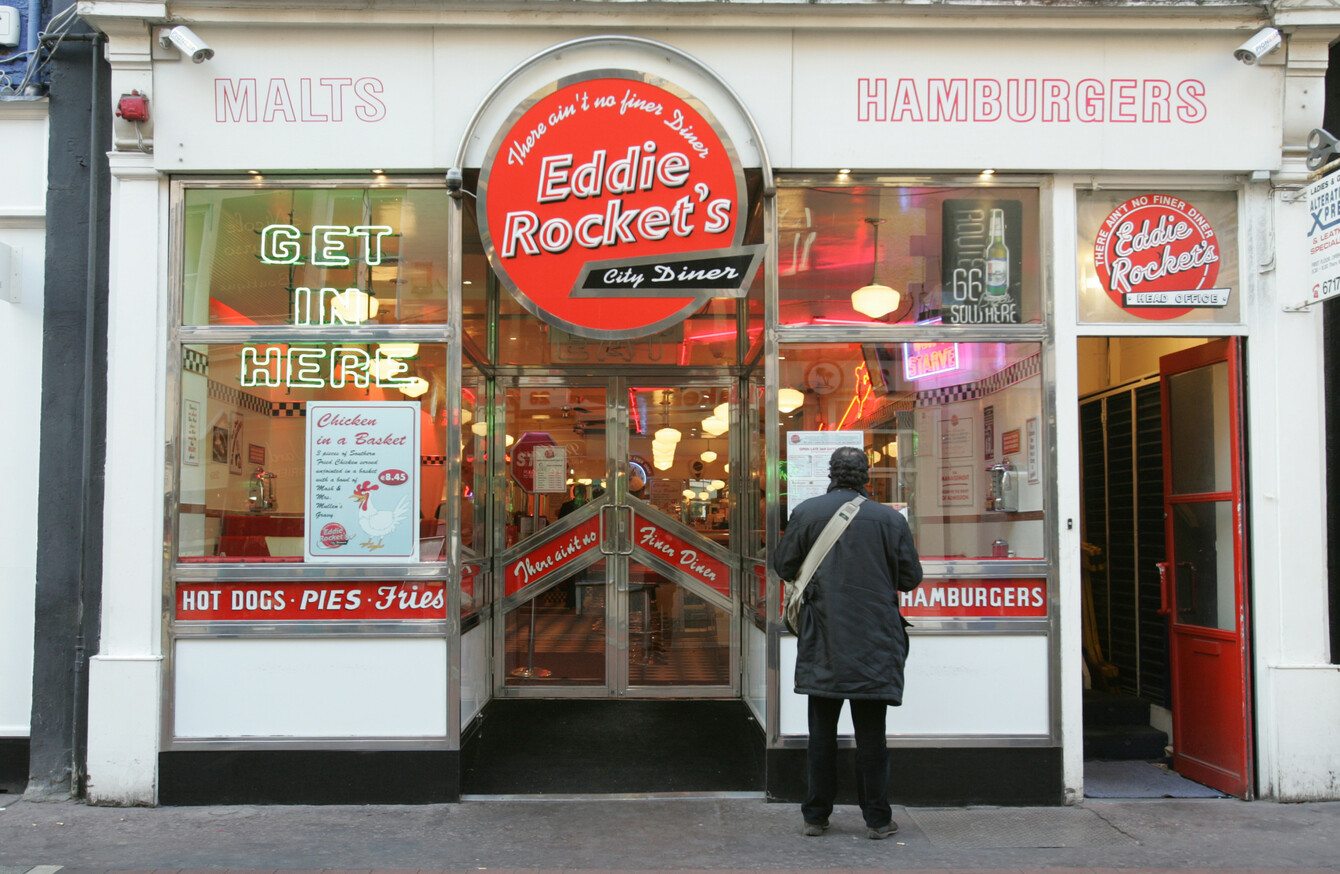 Image: Eamonn Farrell/Photocall Ireland
Image: Eamonn Farrell/Photocall Ireland
A JUDGE HAS refused to approve a €19,500 settlement offer to a nine-year-old girl whose right nipple was torn on a jagged piece of metal on a restaurant table, and has called for a plastic surgeon's report.
Barrister Stephanie O'Connell told Judge James O'Donohoe in the Circuit Civil Court that the girl was with her mother in Eddie Rockets in Liffey Valley, Clondalkin, Dublin, when the incident happened.
The girl, who was just aged six at the time, is not being identified to save her from public embarrassment or potential exposure to bullying remarks at her school.
O'Connell, who appeared with Sherlock and Company solicitors for the girl and her mother, said the child had been drawing a picture while seated at a table in Eddie Rockets and had dropped a crayon on the floor.
"She bent down to pick it up and on getting back on her seat she caught her chest on a jagged piece of metal protruding from the edge of the table," O'Connell told the court.
O'Connell said the incident had resulted in a laceration of the girl's right nipple.  She had been helped by a female member of the restaurant's staff who had applied a bandage to the wound.
The court heard that the girl was subsequently taken to her GP for examination and treatment and the wound had been cleaned and dressed.  She had received a tetanus injection.
O'Connell said the doctor had noted, in a report for the court, that the girl had suffered a laceration to the areola of her right nipple. The wound had left a scar that was visible and raised.
Counsel said that the defendant had made a settlement offer of €19,500 and legal costs but, after seeing pictures of the wound, Judge O'Donohoe said he could not at this stage approve the offer.
He asked O'Connell to have the legal firm of Sherlock and Company seek the views of a consultant with regard to a report on the possible need of cosmetic surgery for the girl.  He adjourned the application for court approval of the settlement until October.
Through her mother, the girl had sued Willowgrove Limited, which trades as Eddie Rockets, for damages up to the full €60,000 jurisdiction of the Circuit Court.