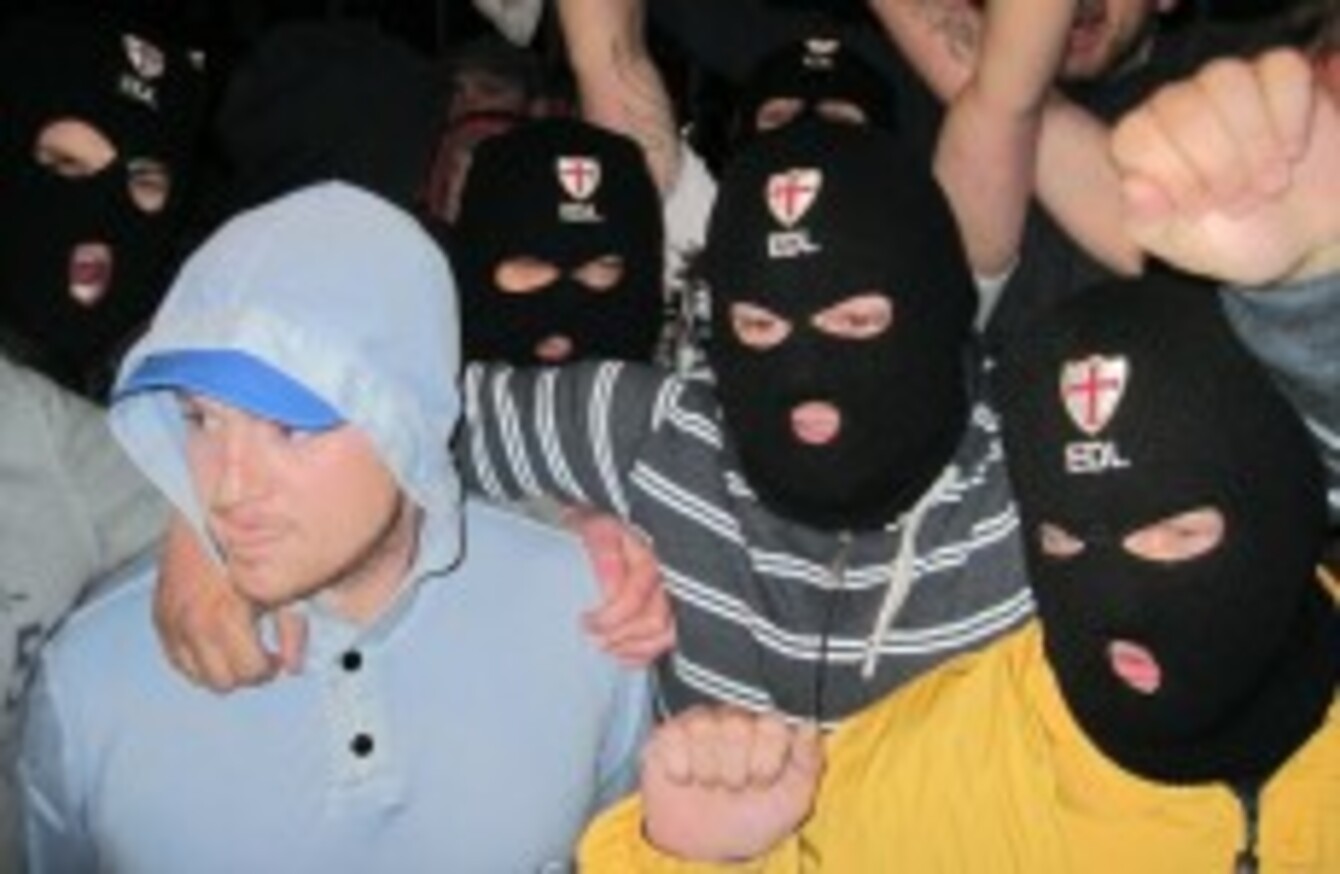 Lennon (left) at a demo in the wake of the Woolwich killing
Image: Neil Lancefield/PA Wire/Press Association Images
Lennon (left) at a demo in the wake of the Woolwich killing
Image: Neil Lancefield/PA Wire/Press Association Images
THE LEADER OF the controversial English Defence League has claimed that large numbers of second generation Irish people are joining the far-right group.
Stephen Lennon – who runs the hate group under the pseudonym Tommy Robinson – said in an interview with the Irish Post they had "no problem" with the Irish in Britain as long as they had integrated.
Despite billing itself as an "inclusive movement dedicated to peacefully protesting against Islamic extremism," the group has long faced accusations of being fascist and Islamophobic. Its activities have been in the spotlight in the wake of the killing of soldier Lee Rigby in Woolwich last month, following several high-profile demonstrations.
Lennon told the London-based newspaper that that a large number of second generation Irish joined the EDL when it was set up in Luton four years ago. And the 30-year-old, whose mother was born in Dublin, said his group would only target Irish community groups if they used 'IRA slogans' or sang Republican songs.
Lennon and supporters demonstrating outside the Old Bailey in London last week (Image: Gareth Fuller/PA Wire/Press Association Images)
The EDL leader also defended anti-Irish comments posted on Twitter, saying that if his mother had not come to England, she would be "in Ireland picking potatoes and eating cabbage".
"Part of Irish heritage is being able to have a laugh, hence my mum picking potatoes and boiling cabbage," he said.
Lennon also appeared on the BBC Radio 4′s Today programme this morning, and the interview has since come in for fierce criticism.
The segment was was branded "ludicrous" and "poisonous" by critics on Twitter who questioned why he was invited on at all, as he is not an elected representative.
In the course of the interview, Lennon denied his members had any responsibility for reprisal attacks on Muslims in the wake of the Woolwich killing, and admitted the group's tactics were "completely questionable".