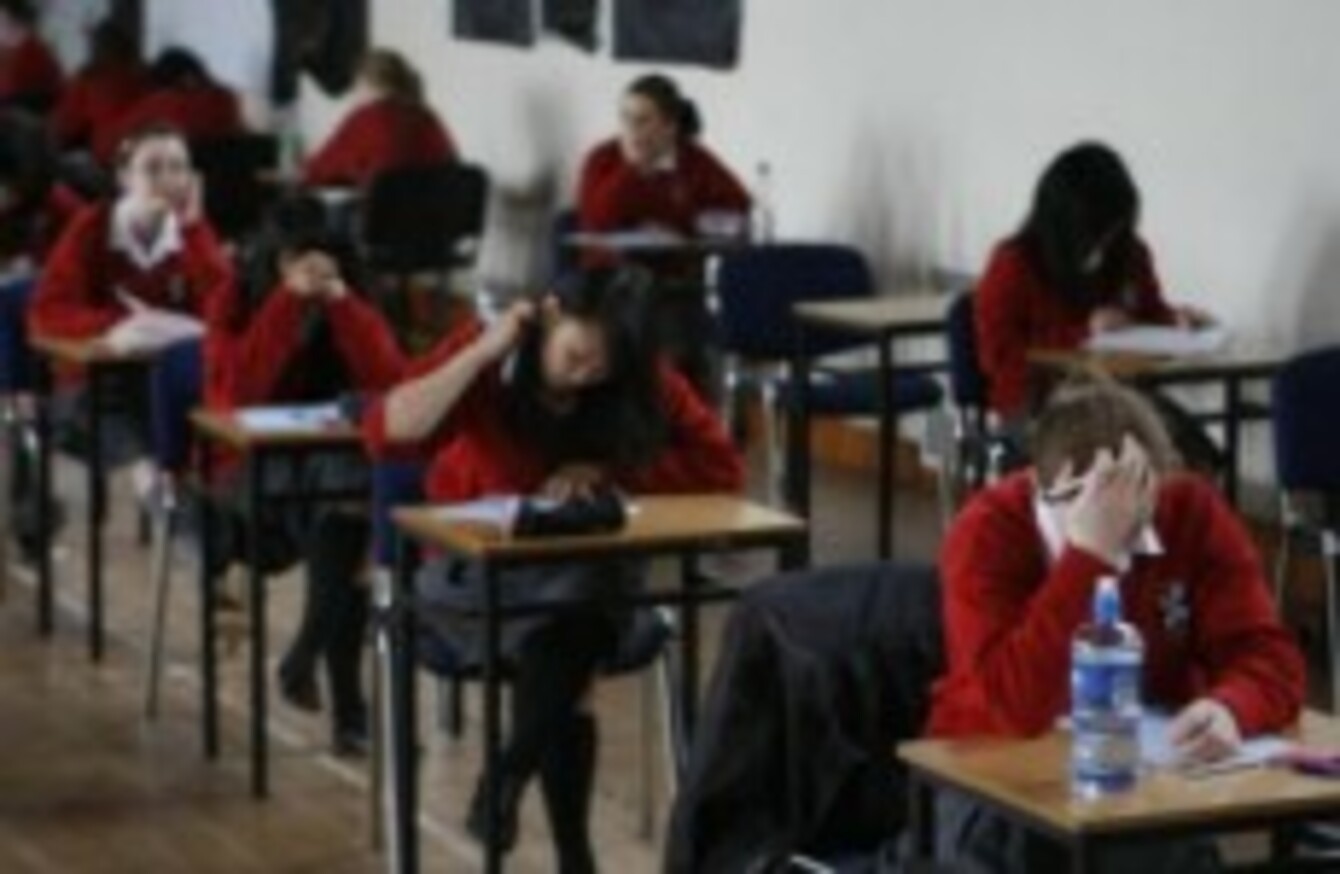 Junior Cert students in Dublin sitting their English exam last year.
Image: Image: Niall Carson/PA Wire
Junior Cert students in Dublin sitting their English exam last year.
Image: Image: Niall Carson/PA Wire
STUDENTS HAVE GIVEN their input on the new reformed Junior Cycle, and their thoughts have been welcomed by Ruairi Quinn, TD, Minister for Education and Skills.
Today he thanked the Irish Second Level Student's Union for their report, "Naming the Reformed Junior Cycle".
Commenting on the report, the Minister said:
I warmly welcome the effort that has been committed to this project by the ISSU.  Their use of text messaging, social media, email and consultation sessions to engage students on the topic has set an excellent example for creating dialogue with the students themselves.
The report is being published on the Department's website www.education.ie, and is being forwarded to education stakeholders for further discussion.
Last month, Minister Quinn approved measures which will see the current Junior Certificate exam system replaced by a new system.
This new system was proposed by the National Council for Curriculum and Assessment (NCCA), which had criticised the focus on passing exams during students' third year of secondary school.
In the report, the union said that they used a wide variety of methods to engage with students, including Facebook, Twitter, email and consultation sessions.
They also circulated posters to all schools and contacted certain schools by phone.
They discussed with the students about what the new junior cycle would be, and then the students gave feedback on the NCCA framework document. The union said there was a "big response" from students, particularly via text messaging.
Feedback included the following points:
Students were enthusiastic about learning changing from rote learning.
They were enthusiastic about learning more practical skills.
The overall reaction to the new curriculum was "extremely positive".
Students were concerned that students who go through the new junior cycle will not have to do the current senior cycle.
Students were also positive about the fact that 40 per cent of the marks in traditional subjects would be awarded for portfolio work, which they felt would reduce the stress of exams.
The vast majority wanted the new curriculum to have a new name – suggestions included ICA (Irish Comprehensive/Certificate Assessment) and IPATS (Irish proficiency assessments for third-year students).
One participant in the consultation stated "I think it will prepare students for life after the exams, instead of just for the exams"
In welcoming the report, Minister Quinn said:
Young people are uniquely placed to take the lead in redesigning their learning. It is precisely this engagement and enthusiasm for self directed learning which we are trying to promote in the reforms, developing important skills which will serve throughout life.
The report can be accessed here.