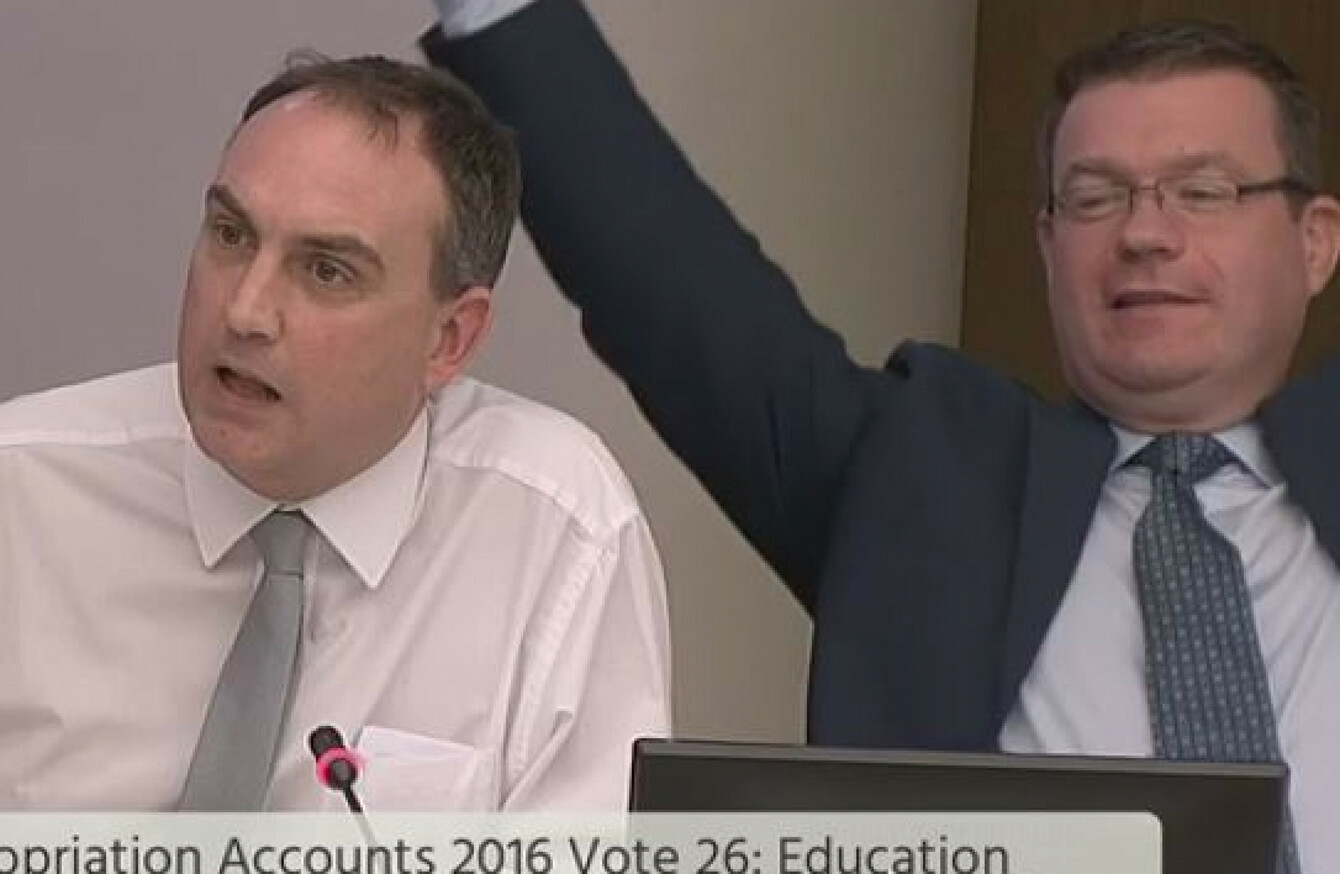 Fianna Fáil's Marc MacSharry asks questions flanked by Alan Kelly
Image: Oireachtas TV
Fianna Fáil's Marc MacSharry asks questions flanked by Alan Kelly
Image: Oireachtas TV
THE DEPARTMENT OF Education has been told to cut down on the use of taxpayers' money for retirement parties, after it emerged that €13,000 was spent on a lavish retirement party with an ice sculpture among the expenses.
The Public Accounts Committee had representatives from the department before it this evening, where it heard that the former president of Cork Institute of Technology Dr Brendan Murphy had a party where "tables, frames, drapes, carpets and the audio visual set up" cost €5,500 alone.
The breakdown of the costs involved for the party were first revealed by the Cork-based Evening Echo.
Fianna Fáil's Marc MacSharry asked if the expense was a bit too much for the taxpayer to expect, and asked if there were guidelines on retirement functions.
Secretary General of the department Seán Ó Foghlú said that it wasn't something that the department had a guideline on, and that it wouldn't be normal for departments or agencies to have retirement parties for staff.
He said: "However, there would be a recognition that when a senior leader of an organisation would be leaving after a number of years that it would be appropriate to be celebrate."
Ó Foghlú acknowledged that he attended the party in question, and MacSharry put it to him that it was "some bash at €13,000 out of the taxpayers' purse". He added:
Is it the practice to divvy out taxpayers' money for this purpose? Or should the invitees be quite reasonably asked if they would like to contribute?
Ó Foghlú said that people in the department would usually make a "minor contribution" towards the retirement of staff members.
In a frequently testy exchange, MacSharry said that the department needed to urgently put in guidelines for those responsible for the money to not spend it in such a manner.