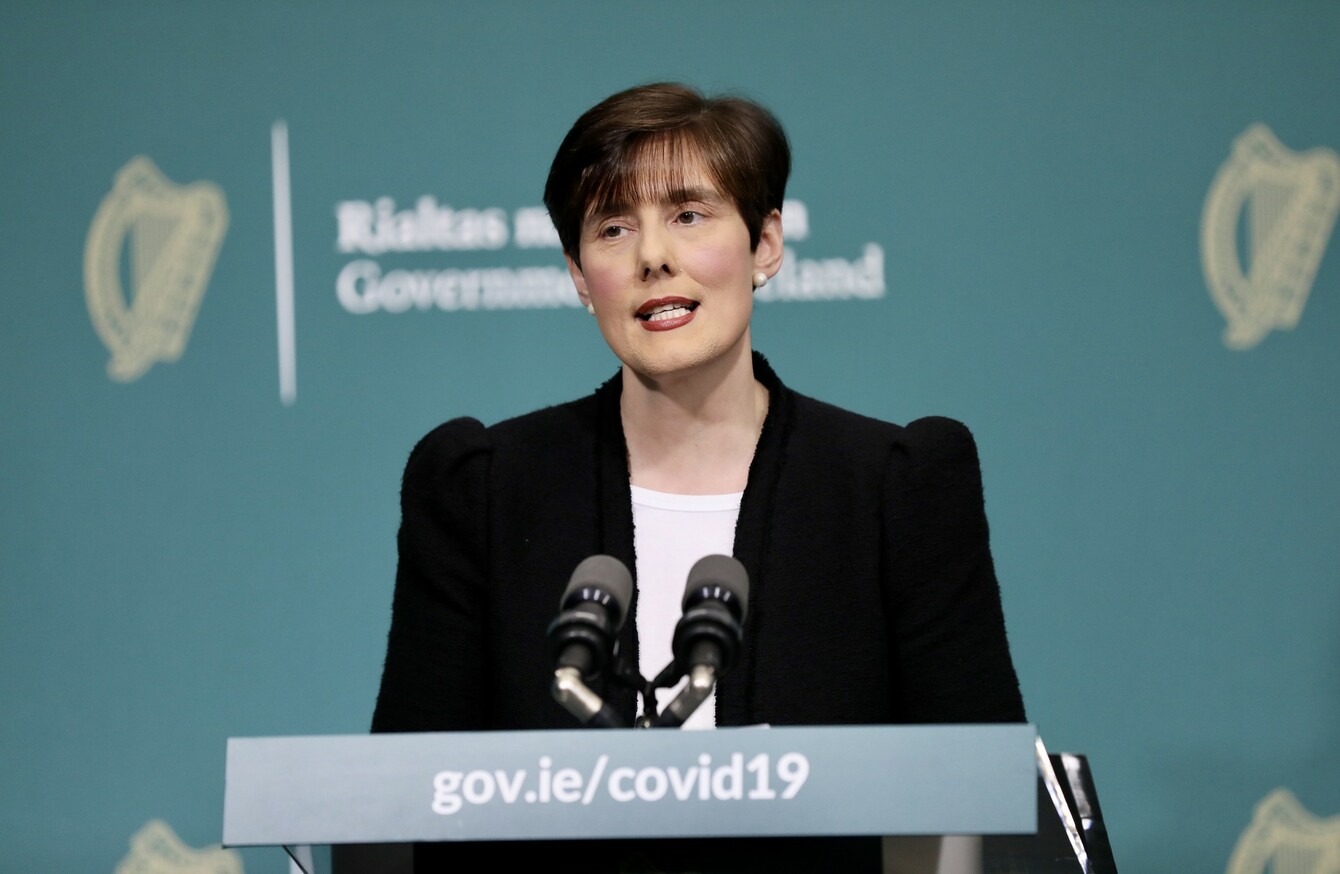 Minister for Education Norma Foley
Image: Julien Behal Photography
Minister for Education Norma Foley
Image: Julien Behal Photography
EDUCATION MINISTER NORMA Foley has indicated to Cabinet that she wants schools across the country to return on a phased basis next month.
It comes as discussions involving the government and unions continue in an attempt to have children return to school in March for the first time since before Christmas.
It is understood that no date has been agreed on the return of schools, and that plans remain subject to sign-off by unions and public health advice.
A round of intense talks between unions and department officials took place yesterday, as work continued to iron out the remaining issues.
Senior government sources have said that there was no decision made at today's Cabinet meeting about the date for schools reopening, stating that there is no concrete date. They said that people should not expect a date to be forthcoming this week.
While it is hoped that a phased reopening could begin in March or possibly earlier on 22 Feb for younger students, government sources have placed a serious health warning on any reporting or speculation around dates, stating that this is all subject to union approval.
The Association of Secondary Teachers Ireland had stepped away from talks last Thursday, before returning to discussions at the weekend. 
A spokesperson for the union told TheJournal.ie that talks are ongoing and that it had no further comment at present.
The Teachers' Union of Ireland, which also represents post-primary teachers, said the group was also participating "fully" in the talks.
"The TUI has consistently expressed its strong view that a phased return of students should commence as soon as possible, subject to the advice of the public health authorities," a spokesperson said.
"In that regard the union fully supports the re-opening of post primary schools for special classes on 22 February."
'We need to get children back'
When asked by TheJournal.ie if he had been inundated with correspondence from parents about the return to schools, Fianna Fáil TD Jim O'Callaghan said that he had.
"We need to get children back," O'Callaghan said, adding that there had been warnings from NPHET previously that the closures of schools could cause "very real harm" to both primary and secondary school children.
In a letter to parents and guardians on 31 August, then acting CMO Dr Ronan Glynn said:
The importance of schools for the overall health and wellbeing of children cannot be overstated, and the risk of Covid-19 has been carefully weighed against the very real harm that can be caused by sustained school closures.
Experts in paediatrics, the Children's Ombudsman and parents have also expressed concerns about the effect that school closures and prolongued social isolation can have on children's education and social development.
A HSE document seen by TheJournal.ie also cited "robust findings" of economic research that linked a child's time spent in school with their income in adulthood.
When asked whether the Government should make efforts to recoup some of the time lost in school, O'Callaghan suggested that summer camps should be "formalised".
When asked whether he agreed with Labour's proposal to set up a €100 million 'Catch Up for Children' scheme, which also calls for an examination of the affects closures have had on children and is similar to a scheme set up in the UK, O'Callaghan said he agreed if the money was available.
#Open journalism No news is bad news Support The Journal

Your contributions will help us continue to deliver the stories that are important to you

Support us now
Meanwhile, childcare providers have urged the government to provide clarity for the sector as politicians consider plans to re-open educational settings on a phased basis.
Representative group Seas Suas called for a plan to be put in place for the reopening of childcare in line with the phased reopening of schools.
With reporting from Christina Finn and Gráinne Ní Aodha.