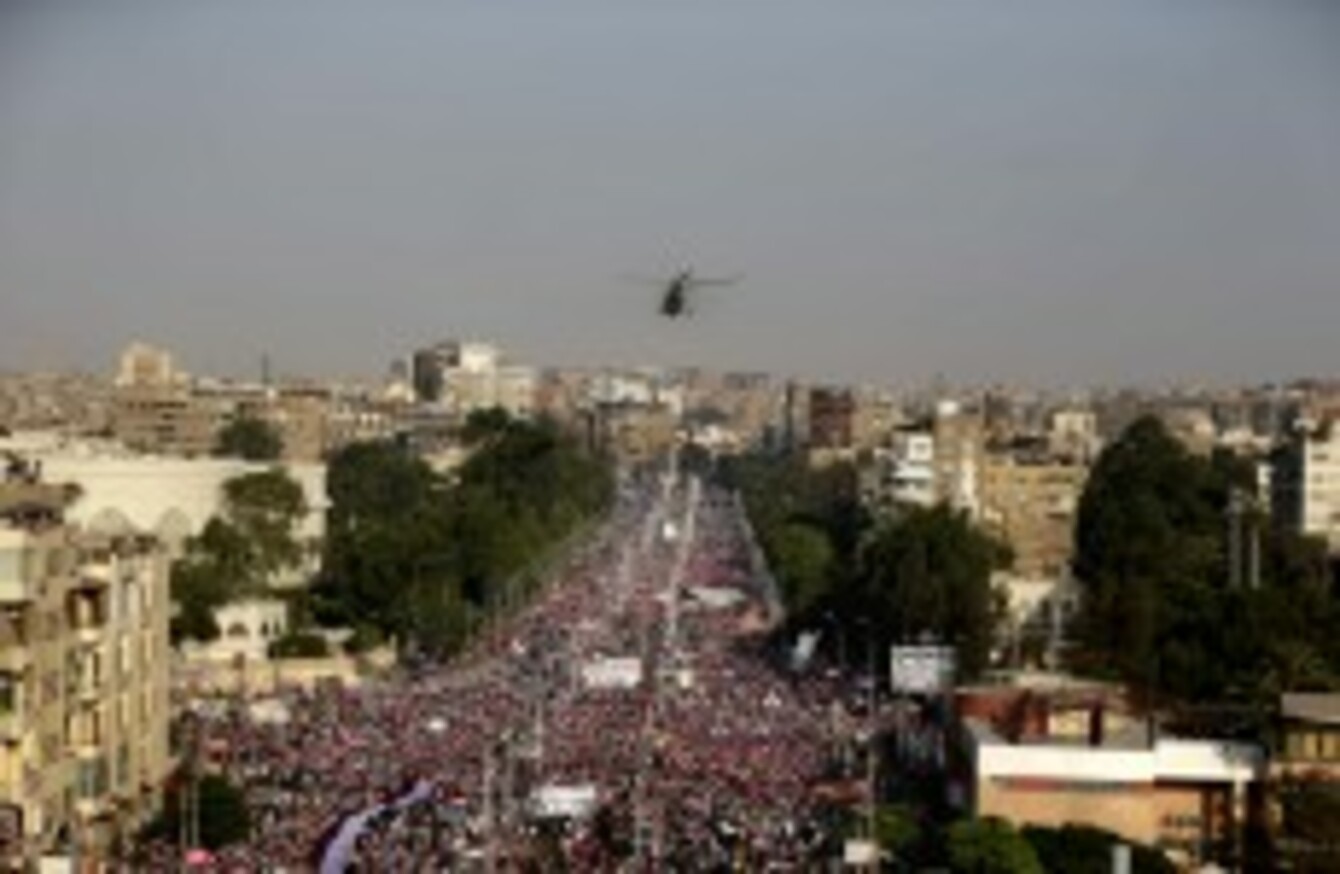 A military helicopter files over the presidential palace as opponents of Egypt's Islamist President Mohammed Morsi protest in Cairo, Egypt today.
Image: Hassan Ammar/AP/PA
A military helicopter files over the presidential palace as opponents of Egypt's Islamist President Mohammed Morsi protest in Cairo, Egypt today.
Image: Hassan Ammar/AP/PA
Updated 20.05pm
REPORTS SAY THAT Mohamed Morsi is no longer president of Egypt.
Bloomberg reports this evening that Morsi "is no longer in charge of the country", while the New York Times reports that Ahramonline (the government's official English-language Web site), said Morsi was informed by the military at 7pm GMT that he was no longer head of state.
Egypt's army has suspended the constitution and announced early presidential elections.
Earlier this evening, Egypt's opposition leader Mohamed ElBaradei and the heads of the Coptic Church and Al-Azhar – Sunni Islam's highest seat of learning –  will on unveil an army roadmap for Egypt's future after President Mohamed Morsi, state television said.
ElBaradei, Pope Tawadros II and Al-Azhar Grand Imam Ahmed al-Tayyeb had been in talks with the military over the transition from the rule of the Islamist president, military sources said earlier.
AFP reports that the roadmap sets a tight schedule for new elections.  Meanwhile the US government has said that it is "very concerned" about developments in Egypt.
"We do remain very concerned about what we are seeing on the ground in Egypt," State Department spokeswoman Jen Psaki said. "We feel there was an absence of significant steps laid out by President Morsi."
Earlier…
The Egyptian Army is currently staging a military coup, over President Mohamed Morsi's refusal to resign, with the most recent reports stating the army vehicles have been deployed near an Islamist gathering in Cairo.
Morsi's national security advisor Essam al-Haddad slammed what he described a coup in a statement on Facebook.
"For the sake of Egypt and for historical accuracy, let's call what is happening by its real name: Military coup," he said.
As tension mounted and crowds poured into the streets to demand Morsi's resignation, Haddad said: "As I write these lines I am fully aware that these may be the last lines I get to post on this page."
The announcement came after Morsi proposed a "consensus government" in a last-ditch bid to end Egypt's worst crisis since the 2011 revolution that overthrew dictator Hosni Mubarak.
"The presidency envisions the formation of a consensus coalition government to oversee the next parliamentary election," Morsi's office said on Facebook.
Military special forces surround supporters of Morsi in Cairo. Pic: Hassan Ammar/AP/Press Association Images
Protest
Tens of thousands of people massed in Cairo's Tahrir Square for an anti-Morsi protest that dwarfed a rally by the embattled president's supporters in Nasr City, on the opposite side of the capital.
"Come here O Sisi, Morsi isn't my president," the flag-waving protesters chanted in the square, referring to army chief and defence minister, General Abdel Fattah al-Sisi.
In scorching heat, police officers handed out bottles of water to the demonstrators crammed around their patrol vehicle in the middle of Tahrir, epicentre of the Arab Spring-inspired uprising in 2011.
Army ultimatum
The president had rejected the army's calls that he "meet the demands of the people" and step down, threatening on Monday to intervene in 48 hours if he did not.
#Open journalism No news is bad news Support The Journal

Your contributions will help us continue to deliver the stories that are important to you

Support us now
Earlier today Egyptian security forces imposed a travel ban on the president and several top Islamist allies over their involvement in a prison escape in 2011, security officials said.
Airport officials confirmed to AFP that they had received orders to prevent the leaders – including Morsi, Muslim Brotherhood chief Mohammed Badie and his deputy Khairat al-Shater – from travelling abroad.
Morsi supporters
Thousands of people also gathered in Nasr City to show support for the Egyptian president, despite an attack by a group of men that killed 16 of them and left 200 injured.
Egyptian army soldiers stand guard in front of a military base, in Cairo ( Hassan Ammar/AP/PA).
The interior ministry warned that police would respond firmly to any further violence today as the armed forces took up positions around key Cairo installations, including the state broadcaster.
Military spokesman Colonel Ahmed Aly said the armed forces general command had "held talks with religious, political, national and youth leaders" and that it would issue a statement as soon the meeting is over.
Reuters live stream of Tahrir Square shows protesters in lively spirits, chanting and waving flags.
- Additional reporting from AFP and Hugh O'Connell