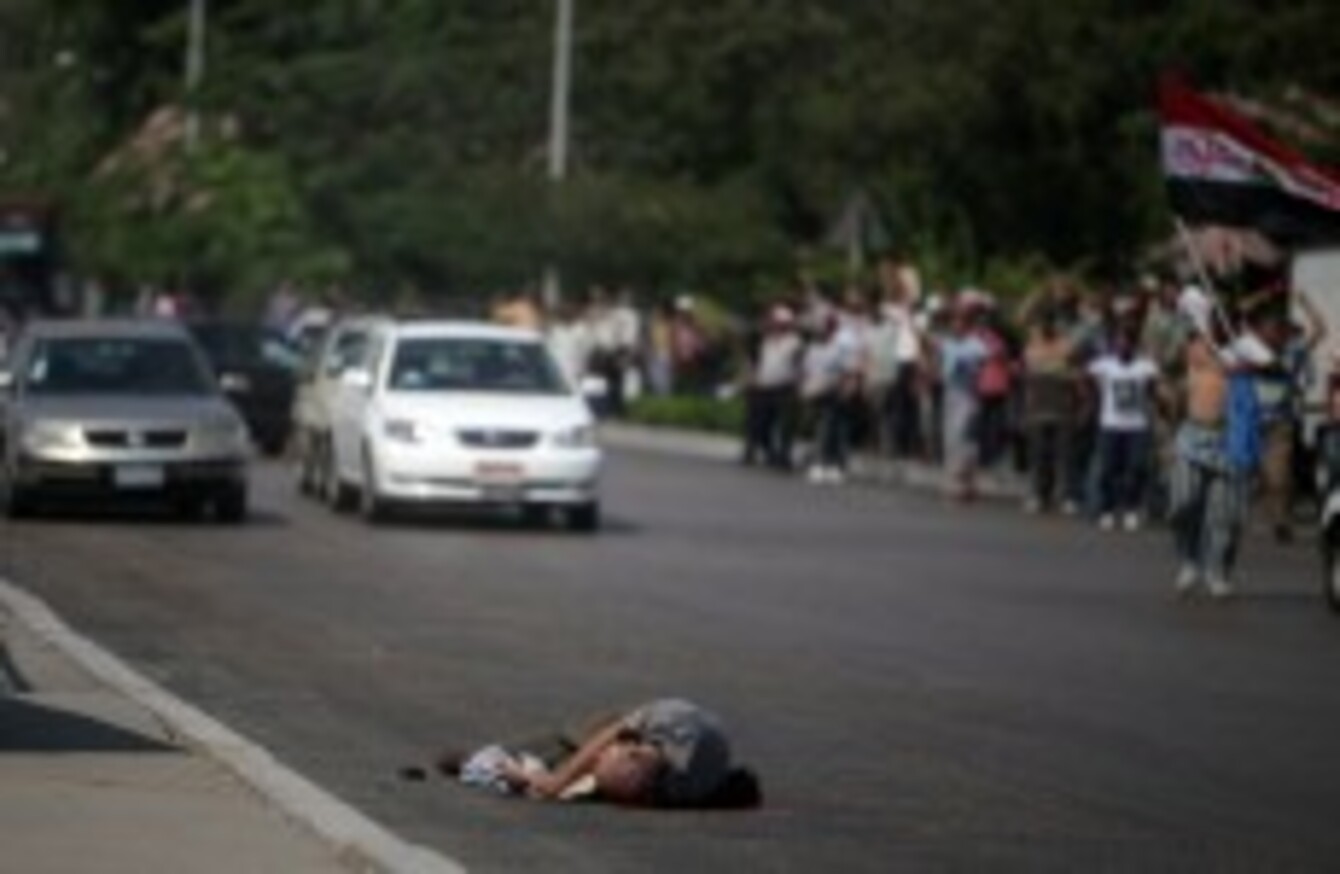 A man lies dead after being shot by Egyptian troops in Cairo, Egypt.
Image: (AP Photo/Khalil Hamra)
A man lies dead after being shot by Egyptian troops in Cairo, Egypt.
Image: (AP Photo/Khalil Hamra)
ISLAMISTS VOWED FURTHER protests today to demand the army restore Egypt's first democratically elected leader, after a day of clashes which saw 30 people killed across the country.
"The masses will continue their civilised protests and peaceful sit-ins in Cairo until the military coup is reversed and the legitimate president is restored," a coalition of Islamist groups said in an early morning statement.
Ahead of the protests, central Cairo was already tense early Saturday.
Protesters opposed to deposed president Mohamed Morsi spent the night in Tahrir Square, with checkpoints manned by civilians after a night of deadly fighting nearby.
A bridge leading up to Cairo University – where Morsi supporters had been camping out – was littered with rocks and burned out tyres from confrontations between the two camps.
Egyptian military attack helicopter flies by the Presidential palace, in Cairo. (AP Photo/Hassan Amma)
Throughout the city, there were reports of gunfire during the night, adding to the tension.
The Tamarod movement, which engineered the mass protests against Morsi that culminated in his overthrow by the army on Wednesday, urged its supporters to take the streets again on Sunday.
Tens of thousands of Morsi's supporters turned out on Friday to protest his ouster in the popularly backed military coup.
Equally large numbers of anti-Morsi protesters also flooded the streets of Cairo and the Mediterranean city of Alexandria, sparking pitched battles between members of the rival camps.
Police meanwhile pressed a round-up of top Islamists, announcing the arrest of Khairat al-Shater, widely seen as the most powerful man behind Morsi in the Muslim Brotherhood movement.
At least 12 people were killed in Alexandria as Morsi's supporters and opponents fought in the streets, the official MENA news agency said.
Egyptian military convoy arrives near Tahrir Square during the clashes between opponents and supporters of the ousted President Mohammed Morsi. (AP Photo/Virginie Nguyen Hoang)
In Cairo's iconic Tahrir Square, at least two people were killed when Morsi supporters traded fire with his opponents, state television reported.
The clashes subsided when the army separated the protesters using armoured vehicles.
Four protesters were killed outside the Republican Guard headquarters after breaking away from a pro-Morsi demonstration, MENA reported.
In the restive north of the Sinai peninsula, armed Morsi supporters stormed the provincial headquarters in the town of El-Arish after a gunfight and raised the black banner of Al-Qaeda-inspired Islamist militants.
A spokesman for UN chief Ban Ki-moon quoted him calling for a peaceful end to the crisis. "There is no place for retribution or for the exclusion of any major party or community".
The United States too condemned the clashes and urged all leaders including the army to ensure the bloodletting ended.
- AFP, 2013