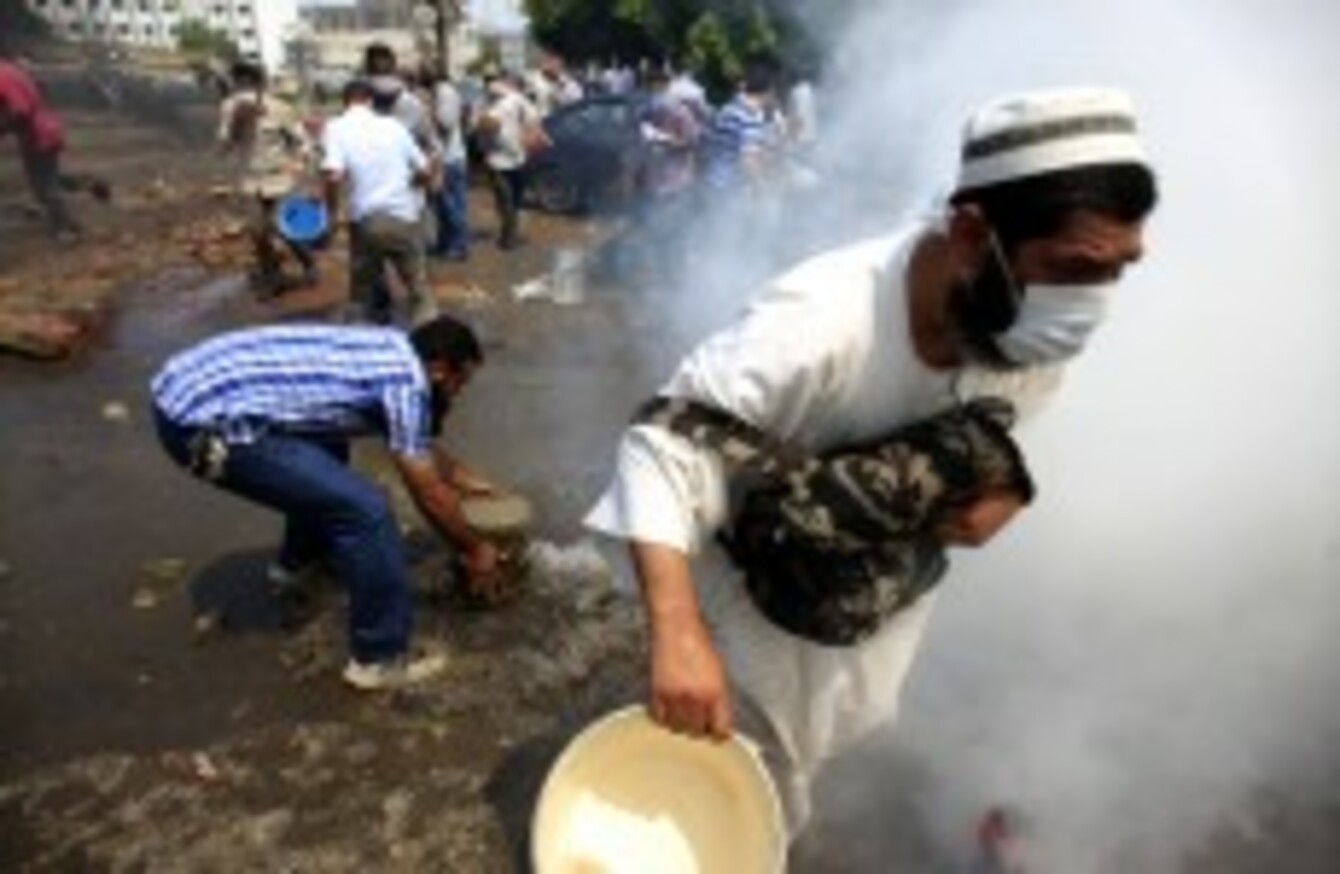 Image: Khalil Hamra/AP/Press Association Images
Image: Khalil Hamra/AP/Press Association Images
THE DEPARTMENT OF Foreign Affairs has updated its travel advice for Egypt in light of this morning's escalation of violence in the country. At least 120 people were killed in a Government crackdown on two camps set-up by supporters of the ousted president Mohamed Morsi, according to AFP reporters.
The latest advice to Irish citizens is to "avoid non-essential travel to Egypt", although an exception is made for the eastern coast's Red Sea resorts. In addition:
"We strongly advise Irish citizens who are currently in Egypt to exercise extreme caution, to avoid all protests and demonstrations and to monitor this travel advice and the local media for updates on the situation.
If caught up in a demonstration, Irish citizens should not attempt to take photographs and should leave the area immediately. Irish citizens may wish to assess their need to remain in the affected areas at this time.
A state of emergency is now in effect in Egypt as violence rages across the country following this morning's developments. The month-long measure will last one month, according to a statement read on state television.
Security forces began their long-threatened action to clear the Cairo camps shortly after dawn when security forces surrounded the sprawling Rabaa al-Adawiya camp in east Cairo and a similar one at Al-Nahda square, in the centre of the capital.
Security forces clear a camp near Cairo University (Mohammed Asad/AP/Press Association Images)
Witnesses said police rained canisters of tear gas down onto tents before entering Rabaa al-Adawiya, sparking pandemonium among the thousands of protesters who set up the camp soon after Morsi was ousted by the army on 3 July.
This action alone resulted in more than 120 deaths, according to AFP reporters at the scene.
International reaction
The crackdown has been met with widespread criticism from the international community. Europe's leading powers along with Iran, Qatar and Turkey strongly denounced the use of force by the military-backed interim government.
"I am deeply concerned at the escalating violence and unrest in Egypt," British Foreign Secretary William Hague said in a statement. "I condemn the use of force in clearing protests and call on the security forces to act with restraint".
Tánaiste Eamon Gilmore also condemned the move, saying "I deplore the loss of life in Egypt, appeal for the authorities to show restraint and for all involved to refrain from violence".
Another scene from the clearing of the university camp (AP Photo/Imad Abdul Rahman)
Qatar – a main backer of the pro-Morsi Muslim Brotherhood – issued a similar message:
Qatar strongly denounces the means by which peaceful protesters in Rabaa al-Adawiya camp and Al-Nahda square have been dealt with and which led to the killing of several unarmed innocent people among them.
Iran also termed the crackdown a "massacre".
There was no immediate reaction from the United States: Washington has given the interim regime in Egypt qualified backing, refusing to declare July's ousting of Morsi a coup, while calling for a swift return to civilian rule.
Brotherhood
The teenage daughter of a senior Muslim Brotherhood leader was reportedly killed in this morning's crackdown.
Seventeen-year-old Asmaa al-Beltagui, daughter of wanted Brotherhood leader Mohammed al-Beltagui, was killed in clashes at the Rabaa al-Adawiya protest camp, Brotherhood spokesman Gehad al-Haddad said.
A spokeswoman for the main pro-Morsi coalition, the Anti-Coup Alliance, told AFP the girl had been shot twice, once in the chest and once in the back.
#Open journalism No news is bad news Support The Journal

Your contributions will help us continue to deliver the stories that are important to you

Support us now
A Sky News cameraman - 62-year-old Mick Deane – also died as a result of gunshot wounds sustained in the violence. British Prime Minister David Cameron has been amongst those paying tribute to him, saying he was "saddened" at the news.
Alexandria
There were also clashes in the Mediterranean city of Alexandria today, sparked by this morning's violence in Cairo.
Tear gas canisters rained down on a pro-Morsi march in the Sharq neighbourhood of the city, amid repeated bursts of automatic gunfire, according to an AFP correspondent.
Hundreds of Morsi loyalists had marched through the city when police fired tear gas to disperse them.
- Additional reporting by AFP
Read: At least 17 killed in Egypt police crackdown >
Read: Sky News cameraman killed covering Cairo violence >