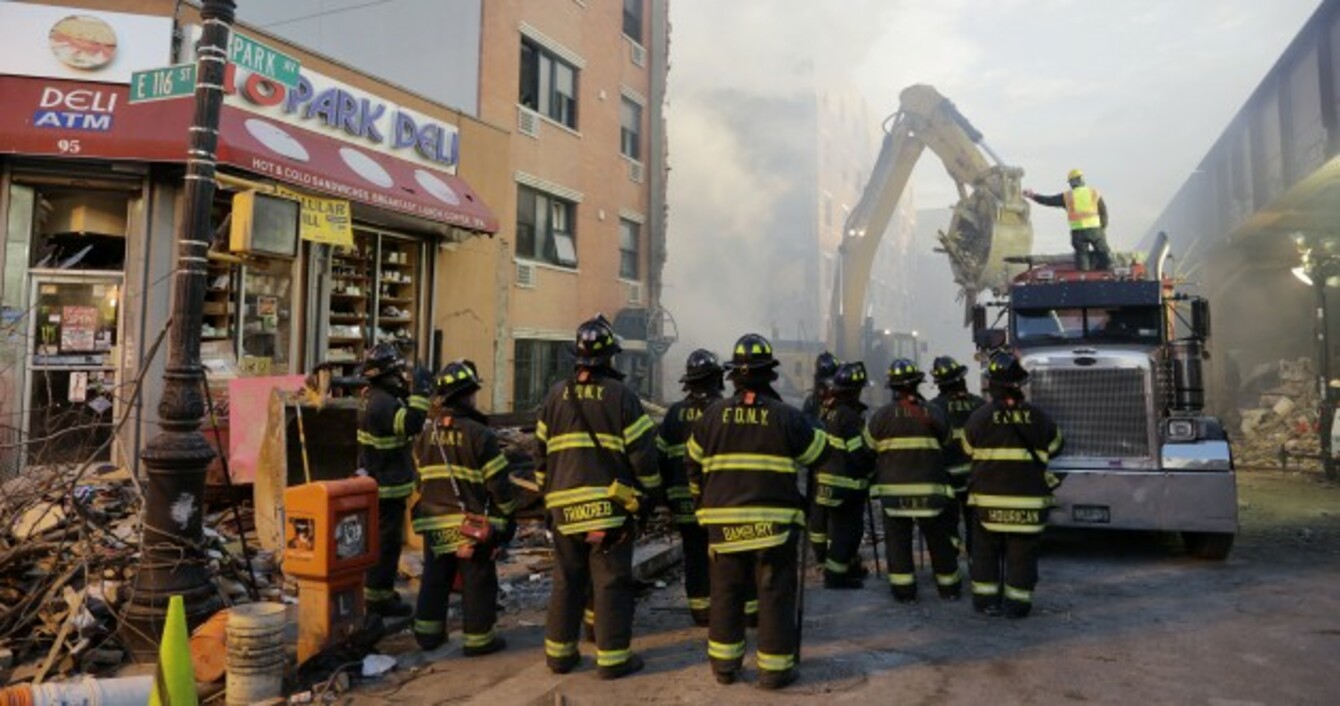 Firefighters watch as a machine removes debris from the site of the explosion.
Image: AP Photo/Mark Lennihan
Firefighters watch as a machine removes debris from the site of the explosion.
Image: AP Photo/Mark Lennihan
RESCUERS SCOURING THE rubble of two Manhattan apartment buildings destroyed in a gas explosion have found the body of an eighth victim, nearly 36 hours after the disaster.
An unspecified number of people remain missing after Wednesday's building collapse in East Harlem, which sparked inevitable reminders for some New Yorkers of the 9/11 terror attacks in 2001 that brought down the Twin Towers.
The New York Police Department said that five women and three men were killed, and 68 others injured.
Earlier yesterday, before the eighth death was announced, New York mayor Bill de Blasio said he hoped survivors might still be found.
He also praised the "exemplary job" of the 100 rescue personnel contending with below freezing temperatures and strong winds that whipped up smouldering pockets of fire in the wreckage.
The scene of the building collapse last night as firefighters battled freezing conditions. (Pic: @FDNY/Twitter)
"We are continuing rescue operations hoping to find others still alive," he said.
Let me caution everyone here these rescue operations will continue for an open-ended period of time.
Some witnesses said the blast felt like an earthquake, describing how they were knocked to the floor or telephoned panicked loved ones.
Around 15 minutes before the explosion, energy company Con Edison received a call from an adjoining building alerting maintenance staff to the smell of gas.
Where the apartment buildings once stood were piles of twisted metal, thick white smoke and dusty rubble — a scene of utter devastation that witnesses likened to a war zone.
(AP Photo/Jeremy Sailing)
The Mexican foreign ministry said three Mexicans were among the dead, rather than two as previously reported. The fatalities are two women and a man.
A Mexican diplomat in New York said that several Mexican nationals were still missing.
Authorities evacuated 89 apartments and three businesses in seven surrounding buildings owing to the fire, and because gas and heat have been turned off in the area, de Blasio said.
A total of 66 people, including 14 families with children, were being housed temporarily with the Salvation Army, he added.