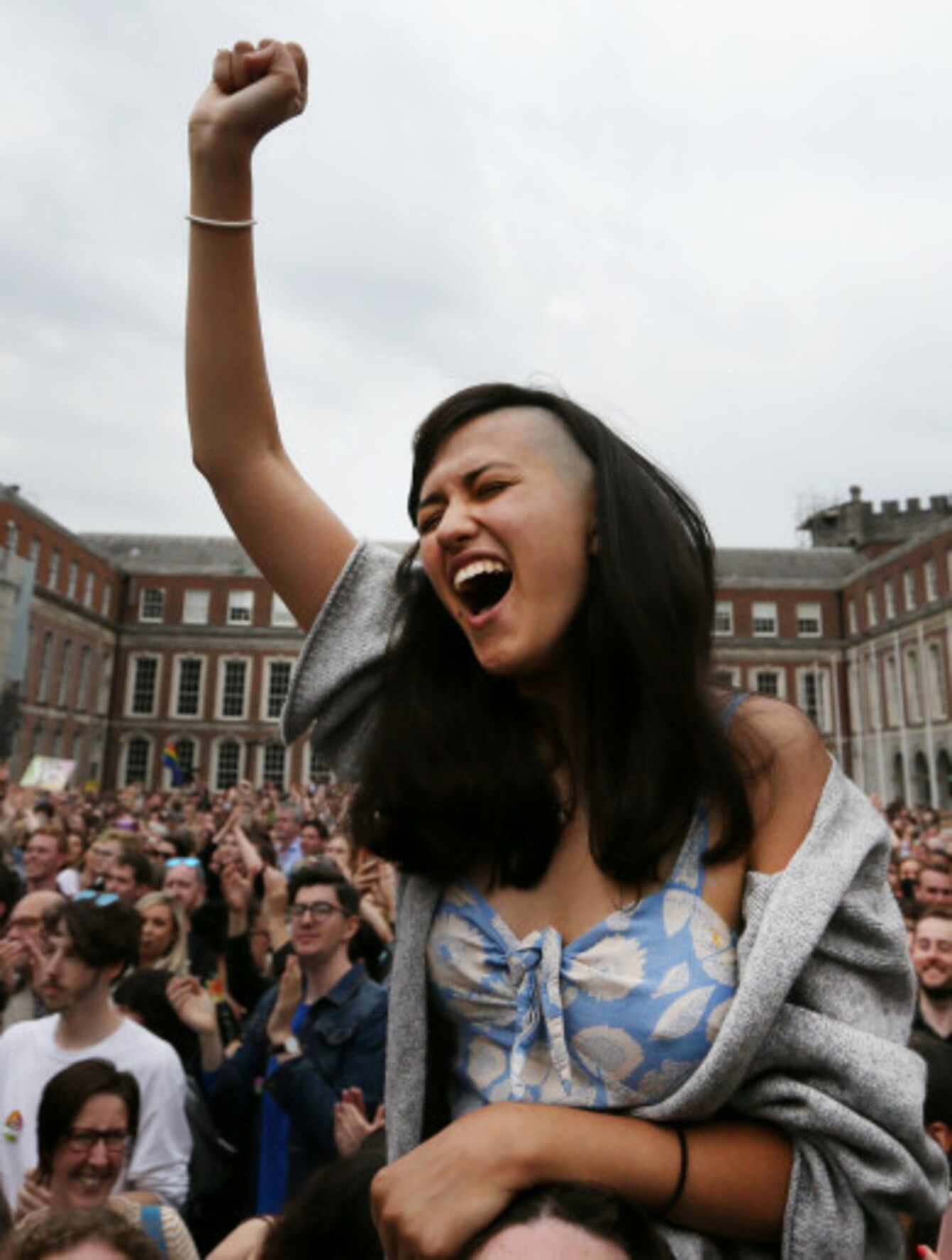 Amelia Goonerage from Dublin was among those celebrating the Yes result at Dublin Castle last weekend.
Image: Sam Boal/RollingNews.ie
Amelia Goonerage from Dublin was among those celebrating the Yes result at Dublin Castle last weekend.
Image: Sam Boal/RollingNews.ie
A TEAM OF Irish and international observers monitored the referendum on the Eighth Amendment last week.
Twenty-five observers, generally working in pairs, attended 275 polling stations across Ireland on Friday 25 May.
The country voted by 66.4% to 33.6% to remove the amendment from the Constitution, paving the way for the legalisation of abortion in some circumstances.
The observation mission was organised by UK-based NGO Democracy Volunteers (DV) and Canadian NGO Sustainable Development Assistance International (SDAI).
Ireland nominates citizens for international election observation missions, as part of its commitment to human rights and democracy, but it's more unusual (although not unheard of) for an international group to observe an election or referendum here.
Five observers who took part in the Eighth Amendment referendum mission were from the Republic of Ireland, 12 were from the UK, three from the US, three from Canada, one from France and one from Greece.
The teams attended polling stations in 22 of the 40 constituencies.
These constituencies were: Roscommon-Galway, Mayo, Galway West, Galway East, Laois, Kildare North, Kildare South, Tipperary, Kerry, Cork North Central, Cork South Central, Dublin Fingal, Dublin West, Dublin Mid-West, Dublin South-West, Dublin Rathdown, Dún Laoghaire, Dublin North-West, Dublin Bay North, Dublin Central, Dublin South Central and Dublin Bay South.
As previously reported by TheJournal.ie, SDAI was aiming to pay for elements of the trip through online fundraising. In total, they raised just over $8,000 (€5,300). The original target was $7,000 (about €4,600) but this was increased to $9,000 (about €6,000).
Karen Reinhardt, executive director of SDAI and deputy head of the mission, said the money was spent on "accommodation, in-country travel and expenses related to that, such as trains, buses, fuel for cars, briefing/training materials, communication costs and other materials".
Individual observers paid for their transportation to and from Ireland, with most volunteers staying here from 23-28 May.
Speaking to TheJournal.ie this week, Reinhardt said the mission "went very well" and she reiterated that the observers didn't have a preference for the outcome of the referendum.
"SDAI's focus is on the process and procedures, not on the outcome. That was for the Irish people to decide," she said.
'Family voting'
The teams attended polling centres throughout the course of the voting period, from 7am to 10pm on 25 May. They stayed at the centres for between 30 to 45 minutes.
On exiting the polling station, the observers completed an online form documenting what they had seen.
A spokesperson for DV said the teams "especially looked for aspects of the process which challenge the ease of access for voters" including the "simplicity of the process to be issued with a ballot paper" and "the security of the secret vote and the right of voters to cast their vote independently".
The observers' main findings were as follows:
It was observed that polling stations were not clearly signposted 21% of the time
It was not clear where voters should report to in 32.5% of polling stations visited (often because polling stations had multiple ballot boxes)
In 11% of cases it was observed that ballot boxes were not sealed in the way required
So-called 'family voting' was observed in 22% of polling stations visited
The identification of voters was checked 29.6% of the time by polling staff, which is in line with the advice from returning officers that this should be done for one in every four voters
Reinhardt said there was "a notable amount" of so-called family voting, which involves two or more people sharing a polling booth.
A spokesperson for DV said this "can limit voters' right to a secret ballot as it involves two voters, usually partners, sharing a polling booth".
Family voting is a concerning practice in the conducting of elections because it denies individuals their right to cast their votes in secret. Family voting includes sharing the same polling booth when voting, looking at how another individual has voted and even filling in someone's ballot paper on their behalf.
In terms of ballot boxes allegedly not being sealed properly, the spokesperson said: "Boxes may be marked by our observers as improperly sealed because they are entirely unsealed, because they are sealed but the keys are not attached to the ballot box as is required, or because they are sealed but not tightly enough to prevent ballot papers being placed in, or removed from, the box."
They said this information is being analysed further and that the group "will certainly raise this with the relevant election authorities".
The observers' final report is likely to be published in the coming weeks, and will be sent to the relevant Irish authorities.
Speaking more generally about the mission, the DV spokesperson said: "Staff were very welcoming across the country and our observers reported that polling was friendly and welcoming.
"However, in some cases, primarily because observers are not anticipated, there were some issues of the acceptance of accreditation at polling stations in some constituencies."
Dr John Ault, the Director of DV and the head of the mission, added:
Whilst the voting processes in Ireland are extremely robust and well established, we feel it is important to share best practice to improve elections where we observe.
"We are especially keen to encourage the Irish authorities to assess whether it would be possible to signpost polling stations more effectively and make it simpler for voters to be processed through the polling stations."
A spokesperson for the Department of Housing, Planning and Local Government said it "notes the recent preliminary statement from Democracy Volunteers and Sustainable Development Assistance International in connection with their observations on the referendum … and welcomes their comment that 'the voting processes in Ireland are extremely robust and well-established'".
"International election observers play an important role in monitoring the integrity of electoral processes and, in this regard, the department is looking forward to receiving reports from Democracy Volunteers and Sustainable Development Assistance International in due course," they said.
These reports will be reviewed and all feedback considered in detail following their receipt. In any event, the department will continue to work with local returning officers to maintain and improve public confidence in our electoral processes in keeping with international best practice.
Previously a spokesperson for the department had confirmed to TheJournal.ie that SDAI had "been in touch with the department recently in relation to sending observers to the referendum".
"Similar NGO groups have visited during elections and referendums in the past, and this is a normal part of the democratic process," they said.