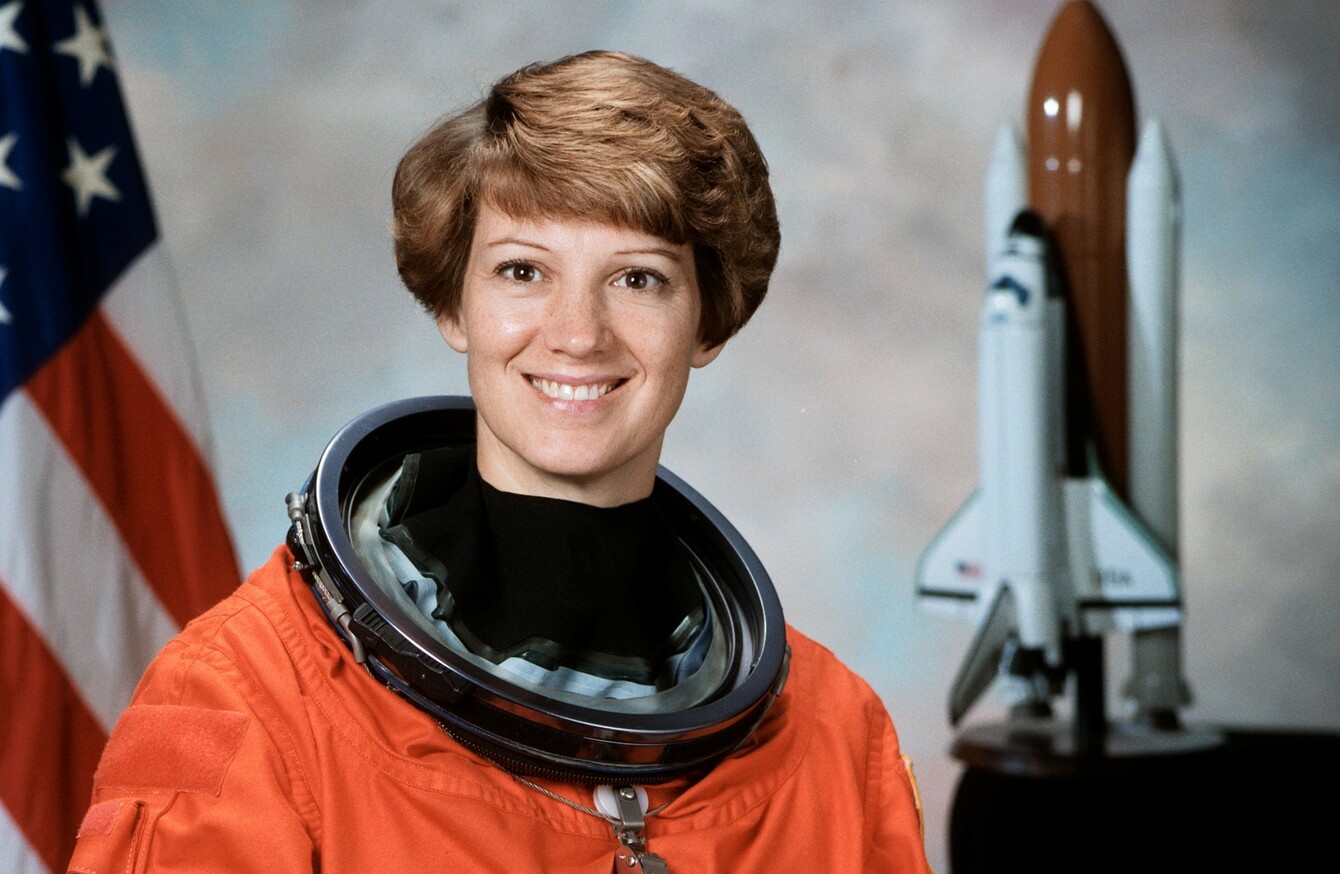 Collins pictured in October, 1998.
Image: NASA
Collins pictured in October, 1998.
Image: NASA
FORMER NASA ASTRONAUT Colonel Eileen Collins has a pretty impressive CV, so it's no surprise that the major political parties in the United States would want her on their side for the looming presidential election.
This was how Collins found herself in Cleveland, Ohio on Wednesday, 20 July speaking to a packed room at the Republican National Convention, and almost inadvertently endorsing Donald Trump.
Showing up at the RNC in the first place was a move questioned by many in the space community, but Collins said she "doesn't get political".
"The Republicans asked me to speak, the Democrats did not," Collins told TheJournal.ie on a visit to Ireland this week.
Collins was a guest speaker at the Medical Council's Patient Safety conference on Thursday.
"I try not to be political so when I was asked to speak I had to think about it… and I agreed as long as they were okay with me not endorsing the candidate, and they were okay with that," she said.
However, the transcript of Collins' speech that went out to journalists before she spoke had an added sentence at the bottom that she had not agreed upon:
We need leadership that will make America great again. That leader is Donald Trump.
"They put an endorsement in my speech, and I didn't read it," said Collins.
When the line came up on the teleprompter I saw the line and I went 'oh, boy' and I didn't read it.
Collins' speech was immediately followed by US Senator Ted Cruz, who made international headlines when he pointedly refused to endorse Trump.
Her failure to endorse the Republican candidate didn't have the same impact, but even showing up at the convention was a personal risk.
"So I made a little bit of a sacrifice on my personal side now people think I'm a Republican," she said.
"I used it as an opportunity to talk about space to people who don't hear about space very often.
Who is at those conventions? Lawmakers. I can talk to a whole group of congressmen, senators and delegates… and they can think about space.
Space
It's no surprise that Collins would risk sacrificing some personal standing to try to educate people on space travel, it's been a huge part of her life and one that she feels very strongly about.
Collins is an ambassador for space exploration and space travel, as well as a trailblazer in terms of what she has achieved.
The 59-year-old started out as an Air Force pilot, earning her wings at a time when female pilot were not allowed to fly into combat zones.
She had already broken conventions before joining NASA, becoming in 1990 only the second woman to graduate as a test pilot.
She served as second in command for her first space mission in February 1995, becoming the first woman in history to pilot a space shuttle.
Collins described how she felt before and during her first trip to space, and what it was like to see the world from the sky.
She said she had some anxiety before take off, wanting to ensure that everything went okay, but that she wasn't afraid of things going wrong.
"I don't think I really had any fear of danger," she said.
You train for all of things that could happen and if it's going to be something that you have no control over then why worry about it?
When they cleared the launch and had made it to space, Collins remembers her first experience of zero gravity.
"I remember I took the pen out of my flight suit, I let go of it in front of me and it floated and I was like, 'wow, this is mind blowing'," she said.
I knew that was going to happen but when you actually see it it's mind-blowing.
Eileen had a similar feeling when she saw the Earth from the shuttle for the first time.
"I looked out the window and I thought, the earth is round," she said.
"I was blown away because the Earth is round. Of course you know that the Earth is round because you've seen pictures of it and your teacher has told you.
"But then you actually see it and think, wow the earth is round!
It's mind-blowing.
Constellations 
#Open journalism No news is bad news Support The Journal

Your contributions will help us continue to deliver the stories that are important to you

Support us now
Following on from this mission, Collins broke yet another convention and went on to become the first ever female commander of a space shuttle.
She made history when the shuttle Columbia, under her command, blasted off from Cape Canaveral in Florida in July 1999.
Her last mission was also highly significant in the history of space travel.
In July 2005 she was commander for the first space shuttle mission since the 2003 Columbia space disaster, in which seven astronauts lost their lives.
True to form, Collins said she wasn't nervous before the mission.
"I think there was probably some anxiety in the sense that I didn't want to make a mistake," she said.
"I was all gung-ho for [the return to flight mission]," she said.
"I was very experienced in space flight, we had done so many safety upgrades to the shuttle.
I wasn't convinced that what happened on Columbia was not going to happen to us because we had so many controls in place.
Collins retired from NASA in 2006 to focus on her personal life.
She is decorated with numerous medals and honours for her services to aviation, and is listed among women who have had a huge impact.
Space exploration still remains a huge part of her life, and she was highly critical of the cancellation of the planned Constellation mission to the moon by the Obama administration in 2010.
However, she has since commended the current US president on his renewed commitment to getting humans to Mars by 2030.
Collins came under strong criticism from members of the space community for appearing at the RNC at all, but by her rationale as long as it got people interested in space it was the right move.
As she said herself, she doesn't get political.