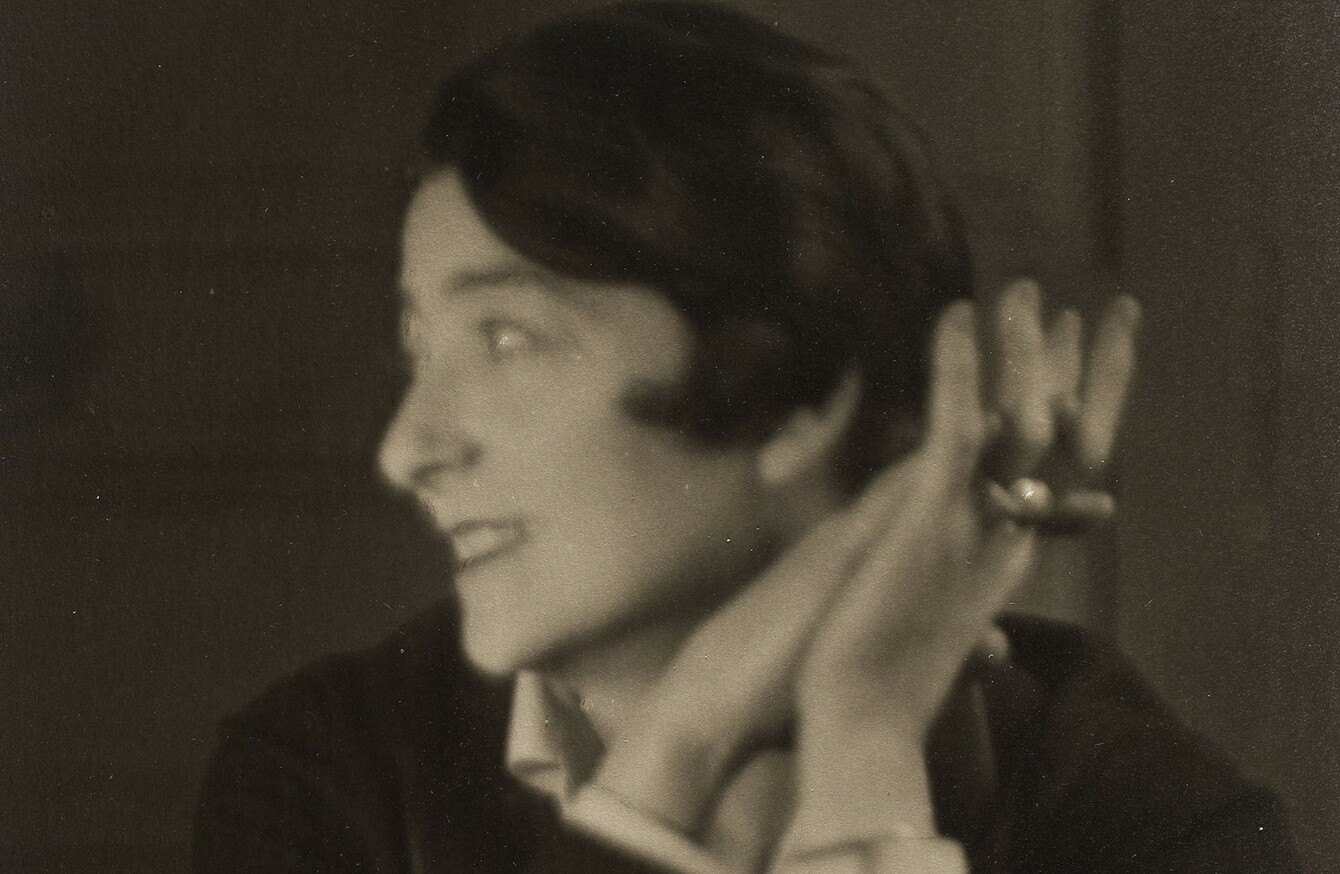 Image: National Museum of Ireland
Image: National Museum of Ireland
Updated at 7.59pm
ARTIST, ARCHITECT AND designer Eileen Gray was one of the leading lights of the modernist movement – but for decades she was forgotten about.
The past two decades have seen a resurgence of interest in her output: the Irish Museum of Modern Art curated a retrospective of her work; the modernist villa she designed in France, E-1027, was reopened; a film about her life, The Price of Desire, was made; and a new show called Eileen Gray: The Private Painter has opened in London.
This year also saw the first Irish biography (Eileen Gray: Her Work and Her World) of Gray, written by Dr Jennifer Goff, one of the world's foremost Eileen Gray experts. It has been nominated in the Bord Gais Energy Irish Book Awards, news which took Goff (a curator at the National Museum of Ireland) by surprise.
"I'm totally and utterly over the moon," she told TheJournal.ie, saying that the nomination feels like a win already.
It's remarkable that it has taken so long for an Irish biography of Gray's fascinating life to appear.
Eileen Gray's story
Today, Gray is known for her tubular furniture, lacquer screens, geometric designs, and a remarkable villa named E-1027, which was built in France.
Born in 1878 near Enniscorthy to a well-off family, she was one of four children born to James McLaren Gray and Eveleen Pounden. Encouraged to pursue her artistic talent, Gray – who lived for much of her childhood in either Ireland or London – studied at the Slade School of Fine Art in 1898.
After her time there, she moved to Paris, where she continued her studies in art. Due to her fluency in French and the fact she spent much of her time there, Gray is often associated with the country.
It is also often assumed that she spent much of her life away from Ireland, but Goff discovered during her intensive research for the book (it took 11 years to write) that Gray never lost touch with her home country.
"She came back through to 1954," said Goff, who discovered this through notes the late author Maeve Binchy kept from an interview she did with Gray. The notes showed how Gray would come back to visit her mother; the pair would often attend the RDS horse show.
Said Goff:
She corrected journalists when they called her Scottish or British. Many people felt she had moved away from Ireland and turned her back to Ireland, and that wasn't the case.
Gray was "written out of the canon of Irish modernism", but today she is newly featured in the Leaving Cert art syllabus. "She never forgot her homeland," said Goff.
"It was really pleasantly surprising to find out that she really considered herself very much an Irish woman."
Bringing the pieces together
Goff had access to Gray's archives, but Gray herself ensured those archives are not too extensive.
"She was a demon in that Eileen destroyed so much of her personal papers. I think she really wanted to be remembered for her work, not so much her personal life." said Goff.
"The papers that did survive paint a portrait of this incredible Irishwoman."
The "amazing gems" which Goff discovered gave her a real sense of the rich life that Gray led in the roaring twenties and 1930s. Gray was part of Paris's famed 'Left Bank' set, and had nights out with Gertrude Stein and Alice B Toklas, among others.
She was right at the hub of this literary and artistic and architectural movement.
Gray travelled the world, meeting fascinating people along the way. She had passionate relationships with men and women. Goff didn't want to be disrespectful, given Gray's desire for privacy, but explores this in the book.
"People say, 'oh she was a lesbian' – she was a bisexual, but everyone at that time was," said Goff. "Many of her male and female friends were bisexual."
"It was kind of shocking"
Goff found that her assumptions about Gray were challenged. "I thought she didn't have much of a personality, that she was quite strait-laced, and that wasn't the case at all either," she said. The notes in her archive "reveal a woman who was a philosopher, who was really interested in the meaning of life, someone with a really wicked sense of humour".
Goff also discovered that Gray was not always confident in her work – in fact, she had a crisis of confidence and didn't end up completing all of her projects.
She discovered hundreds of unrealised architectural plans drafted by Gray. "It was just kind of shocking."
From the 1950s and 1960s to her death in 1976, Gray returned to painting and photography, with some rug making. Goff believes she was "badly burned" and that she was eventually left debilitated, and stayed at home while being cared for by her housemate.
"I always had an impression in my head of a woman who was going to be very sure of herself and that wasn't the case at all in any of the papers I ended up going through. She was very agoraphobic by the end of her life, she had absolutely no confidence in herself," said Goff.
The battle over E-1027
In the book, Goff also explores the relationship Gray had with artists Le Corbusier and Jean Badovici.
Gray was enamoured and in love with Badovici, while Le Corbusier (who Goff described as "an egotistical maniac") helped her in her quest to become an architect.
But the relationships went sour after Gray designed the house E-1027 – culminating in Le Corbusier painting bright murals on the clean, white walls of the home.
Goff suggested that what happened was "the student began to very much outshine the teachers in both architectural thinking [and] in her writing". Gray was "coming up with radical ideas", without their help.
Le Corbusier had run into problems with a house he designed for his parents. He gave the plans to Gray, who was able to tackle some of those problems – and solve them – with E-1027.
Her success and his lack of success aggravated Le Corbusier, said Goff.
"She took a whole plethora of ideas from different architects and she formed her own language," said Goff. The house opened to rave reviews – but the ego-bruised Le Corbusier became obsessed. "And he enacted his revenge, if you want to put it that way," said Goff.
"Gray made the mistake that she said the house was just a model," said Goff. "Badovici and Le Corbusier took that at face value and Badovici invited Le Corbusier to come in over the period of 1938 to 1939 to paint these murals."
They are just so explosive and they completely destroy the purity of the house, and Gray was annoyed. She said to both of them: 'You didn't get it. You haven't got what I spent 10 years trying to cultivate.'
To add insult to injury, Le Corbusier and Badovici began to omit Gray's name in publishing about the house, and architectural historians began to assume it was not designed by her.
"We're still in a battle over trying to get total sole authorship of the house," noted Goff.
Women designers and Ireland
Gray was once asked to be part of a women-only showcase. "She said: Look, I want to be known for my work, not for the gender of my work," said Goff. Though she associated with many feminists, it wasn't a term she used to describe herself.
Her story does show the dearth of women in Ireland's design and architecture canon. "[Women] were great at cottage industries," pointed out Goff. "Enamel, making lace… there were some absolutely amazing women [doing this]."
The Kilkenny design workshops – set up in the mid-1960s -helped to bring more women designers into the artistic fray.
Goff said her book isn't the final word on Gray, but it is a sign that her life and career are still ripe for exploring. For Goff, her role is to continue to emphasise how important Gray and her work are.
"[She has been rediscovered] due to a battle of a select few that have kept at it, and at it, and at it," said Goff. "She still inspires so many architectural students and design students."
First published at 8:30am
The Bord Gais Energy Irish Book Awards take place on 25 November. You can vote for your favourite books on the shortlist through the website.