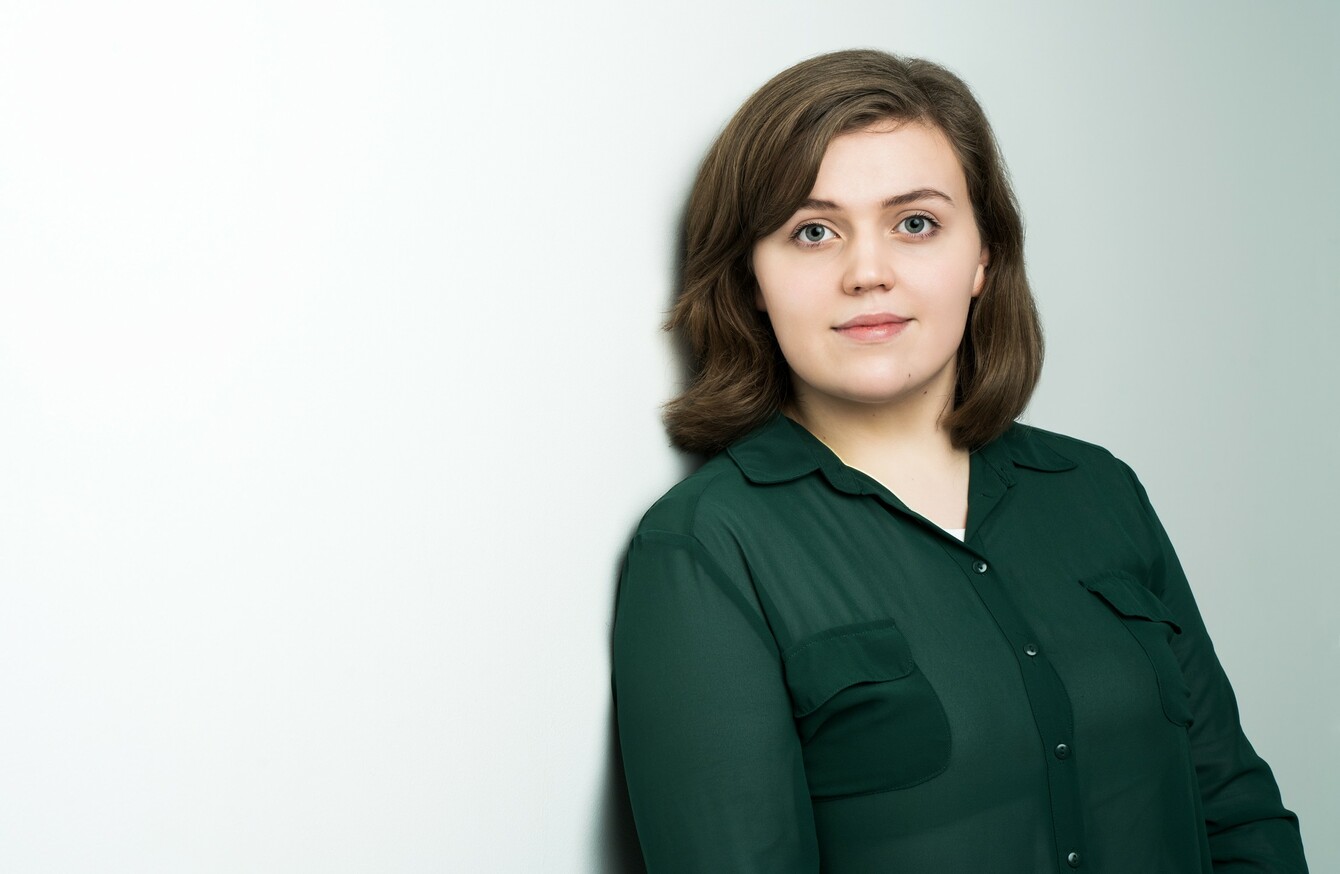 Image: Mark Nixon
Image: Mark Nixon
IT'S NOT UNUSUAL for teens to write bad poetry – but getting a well-written and exciting novel published at the age of 16 is certainly not typical.
Eilís Barrett, who lives in rural Galway, was 14 when she started writing her first book, the young adult (YA) dystopian fiction novel Oasis. Two years on, it has just been published by Gill Books.
Barrett told TheJournal.ie about what goes into becoming a published author before you've even done your Leaving Cert.
Act like a published writer before you're one
When she decided she wanted to be a writer, aged 12, Barrett didn't sit around waiting for permission.
"I like structure and so I immediately was like: 'OK, if I do this I'm going to take this really seriously'," she told TheJournal.ie.
And I'm going to treat it like it is already my job, before it is. And so I started setting schedules and deadlines for myself at that point.
She had initially been put in touch with the publisher before she wrote the book, and went for a look around their offices.
When they started publishing fiction they got in touch with her again – and thanks to her approach, she says she was able to handle the deadlines that followed.
Get all the support you can
Barrett has an extremely supportive family. Her mother Bernadette homeschools her, which meant that she had time other children wouldn't have to dedicate to the process of writing.
"I had time to write this story but being immersed in it was a big thing for me," she said.
[To] do that for a week straight and think about nothing else, that was something I was allowed to do, which is an incredible privilege.
Being homeschooled, which is somewhat unusual in Ireland, also helped in a different way when it came to writing.
"I think even it helped to write fiction because I'm just automatically in a position where I am not in a typical situation — imagining stuff outside the norm is very easy to me because it is me."
In order to get even more support, the young author turned to Nanowrimo for help. That's not a person – it's an online challenge every November where writers try to clock up 50,000 words in a month. Barrett joined a Galway Nanowrimo group, meeting the members regularly in person.
She hit the 50,000-word target, not just that first year but her second year too (for a different novel).
Use your own life as inspiration
Oasis is about Quincy Emerson, a young teenager who lives in the titular dystopian world which was created after a virus wipes out much of the world's population.
So far, so not like living in rural Galway. But to create the world, Barrett turned inward.
"If I'm going to write a whole book I need a concept that just keeps bugging me, it's almost like a question. And I need it to be complex enough that I need to explore it really deeply," said Barrett.
Something I was really interested in was: are people a product of their story, or are people's stories a product of themselves? So with the book you see those parallels where Quincy, her story is a product of herself. It hasn't been up until the book starts, she's been moved, she's been pushed in directions. And I think that's something teenagers, for most of their life they've had very little independence and they're coming into independence.
"On a much bigger scale obviously, what Quincy goes through is very similar to what a lot of teenagers go through. It's that sense of you've been so desperate for so long to get out and to be free and to be independent. And then [when] you are, there's still problems," she added.
She also took inspiration from her mother. "She's such a strong person that I honestly believe she could survive anything. And it kind of pushes us [children] to do the same… nothing is the end for us. You come against a roadblock and you figure out how to deal with it – you don't break down, fall apart and cry."
Create a heroine who's not always likeable
Tired of 'perfect' heroines in other novels, Barrett wanted to make Quincy flawed.
"I tend to feel alienated when a heroine in a book is perfect and wonderful and beautiful all the time." There's no struggle there, explained Barrett.
"Whereas someone who has been trained to survive by putting themselves first, learning slowly how to think outside themselves – I find that quite inspiring in a way. So I definitely wanted to explore that a lot in Quincy."
It's kind of a hard pill to swallow in a way, that she has to be so selfish, she has to put herself first and her first instinct is always to protect herself. Over the course of the book she has to learn to think outside of herself.
Be passionate
"There isn't any amount of training that can make up for passion," said Barrett.
And no amount of discipline that will make up for doing things as naturally as breathing – and writing and storytelling is as natural to me as breathing.
This passion, combined with discipline, carried her through.
"I fed every bit of myself into that book," she said. Even the Muay Thai classes she takes inspired the fight scenes.
What's it like editing a teenager's book?
Working with a teen author has different challenges compared to working with an adult author. Conor Nagle is the commissioning editor who has been working with Barrett on Oasis and its follow-up.
During their first meeting, Nagle recommended a number of books to her so "she could glean a bit of experience or expertise from them", conscious that this was a brand new experience for the teen.
I was trying to explain the difference between reading for fun and enjoyment, and reading and paying attention to technical details; trying to work out how a novel is put together.
When Gill Books prepared to sign her up for two novels, Nagle's concerns were whether Barrett could deal with the potential criticism, media interviews and all that goes into publishing a book.
"It is not something she could have had any experience of before. But I became more and more convinced that she would be able to deal with it," he said.
When working with a young author, certain legal requirements have to be fulfilled and there must be consent from the teen's guardian. "You also have to be careful that you put a really strong editorial structure in place," said Nagle.
They set boundaries, outlined expectations, and kept in constant contact. The process involved re-drafting and working with a copy editor.
You want to have it extra transparent and extra clear so everyone who is involved can tell where the advice is coming from.
"What I was saying to her mum is I am not in a position to guarantee this book becomes an international phenomenon and is made into film and Eilís is set for life," said Nagle.
"But what I can do is: we really look after her on a personal level, we do everything we can to help her develop as a writer and develop her confidence, and get her to the point where she understands the industry and her place in it, and all the steps involved in making a book."
Other teen writers 
One of the world's most famous teen authors was Anne Frank. She was an unintentional author, but her diaries from World War II showed the world what it was like to live during this horrific time.
Susan Hill was just 15 when she wrote The Enclosure, a book about a married middle-aged couple. Her age meant the book caused quite the sensation when it was published in 1961. She continues to write novels, and her book The Woman in Black was recently made into a film.
John Kennedy Toole is well-known for writing A Confederacy of Dunces, but he wrote his first novel, Neon Bible, at the age of 16. It wasn't published until 1989, 20 years after his death.
Mary Shelley's Frankenstein was published when she was 19, and went on to become a literary classic.