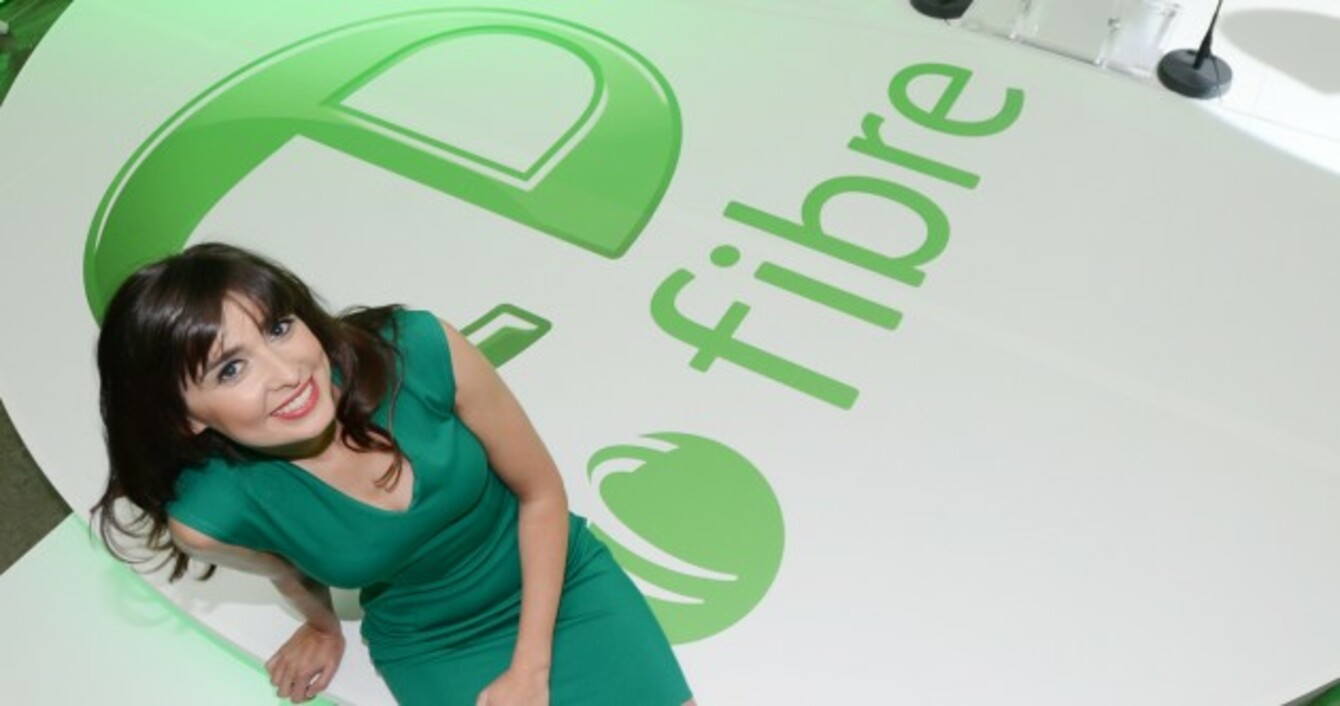 Aoibhinn Ní Shúilleabháin at the launch of Eircom's e-fibre network
Image: Sasko Lazarov/Photocall Ireland
Aoibhinn Ní Shúilleabháin at the launch of Eircom's e-fibre network
Image: Sasko Lazarov/Photocall Ireland
EIRCOM HAS PASSED over a 1 million premises with its fibre network but only one-sixth of all those properties have signed up to use the service.
The former state-owned telecoms company reported a "strong, high-speed fibre uptake" with 172,000 customers signed up to its new network, which is expected to pass 1.6 million premises by mid-2016.
The sign-up rate is 17% of the total premises within reach of Eircom's fibre-to-the-cabinet network, although the 1-million figure includes areas where the network has been rolled out but services aren't yet available.
Eircom this morning said it had some 731,000 broadband connections after adding another 13,000 over the 3 months to the end of September – and 8% on the same time last year.
The bulk of those customers remain on its DSL broadband system which uses old, copper phone lines.
In comparison its chief broadband rival, UPC, which only offers cable broadband services, had passed about 855,000 homes at the same stage but counted 359,000 internet subscribers on its books.
Revenues still going down, but not as fast
Eircom said in its financial update that revenues were down 3% year-on-year to €313 million for the latest, 3-month period, although the total was 1% higher than the previous quarter.
The company's earnings, before tax and deductions, were down 6% to €114 million despite it slashing 18% from its payroll bill.
Eircom's recently-appointed chief executive, Richard Moat, said the company had slowed the drop in revenues which was "an encouraging sign of stabilisation" as it invested for long-term growth.
"However, we recognise there are challenges as we execute on our commercial strategy and the Irish market remains highly competitive," he said.
Moat said the company was looking at more areas in which it could cut costs and it was going ahead with its restructuring plan.
Eircom recently announced it was rolling out a fibre-to-the-home broadband network to 66 towns across Ireland in competition with a joint venture from Vodafone and ESB to build a fibre network to 500,000 premises across the country.