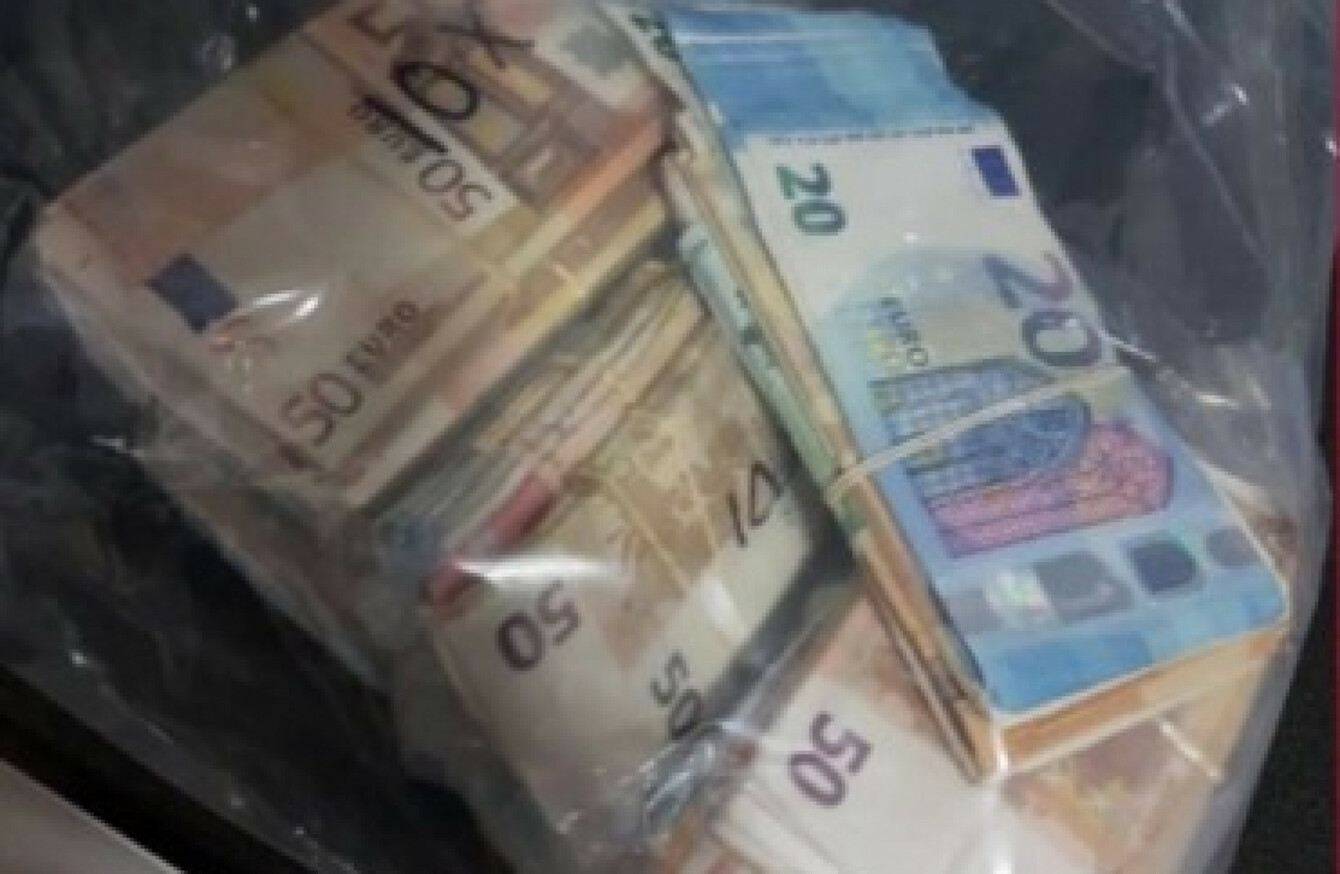 A file photo of seized cash.
Image: Garda Press Office
A file photo of seized cash.
Image: Garda Press Office
IT'S EMERGED THAT the arrests last month of two Irish men in the Netherlands were the first arrests made as a result of information extracted from phones used by a Chilean drug lord who is now in custody.
The two were detained in an Amsterdam suburb in connection with a €220,000 cash seizure.
The pair are relatively low-level players in the Irish drug trade, but have links to a higher-profile criminal who is currently in prison.
The news of the arrests and the cash seizure was first reported by the Herald newspaper last month.
It has since emerged that intelligence gathered by the US's Drugs Enforcement Agency (DEA) from phones belonging to Chilean drug lord El Rico allowed police to make the arrests. Pertinent information extracted from the phones is being relayed to police forces all over the world – including gardaí.
The Dutch police said the Irish authorities tipped them off to the whereabouts of the two men.
No charges have been brought against the men so far.
Since El Rico's arrest last year, there have been significant arrests and drug seizures across Europe.
Dutch police had estimated that the Chilean was either directly or indirectly involved in the importation of billions worth of cocaine into Europe every year.
Arrests
TheJournal.ie broke the news in October of last year that the arrest of Richard Eduardo Riquelme Vega – known as 'El Rico' – was to cause serious repercussions in Irish gangland.
Distributors of cocaine have been arrested in the Netherlands, the Caribbean and Germany, as well as in Chile where the South American drug baron was detained.
Approximately 60% of Ireland's cocaine had been coming into the country via El Rico and his distributors, according to sources.
Now well-informed sources have told TheJournal.ie how the latest arrests were a tester operation to check the veracity of the information which the police had received.
The data from the phones led the DEA and Dutch police to a safehouse in Amstelveen in north Amsterdam where they discovered the cash. Police are alleging that the men were attempting to launder the money.
Earlier this month, 440 kilos of cocaine was seized in the Dutch port of Rotterdam. The drugs were destined for the European market.
El Rico had been in custody for several months at that point and remains in detention in Chile. The arrest of the alleged drug trafficker has the ability to strengthen the Dutch police's ability to link him to organised crime in Europe.
He had been using a German IT protection system, used by many multinational financial organisations, in an attempt to safeguard his communications. The system can be used to send encrypted messages and, according to sources, leading members of the Kinahan cartel were using it to communicate with El Rico.