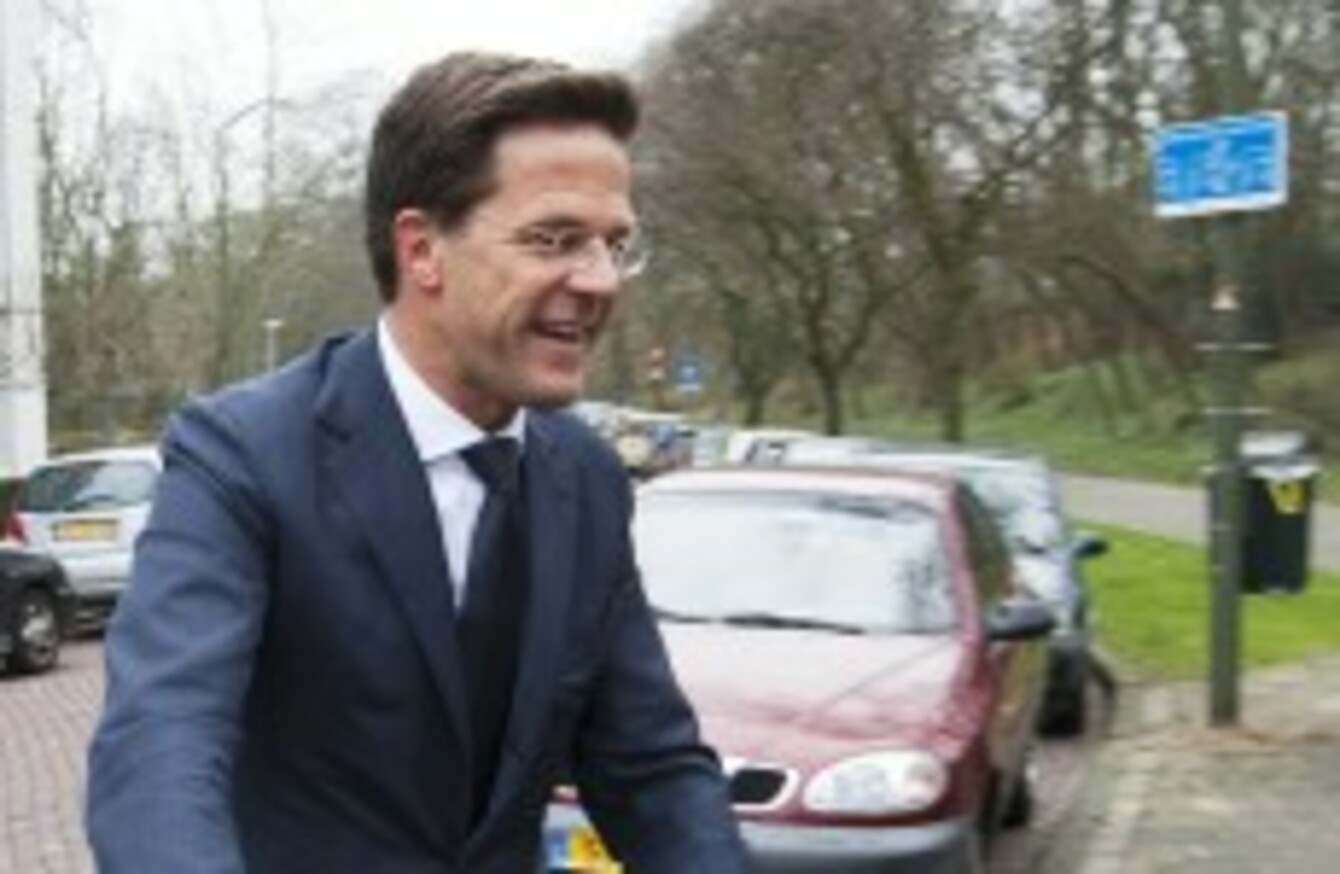 Dutch prime minister Mark Rutte could be on his bike (File photo)
Image: ROB KEERIS/AP/Press Association Images
Dutch prime minister Mark Rutte could be on his bike (File photo)
Image: ROB KEERIS/AP/Press Association Images
AN ELECTION IS likely to take place in the Netherlands later this year after discussions over an austerity budget collapsed over the weekend.
Leaders of the coalition parties in the Netherlands have been in negotiations for the last two months in an attempt to cut €16 billion from the national budget in order to meet deficit targets laid down by the EU.
Dutch Prime Minister Mark Rutte admitted the talks had collapsed after his centre-right coalition, which has been in power since October 2010, failed to agree on budget adjustments with ally Geert Wilders who refused to do a deal.
The New York Times is reporting that Rutte will tender his resignation to the Queen today amid a clamour for elections which would most likely be held in September or October.
The Dutch finance minister has flown home from the International Monetary Fund meeting in Washington to discuss the issue saying he still plans to submit the 2013 budget to the EYU by the end of this month.
Jan Kees De Jager told De Telegraaf that the AAA-rated country has a reputation for fiscal prudence and discipline and he wants to keep it that way.
Reuters reports that the government must now seek support from opposition parties for budget cuts before calling a new election.
But the failure to agree austerity measures has already spooked the markets with borrowing costs rising and fears that one of the strongest eurozone economies could now be drawn into the debt crisis.
The talks broke down after the far-right Freedom Party walked out of the three party talks.
Its leader Wilders said, according to BBC News, that the austerity package will "will damage economic growth and… severely effect the spending power of many people, especially pensioners".
His party has been renowned for its anti-Islamic stance although in recent months had focused on populist issues such as the eurozone crisis.
- additional reporting from AP