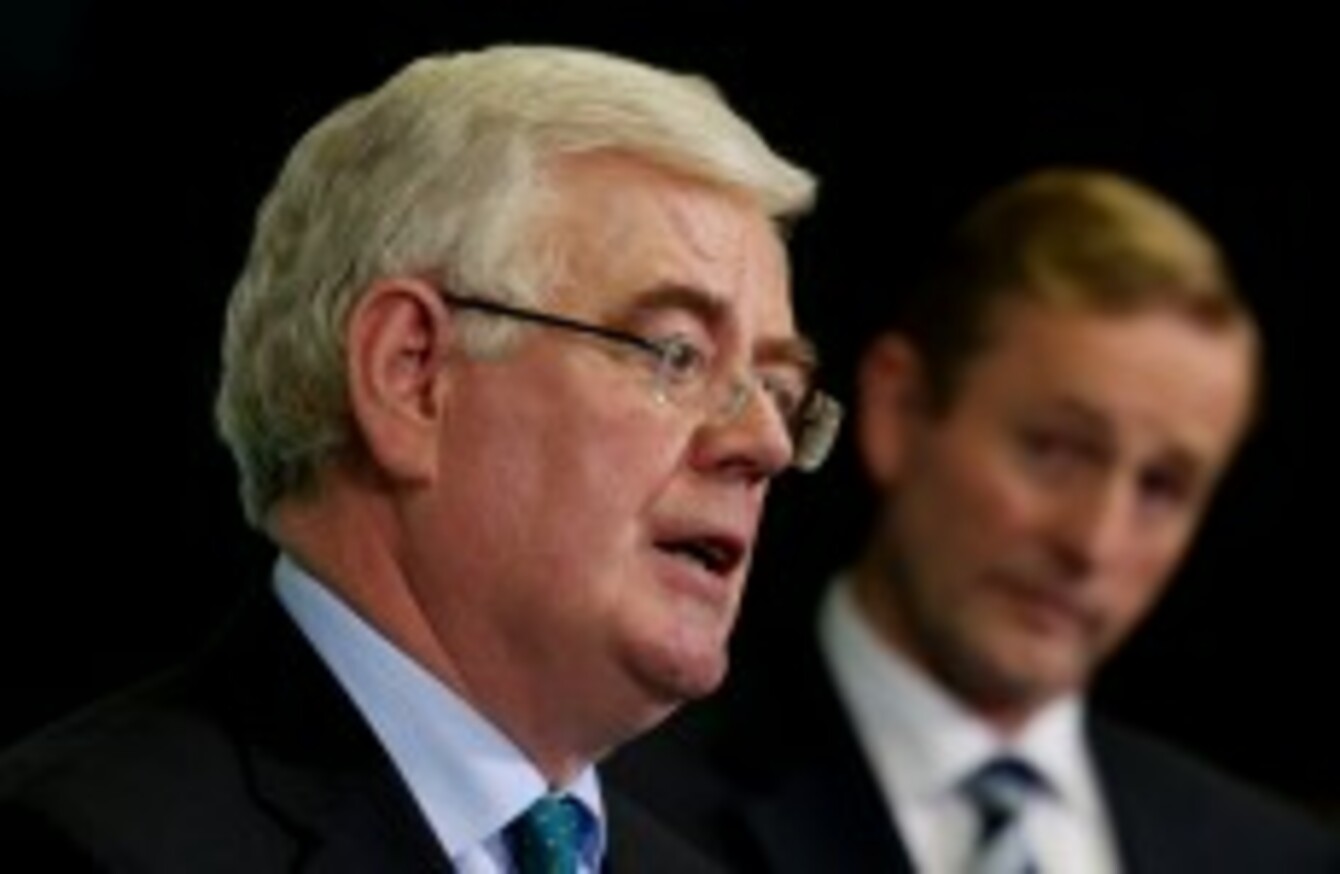 Eamon Gilmore and Enda Kenny (File photo)
Image: Niall Carson/PA
Eamon Gilmore and Enda Kenny (File photo)
Image: Niall Carson/PA
IT IS STANDARD practice for parties in coalition to put clear distance between themselves in the run-up to an election to maximise their chances of winning votes.
In Britain, which increasingly seems to be in constant election mode, the Conservatives and the Liberal Democrats have been doing this for at least a year and will be doing more of it ahead of a general election next year.
Here in Ireland it has been less pronounced but on local election leaflets, on doorsteps, and elsewhere Labour and Fine Gael have been putting distance between themselves in recent weeks and months, and so it appears to be the case with this water charges 'row'.
While one Fine Gael source yesterday downplayed this dispute as not a row but a "disagreement of views" (whatever that means), Labour has been publicly at pains to outline how unhappy it is about all this from the Tánaiste describing the leak of details as "unhelpful" to his spokesperson making a point of saying there are "substantive differences" between the parties over the policy at a briefing yesterday evening.
It became apparent from early yesterday morning that Labour was deeply unhappy with the way in which details about water charges had leaked out (no pun intended) into the public domain in the form of various media reports.
Brendan Howlin pointed out there was "no agreement" on his way into Cabinet yesterday morning and said 'agreement' twice in one sentence as if to underline that there was no, er, agreement.
"Well it certainly wasn't us," said one source when asked who was responsible for the leak. No such definitiveness from the Fine Gael side.
'Robust'
This wasn't an ideal way to start a Cabinet meeting where there was, in the words of one minister, a "robust discussion". This is a polite, public way of saying that things got a bit fierce. Ministers are said to have discussed the issue for around 90 minutes and there was, both parties agreed, no decision made. 
At issue here is a memo, prepared by the Environment Minister Phil Hogan, which details how the State can be expected to put up maximum of €537 million in a subvention for Irish Water with the new semi-state utility tasked with coming up at least 50 per cent of the rest of its funding in revenue, so that it can retain its semi-state status.
The maximum subvention means that the average charge facing a household will be around €240 or €248 in the case of an family with two children, both including the standing charge. These are details which emerged in the media yesterday and were confirmed in the Dáil by the Taoiseach.
Fine Gael has in some senses honoured its commitment to tell the voters how much they can be expected to pay in water charges before they head to the polls on 23 May. But Labour rightfully points out that an average is an average. "It's not the full picture," Labour junior minister Jan O'Sullivan said this morning on RTÉ.
She also bemoaned the fact that she, and other ministers who sit at Cabinet, got the memo "without time to read it". This all feeds into the Labour position that the whole process needs to slow down and that it's not about the quick decision but the "right decision".
It has spent quite a lot of time in the last 24 hours talking about how it wants to ensure that the most vulnerable are shielded from the worse effects of water bills, raising particular concerns about the detail in relation to people's ability to pay and the assessed charge for households that won't have a meter i.e. the majority when charges come in.
All of this is good politics and all of it no doubt with one eye on what is going to be a difficult election for the party in a little over a month's time.
'Contrived'
The party is clearly less committed than Fine Gael to the full details of water charges being revealed before the elections, a spokesperson saying only yesterday that they would "assume" details will be out there before the polls open.
But one can't help but feel this is all a little contrived. It's been known for sometime that water charges are on the way yet it is only now, with an election just weeks away that the Cabinet is having "robust" exchanges on the issue and Labour is highlighting its "substantive differences" with Fine Gael.
We saw some evidence of the Labour need to assert its authority in the recent gardagate controversy when the party briefed that it had made a specific request for a Cabinet sub-committee dealing with justice reform to be set up.
This was later strongly denied by the Fine Gael side which pointed out that the committee is headed by the Taoiseach. But Labour maintains its position on this issue and is clearly sticking to its guns on water.
As Labour might see it, if the party can go on doorsteps and say that it stopped Fine Gael ramming through water charges without proper consultation then it will hope that voters remember this when they cast their vote.
But the politics of this don't matter to most people. What matters for them is knowing how much they have to pay and while there are sure to be some variations on the average of €240 – some will pay less and some will pay more – the figures that have been put out in recent days will stick in the voters' minds.
All of which means Labour's grandstanding in recent days is unlikely to have much impact.