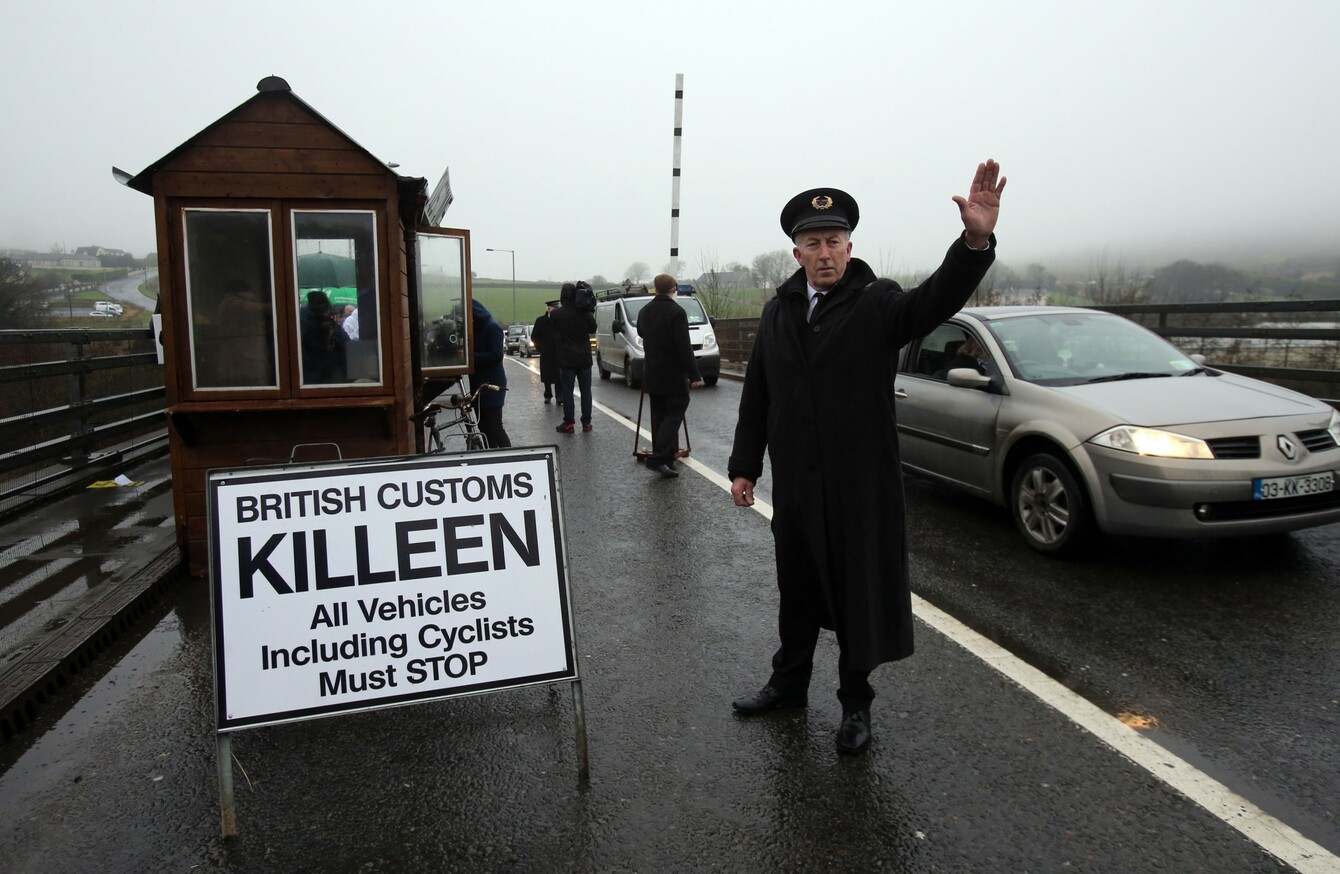 A mock customs post set up by anti-Brexit campaigners at Ravensdale, Co Louth.
Image: Niall Carson/PA Images
A mock customs post set up by anti-Brexit campaigners at Ravensdale, Co Louth.
Image: Niall Carson/PA Images
MINISTER FOR FOREIGN Affairs Simon Coveney has ruled out the use of electronic tagging along the border after Brexit.
Coveney was speaking in Brussels as the UK and the EU launched a fresh round of formal Brexit negotiations that will include a focus on the Irish border.
Asked about his view on the potential for technological alternative to a hard border, Coveney told RTÉ News that such a solution would not work.
"What we do not want to pretend [is that] we can solve the problems of the border on the island of Ireland through technical solutions like cameras and pre-registration and so on. That is not going to work," he said.
Brussels is insisting that discussions on the future relationship between the EU and the UK must wait until make progress on a number of key issues surrounding Britain's withdrawal.
These issues include an estimated €100 billion exit bill, the rights of three million EU citizens living in the UK and the Irish border.
Also speaking in Brussles was irish Agriculture Minister Michael Creed who said that it is imperative that some clarity is delivered soon:
We have no clarity as to how the UK intends to prosecute their exit for matters as critical to Irish business as whether there will be a transition period. Major questions like whether they will be part of the customs union or not. These are debates that are ongoing within the UK cabinet. That's making it extremely difficult for Irish agri-food and the Irish economy generally.
During four days of talks this week spearheaded by the UK's Brexit Minister David Davis and EU negotiator Michel Barnier, both sides are aiming to make significant progress.
Barnier, who has repeatedly called on Britain to set out a full divorce strategy, said they needed to "examine and compare our respective positions in order to make good progress."
"We'll now delve into the heart of the matter," Barnier, a former French foreign minister and European Commissioner, told reporters.
With reporting by © – AFP 2017