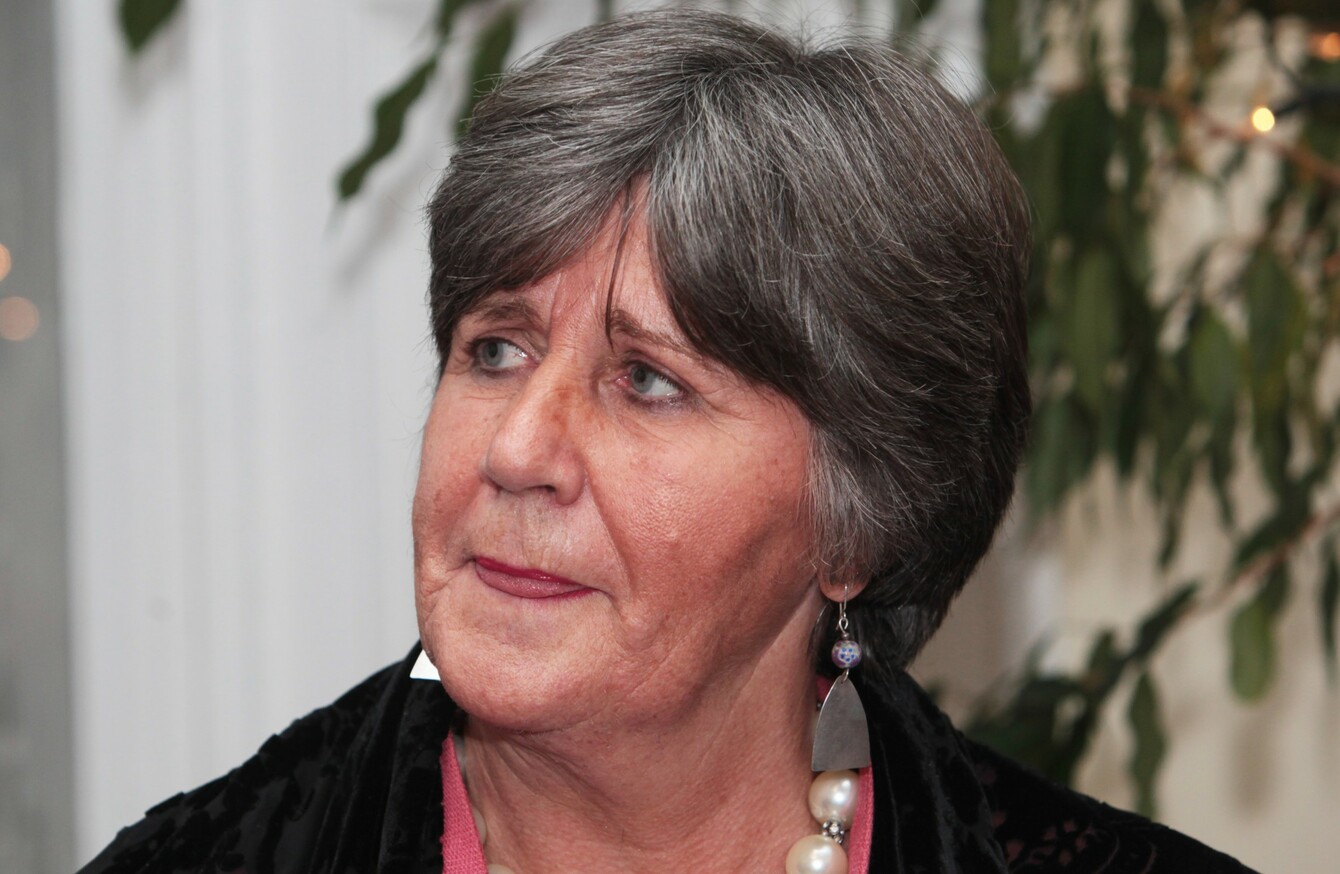 Image: Leah Farrell
Image: Leah Farrell
FROM HER EARLY 20s, Ellen O'Malley-Dunlop has been fighting the system.
Growing up in 1960s rural Ireland, the former head of the Dublin Rape Crisis Centre believed that women were equal to men. The history of Ireland – where it was once illegal for female civil servants to continue working after they got married – tells us this has been anything but the case.
In 1971, aged 19, she married a man against her parents' wishes. It was a short-lived union, but produced a "fantastic son as a consequence". As she attempted to disentangle herself from the marriage, O'Malley-Dunlop began her first major fight.
I got a church annulment, then I got information around getting a legal annulment, and sure I hadn't a clue. I was 19 and I didn't realise there was no such thing as divorce [in Ireland]. I was asleep.
She went to England to train as a psychotherapist and met the man who would become her second husband, but while she was able to get a divorce from her first marriage, it had no legal standing in Ireland.
I didn't realise that I was a bigamist in Ireland but in every other country in the world we weren't married.
Only an arduous legal battle would eventually see her first marriage annulled.
After she and her second husband came back to Ireland, they settled in the south Dublin suburb of Templogue.
O'Malley-Dunlop worked in Tallaght, setting up a marriage and parenting counselling centre with the Dominicans in the mid-1980s. It was to be a 'halfway-house' between the parochial house and the psychiatric unit.
But after two years the centre was closed down by the then-Archbishop of Dublin, because, O'Malley-Dunlop claims, it was seen as being in competition with the Catholic Marriage Advisory Council – a conservative, Church-run organisation that later became Accord.
Rape Crisis Centre 
She set up her own private practice and worked, as a psychotherapist, with individuals who had suffered from sexual abuse, both as adults and in their childhood.
In 2006, O'Malley-Dunlop became chief executive of the Dublin Rape Crisis Centre where, in recent years, she has battled and spoken out against successive funding cuts by the government.
"Any cut to a rape crisis centre is a regressive step, absolutely regressive," she said.
Between 2008 and 2014, rape crises centres across the country have suffered cuts of over €1 million between them – a significant loss when they need around €4 million in funding annually.
I think it's regressive not funding areas like rape crisis centres because there are people who are victims and they're in families themselves and very often victims' own memories are only triggered on the birth of a child.
So you have somebody who is extremely vulnerable in a family – needs support at that time – and in order to ensure that that person is able to properly parent… I mean if we don't look after our mothers and fathers and families, we don't look after our children.
Last year, O'Malley-Dunlop was criticised by UCD academic Julien Mercille in a Broadsheet.ie article, where he claimed she had asked him to stop writing articles denouncing cuts to rape crisis centres.
O'Malley-Dunlop denies she said this, insisting: "What he said was that we were not criticising the government, because we were cosying up to them.
What I said was that we've been lobbying to bridge the gap for a long time. I'm sure you've read articles I've written about the cuts, and how unfair they were and how regressive they are.
As well as fighting against funding cuts, O'Malley-Dunlop has frequently been in the media to discuss some of the more horrific and controversial sexual assault cases, including that of Niamh Ní Dhomhnaill, who was raped in her sleep by her ex-boyfriend Magnus Meyer Hustveit.
Ní Dhomhnaill waived her right to anonymity in order to speak publicly about her ordeal after the Norwegian received a wholly suspended seven-year sentence last year. Only last month was he re-sentenced to 15 months in prison.
Consent 
The case raised a widespread public debate online and on the airwaves about consent. O'Malley-Dunlop is of the view that it should be legally defined, but that does not necessarily mean verbal consent.
If somebody is asleep they can't give consent, if somebody is inebriated or is under the influence of drugs or is coerced… So it's not as simple as that it's verbal, but that consent is understood.
O'Malley-Dunlop believes giving a judge, and therefore a jury, direction as to what is and what is not consent would at least help to better inform and educate those who must make decisions around prosecutions for rape.
But a huge issue around consent, she believes, is attitudes to sex in Ireland.
Attitudes have a very long shelf life and they take a lot to shift… The attitude to sex, to consent, is so archaic, really it is.
Generations have been told that sex is only something that can happen within a marriage, she said. Even if that has changed in 21st century Ireland, she believes the drinking culture and the ease of access to pornography don't help matters.
"There's research that says young boys are accessing pornography at nine, and their first relationships are at 16. So you have seven years of looking at pornography at a time when their minds are developing," she said.
But education is also a factor, not just the education of children in school, but of parents too.
I think you've got to educate and inform. It's not good enough [for parents] to say anymore: 'Oh, I'm not computer literate, I know nothing about it.' That's not good enough anymore.
Sex, she added, is "a fabulous thing, but in the right environment, with the right person".
Seanad bid 
For O'Malley Dunlop, the next fight is the Seanad.
She is running for one of three seats on the National Universities of Ireland (NUI) panel in the upper house. It's a crowded field of over 30 candidates and an electorate of over 100,000 people.
Every vote counts, but there's no opinion polls to gauge how she is doing. If elected, she will champion the issues she has been raising for the last three decades, and particularly the Eighth Amendment.
For her, it's simple when it comes to what replaces the constitutional ban on abortion:
If I had a wish I would say leave it up to the women and her doctor. Don't legislate at all and trust women about their bodies, that they know what to do.
She thinks the hypocrisy is "woeful" and that there's something "really crazy" about 12 women a day travelling from Ireland to the UK for an abortion.
US presidential candidate Donald Trump's recent remarks about punishing women who undergo terminations may have caused consternation worldwide, but O'Malley Dunlop points out that women in Ireland can still be jailed for 14 years if they illegally procure an abortion.
"We're sticking our heads in the sand… If a woman becomes pregnant and she chooses to have an abortion, I think she should be allowed to do that," she added.