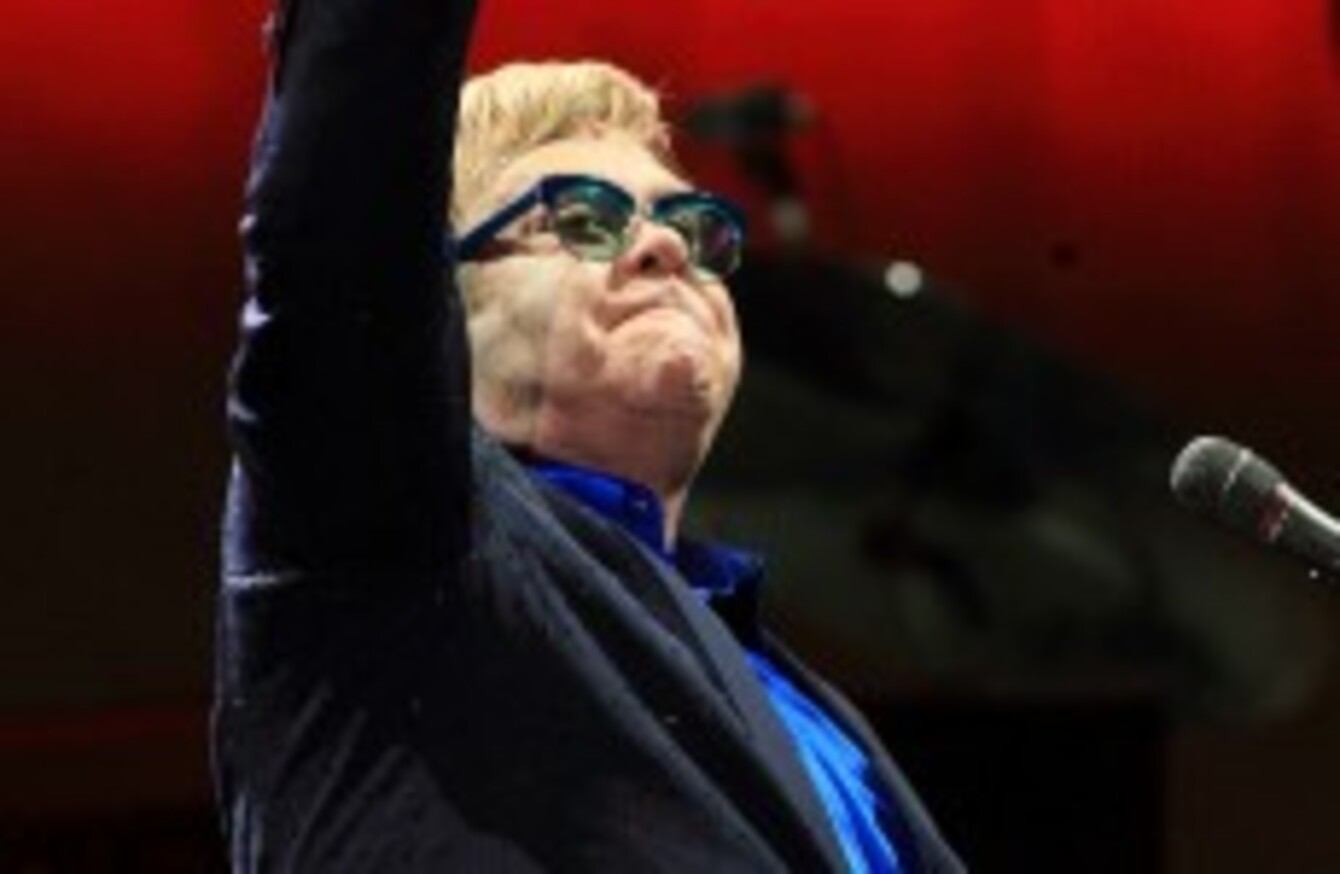 Image: Owen Sweney/Invision/AP
Image: Owen Sweney/Invision/AP
POP ICON ELTON John escaped serious criticism in Russia today after using a sold-out Moscow concert to challenge a highly contentious law banning the "propaganda of homosexuality" to minors.
The 66-year-old singer is the first Western star known for fighting gay prejudice to tour Russia since it adopted a measure in June making it illegal to explain same-sex relationships to children.
The law has already been condemned on Russian stages by superstars such as Lady Gaga and Madonna. Both now face calls from conservative lawmakers and some Orthodox Church leaders to be barred from ever entering the country again.
John — openly gay and in a civil partnership with filmmaker David Furnish since 2005 — performed in Moscow on Friday and is due to play in the heart of the Muslim region of Tatarstan on Saturday night.
He had been urged by some gay rights advocates to cancel the concerts as a form of protest against President Vladimir Putin's 13-year rule.
But John explained ahead of his appearances that he felt that Russia's gay and lesbian couples would feel abandoned if big-name performers did not come for visits and offer them support.
(Owen Sweeney/Invision/AP)
Friday's concert in Moscow began with John — settled behind a black grand piano in a theatre popular with Russia's super-rich — reading a monologue in which he called for harmony and inclusion for all.
"You've always embraced me and you have never judged me," John said in reference to a long line of visits to Moscow that began with a groundbreaking concert in 1979.
That Soviet-era performance transformed John into a household name — an impact still felt in Russia to this day.
John was careful not to criticise either Putin or his supporters directly for fast-tracking the measure in the span of a few short weeks.
But neither did he hide his disappointment with the law as a video of the concert showed.
"I am deeply saddened and shocked over the current legislation that is now in place against the (homosexual) community here in Russia," he said to a scattering of applause.
In my opinion, it is inhumane and it is isolating. Harmony is what makes a happy family and a strong society.
John concluded the speech by dedicating his concert to Vladislav Tornovoi — a 23-year-old Russian whose naked body was dumped in the city of Volgograd after he had been raped with beer bottles and had his skull smashed.
A witness told the police at the time of the May attack that Tornovoi was targeted for being gay.
Reaction to new laws
Russia's gay propaganda ban has turned into a lightning rod of criticism of Putin and what many see as his increasingly authoritarian streak.
Such prominent rights campaigners as the openly gay British actor Stephen Fry have called for a boycott of February's Winter Olympic Games in Sochi while others are urging tourists to avoid Russia until the law is revoked.
Such calls have usually met with tough responses from prominent pro-Kremlin lawmakers and been ridiculed on widely watched state television shows.
But John's speech made barely a ripple in the Russian media and escaped condemnation from the West's usual critics in parliament.
The only visible outrage came from a radical Islamist organisation that urged the authorities of Tatarstan to forbid John from performing tonight in the region's capital of Kazan.
John was expected to repeat his call to end gay prejudice during Saturday's performance.